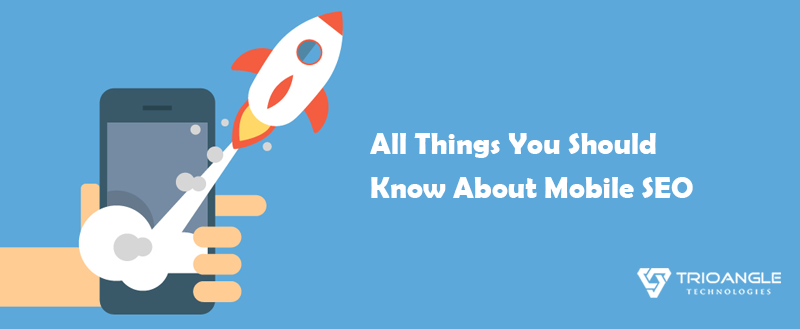 Digital trends keep on changing and to succeed, you have to adapt well to the evolution of the latest trends. Most of us did hear about "Mobile SEO".
Is it important?
Yeah! It is one of the key factors in digital marketing. If you don't believe me then, check out this metric below.
Google announced that more than 58% of searches on Google are done through mobile devices.
Mobile SEO:
The mobile SEO is the process of optimizing your site for mobile and tablet users to provide better user experience in their mobile device.
Mobile Searches:
The mobile searches in Google are gradually reaching its peak. Thus, Google keeps on updating its algorithm to provide better mobile-friendly results.
Google Mobile First Index:
Google provides search results based on the ranking of the mobile version of the website. They made change the algorithm for mobile first indexing.
Qualities Of Mobile Friendly Site:
A mobile-friendly site,
Load resources in all devices.
Don't hide content in mobile devices.
Provides good user experience.
Difference Between Devices In Terms Of Google:
Mobile:
Google refer smartphone that runs Android, iOS, and Windows as a mobile device. Though mobile devices are small in size, they are capable of rendering lots of HTML5 content. The orientation of the mobile device is vertical.
Tablets:
Google considers Tablets as a separate device and has large screens to display. The browser will show desktop content in tablet and not the content of a mobile device.
Multimedia Phones:
These phones can render XHTML, Javascript but can't render some API in HTML5 standard. Generally, most of the 3G phones are not smartphones.
Feature Phones:
In these phones, the browser can only render cHTML, WML and not normal desktop version of the site.
How To Implement Mobile Friendly Site?
"M" Configuration:
In this method, your site has a separate version for mobile devices. When the site redirects the user based on the device they use. But the mobile Url has a lot of SEO issues like canonical tags & alt tags problems.
Dynamic Serving:
The dynamic version provides different HTML/CSS based on the user devices in the same URL. But, you have to create content constantly for an updated version of devices and there can error in showing correct version to the users.
Responsive Design:
The responsive designs respond based on the user devices and it is recommended by Google. They have advantages like,
All changes in the single URL.
There is no alt tag issue or canonical tag issue.
There are no redirects and provide a user-friendly experience.
Google Mobile Usability Tool:
Google SC's mobile usability tool helps you to find out if there are any errors or difficulties with your mobile version of your site.
You can also test your site using Google mobile-friendly tool which helps you to find out a mobile version of your site. Check out the link.
Google mobile-friendly test tool
Don't Block Google:'
If you block your site resources like HTML or CSS from Google bots, it will be hard for Google to recognize the content of your site and understand it. If Google can't understand your content then, it will not consider your site as mobile friendly. You can check your robots.txt file to find if you have blocked any content.
Note: Google considers a mobile version of the content as the main version so, hiding content will reduce the ranking of your site.
Intrusive Popup:
Google introduced an algorithm update to penalize sites with intrusive pop-ups. Particularly, For mobile devices, Google recommends only certain types of pop-ups
Fetch Us Google:
Fetch as Google tool helps you to know how Google sees your page. You can even find out what are the things missing in the result.
Mobile Speed Test:
Google wants your site to load under 5s and site speed is one of the key ranking factors of your site. Though decreasing site loading time is not an easy task, Google Page Insight Tool can help you with it.
Note: You can also make use of Websitepagetest.org which helps you with site speed issues.
Easy To Read:
Make your content easy to read for your users. Some of the recommendation for your content on the site.
Use 14px font size or more.
Make 1 to 2 line paragraph.
Line 50-60 characters.
Bold your text with more contrast to read it even in dim light.
Note: Flash content doesn't work in mobile devices and it is important to use HTML5 for video and animation content.
Viewport Tag:
The viewport tag helps your site to display content based on the devices. It is essential to double check that the viewport tag is correctly installed.
Some Key Factors to increase User Experience:
Make header images small to make the content more engaging.
The negative space is the space between text, content and design elements and many recommend to increase negative space in mobile SEO.
You can use social buttons as a tab bar to increase the visibility of your content.
Optimize your site for fat fingers to avoid accidental clicks.
Note: Here is an article which helps you with Image Optimization.
Mobile CTR:
Organic CTR is one of the important ranking factors in the SERP. To improve your performance in the search results, then you have to keep an eye on your mobile CTR. You can check your mobile CTR in Search console performance tab.
Note: you can make use of this technique to know how well your title tag is performing.
Google UX Signals:
Google constantly increase the weight on UX signals on mobile devices and it is important to keep your eye on dwell time and bounce rate. To see how your site performance in mobile device go to GA (behavior-site content-landing page) and add "Mobile Device Info" as secondary dimension.
Some Tips To Increase Your Mobile Site Speed:
You can test your mobile speed with testwithgoogle.com to know how well it performs in a mobile device.
Use image compression tools to compress the images and to increase the site speed.
Google itself recommends using browser cache to increase site speed.
Use CDN to increase speed.
Optimize Your Meta Tags For Mobile:
Desktop:
Title: 70 Characters.
Description: 155 Characters.
Mobile
Title: 78 Characters.
Description: 155 Characters.
Schema Structured Data:
Structured data helps you to increase your organic CTR which in turn help with your mobile SERP.
Summing Up:
Now, you must be aware of how to strategies for mobile SEO. It is important for a digital marketer to adapt to market behavior and to latest trends.
Keep your eye on mobile SEO!
Bye.