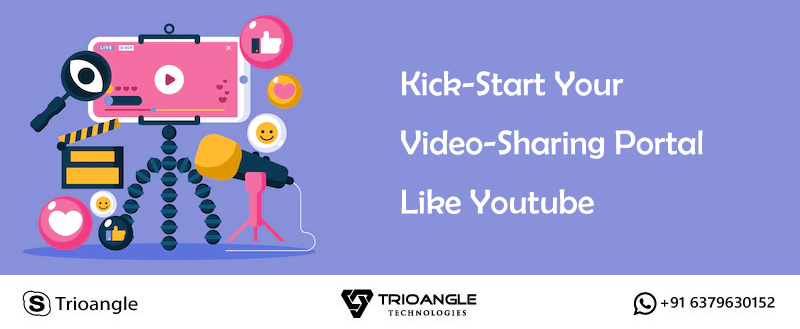 In recent days, video-sharing platforms are increased for entertainment purposes. And the video streaming platform holds a million videos per day.
Youtube is the most popular video-sharing platform, that allows users to share and organize their videos. Now, it is so easy for you to develop an application like Youtube with the help of reputed Youtube Clone Script.
Why YouTube Clone Script?
Basically, Youtube made $19.77 billion in ad revenue. And the US ad revenue is going to reach $15.14 billion. Users are watching one billion youtube videos daily.
And it is the second-largest visited site worldwide. There are 54% of people are visiting youtube daily.
Do you want to become an entrepreneur?
Youtube Clone Script is the best idea to start and develop your own application with your idea and additional features. And you can also customize based on your demand.
Youtube Clone App provides the 6 best features for easy use;
User-friendly options:
This user-friendly option provides freedom for the user to perform their tasks.
The user-friendly options are,
profile management
Reaction to the videos in the way of like or dislike feature
Approaching the video in the field of the comment section
And the reporting option is used to report unwanted videos on the platform.
This will make the admin research the report statement and declare his decision for that statement of changing or removing channel/video as per the process.
Advanced Search Option:
The search option aims to provide a lot of information in a single search option. Our Youtube CloneScript has a powerful search option like Youtube. It has the best filter feature to display the best video based on the input search by the user.
Also, it has a voice reading option to search for something which we want. This is mainly used for quick search tasks.
Security and safe:
This Clone Script provides maximum security to the users. They help to hide their personal information from the third party. They also provide the security of the user search history.
If you are interested to develop an application Like Youtube. Then, the Youtube clone script is the most perfect script to develop.
Video Management:
The video management option is a user-friendly feature. If business or entertainment, the user can upload their videos based on their preferred option.
Video marketing is one of the best methods for developing their business.
This is the most perfect process to introduce their business pieces of information and product in a perfect way for user understanding.
This will help you to invite a lot of customers to your business.
Money Making:
Our Youtube Clone App can make a lot of money in a different way. You can generate revenue through ads and pay-per-view options.
Then, you can add the subscription for the channels to activate.
You can make a partnership with companies to prompt the products and videos to earn money.
Conclusion:
In this blog, you will know the Benefits of the Youtube Clone App and its attractive advanced features.
Now, it is your time to buy your Youtube Clone Script and develop the best live streaming application platform.
Wish to launch your own platform?
Let's Get In Touch:
WhatsApp: +91 6379630152
E-mail: [email protected]