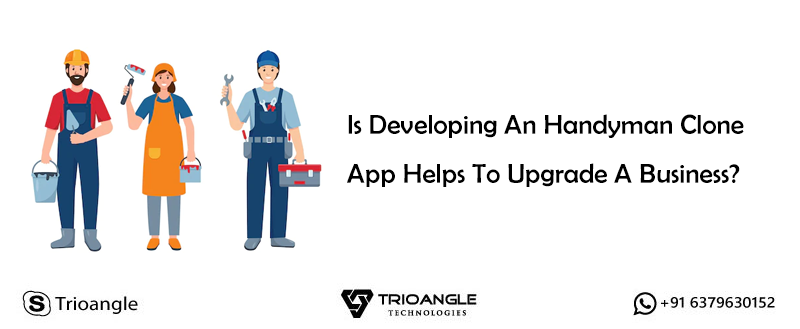 A single unique platform Handyman Clone App gives access to the clients to choose and book multiple household services in a single window. Handyman App Development has proven to be one of the most unique upgrades for all handyman services.
To connect the clients and the professional service providers by creating a bridge by developing an on-demand handyman app which is initiated by the startup companies.
This is one of the most promising business strategies for handyman service. If you get the right application for your handyman service business, your business can dominate in the industry.
Know-How Handyman App Like Uber Can Helps Your Business Growth?
Handyman Clone App – An One-Stop Solution
Handyman App Development can eradicate the complexness of using a lot of applications for individual services. The user can book a beautician, babysitter, electrician, painter, etc… at the same time creating it is highly fortunate for the users.
Handyman App Like Uber can act as a one-stop convenience solution for accessing multiple services at the client's fingertips. 
What Are The Merits Of Handyman App Like Uber?
Comfortability:-
No rescheduling of programs is needed to book the appointment of a house cleaning service or personal yoga trainer or mechanic and other multiple services. All the user needs to do is order or request required services, make a payment once the service is completed, and then clients get the needed job done for them. It is as comfortable as it arises.
Attractive Outperformance:-
The targeted clients and their choices can be caught by conducting research and features appropriate to most of the clients can be added to attract clients' usage. With affordable prices and eye-grabby discounts, more clients can be attracted by your business app which also helps in retaining those clients.
Convenient Management:-
All regular payment transactions, service earnings, and booked service details can be managed remotely using the dedicated dashboard, and business reports and business analytics for completed functions can be generated.
This reduces excessive investment in commercial infrastructure and enables you to monitor and handle your business effectively.
No Tiring For Hiring:-
There is no necessity of hiring resources since the direct connection exists through the application. With the single app, users can instantly connect with numerous service providers. In real-time, ongoing activities can be kept trackable by yourself, to eliminate all the possible issues.
Get Reviewed And Improved:-
With feedback from the clients, you can improve the experience of the users, and based on the feedback received, the services can be improved. Reviews bring awareness of well-performing services.
Special Services:-
Excellent and quality service to be extended from your side to make your Uber For Handyman app a well-performed one. By offering exciting offers and discounts, you can also boost your service providers by creating their services on top of the list of available services.
Service Promotion:-
To upgrade your On-Demand Handyman Services App to the next level, you can boost your existing and forthcoming services. You can organize and show your available services list on the home page. This lets the clients understand your niche service features and retain them.
Winding Up,
The Handyman App Like Uber covers all the service factors to provide the client's life is made comfortable and effortless. To create your app to stand out from the competitors in the industry and advance your business to unimaginable levels.
If you are looking to craft a Handyman App Development similar to handyman, TaskRabbit, and more. This helps you in framing a handyman clone solution that must be needed for your service application requirement. Without any delay, contact us immediately today!
Visit Our Website: https://www.goferzone.com/uber-for-handyman/
Whatsapp No: +916379630152
Email Id: [email protected]