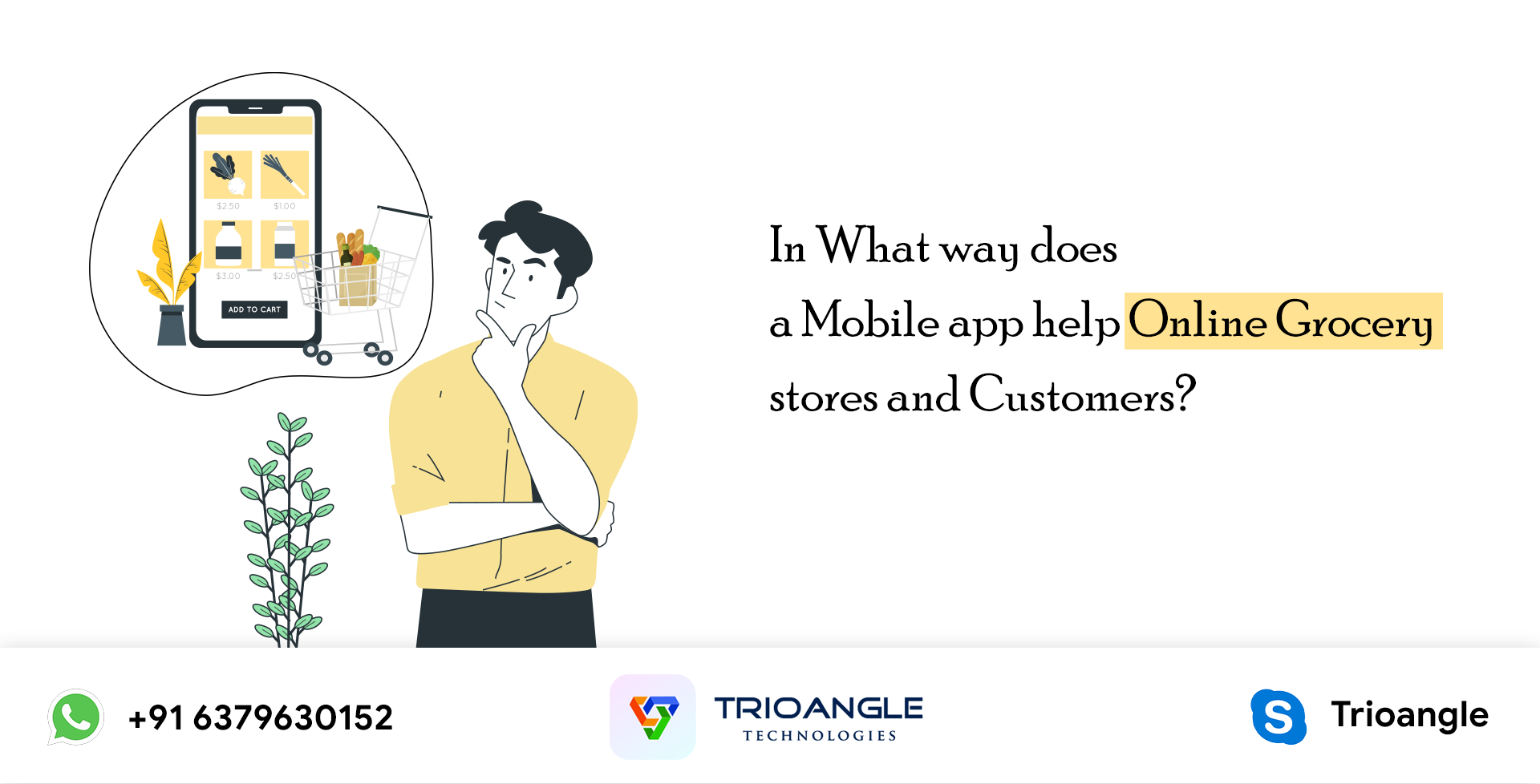 On occasional basic grocery items are all the food products that a household needs. The products may be decaying or non-decaying. Most of the fresh vegetables are sold in grocery online stores so often that the stocks are checked and resupplied every day
Grocery stores that have been expanded to online businesses these days, also do great offline work. Because of the development in the technology, online grocery eventually performs better than the offline stores
Online Grocery websites can also be used or accessed through mobile Applications. This is because such technology benefits the consumers and the grocery store as well
Most consumers avoid carrying bags to the stores, even during grocery transactions they look for the convenience of instant payment. All these and more options can be done in Mobile Applications
The store owners who already have an online website is that mobile applications increase their reach and easily meet their consumer satisfaction
In this blog, we are going to discuss how mobile apps help consumers as well as the grocery store
Statistics To Lookout
According to the stats, the online grocery shopping or eCommerce growth of the grocery sector will rise to $38.16 billion by the year 2021.
This indicates that the online space of grocery is huge and is growing at a prompt rate. According to the studies, 
55% of people aged between 25 to 34 purchase their groceries online, 

45% of people aged between 34 to 45 do the same plus 

35% of people aged between 45 to 54.
These facts clearly show that the demand for Grocery App Development Company is going to rise soon.
Why do so many companies like retail, Grocer, and consumer goods finance in mobile commerce applications
There is nothing to analyze, to put it in an easy manner, they are following the money. E-commerce sales from mobile devices will surpass $432 billion by 2022.
Mobile Apps: Key Partner for Grocery Delivery Service
By 80% the grocery app usage will grow: What does that mean to the industry
In the agitated schedule of today's period, people barely find any time to do all their duties. The short time that they get is needed to provide their body with some rest.
But some essential daily life tasks need to be taken care of, that is grocery shopping. Putting on some real garments, going to the grocery shop, and bringing all the heavy things is a difficult task to do particularly when you are tired after your daily duties.
That's a lot, right?
Generally speaking, most the retailers can provide a more enhanced user experience via mobile applications than a mobile website, so it follows that businesses are looking to expand their mobile apps
But what is the logic that some mobile apps for retail increase conversion rate and last longing customer value and customer satisfaction and others don't
Consumers overwhelmingly use apps with the intention to shop and buy and most of them are claiming that was the most used feature. People mostly overlook, view product photos, and read reviews via the apps themselves. From a recent survey, people claim that mobile apps are more convenient than other channels for shopping
When you think about the mobile app, the convenience factor start to arise 
To pop off the page:
Generally, users stay logged into apps, meaning that the users need not login again and again and type passwords

Some popular apps are famous for analyzing the users' actions, offering increased functionalities, and determining preferences as a result

In most of the apps the users a securely stored their personal information and credit info on their mobile devices through so many payment Apps

Important push notifications are delivered instantly like delivery status, flash sales, etc which is easy to read and move on
As the grocery delivery service startup owner, you are aware that comfort and convenience are major factors. To meet these factors, several ways are there. 
So there are no specific standards about how to create a Grocery mobile application and we can create it to perform a number of tasks, there is an option in which grocery performs multiple tasks.
Supermarket-specific grocery app
A number of grocery stores are creating mobile apps in order to develop or promote their brand, now these types of apps come integrated with more features & functionalities. They offer loyalty programs, show the user's purchase history, and promotional booklet lot more
Grocery Store delivery app
As always we know that shopping is a time-consuming task, the grocery delivery mobile app development was welcomed and became an instant hit
Every grocery store delivery app allows exploring products without leaving the home
And the orders can be reordered by viewing the past purchases and also involves placing an order instantly
It's a kind of app that allows consumers to save money & get discounts without getting the discount tickets. They operate in a method where users get a rebate app & buy some groceries which are on the app's list. 
Then they ought to take a picture of the bill, send it & then receive a respective cashback.
Grocery price comparison app
IN various stores this kind of app should provide easy check prices so that they can find various price deals. This also allows the user to 
Get so many promotional changes

For groceries to find and view a booklet with promotional offers

Receiving promotional offers through the push notification to your mobile on the basis of your past recharges
Most the grocery apps allow the customer to add/remove their products om their online shopping cart and also they can access them later, eventually, the app allows them to share the list with another app user
And can make changes to the list online so the others can also view them, default products on a regular note, remind purchasing and keep users list for future, etc

Wrap Up
So there is no doubt that the grocery app usage is at its peak as we discussed before and it has positive reviews or impact on the upcoming industries. Get the app from the most experienced player to make your business profitable through such a platform. Click here to know more