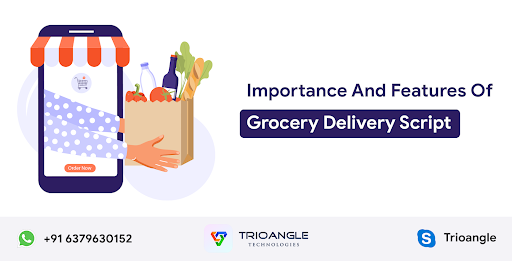 Developing a grocery delivery app for a store can't take much time. But, implementing grocery delivery online can increase its sales. Grocery delivery app scripts are designed and developed with the aim to provide comfort grocery shopping for customers. Unlike other Grocery shopping, implementing an app-based grocery delivery service can boost up the customers steadily.  
The grocery delivery script from Trioangle is helped you to develop a grocery delivery setup in a cost-effective way. Grocery apps clones allow your user to buy groceries in their free time and help them to assign delivery time slots. They can order their groceries within a minute with a few clicks on their phone.
Developing and implementing a grocery delivery app can increase your revenue with very little investment.
Noticeable Features Of Grocery Delivery App Script Highlighting 2022
Multiple Currency Support
The grocery delivery app can support multiple currencies. GoferGrocery delivery script is customizable with preferred currencies. So, you can implement your service for any country or region.
Chat, Call Support
Giving ears to customers' voices is the best way to improve service. Customers love to be valued, when they feel valued they don't search for other apps for the same service. The support options help customers to contact about any inconvenience in service. These options also included contacting drivers to know about the order.
Completely Customizable Platform
The grocery delivery script by Trioangle is customizable based on your preferences. Can be changeable to resemble your brand, Logo, in all demands.
Multi-Language Support:
The app script is designed and developed with multi-language support. So, customers from various regions can use this platform.

The language change based on region reduces the gap between stores and customers and makes them feel comfortable.
Eye-Catchy Theme
Based on your preferences, UI/UX can be customizable. All the panels can be customizable with many colors and images.
Easy Order Dispatch
This option helps to customize the app for one store or many stores delivery. The same setup can be customizable for single-store delivery or many-store delivery. 
Set Terms and Conditions
This option helps to set "terms and conditions" for using your app. Business owners have options to set separate terms and conditions for each panel.
Wrapping Up 
To be a top grocery retailer. Don't follow a trend. Be a trendsetter. Introducing a new service with new options grabs customers' attention, tempts them to use your grocery delivery services a minimum one time. 
By making them feel comfortable and valued with Trioangle's grocery delivery script, let's turn to be a profitable and trendsetter in grocery delivery services. Contact us for easy grocery delivery service implementation for your grocery store. 
Visit Us: https://www.trioangle.com/grocery-delivery-script/
Mail: [email protected]
Skype: Trioangle
WhatsApp: +91 6379630152