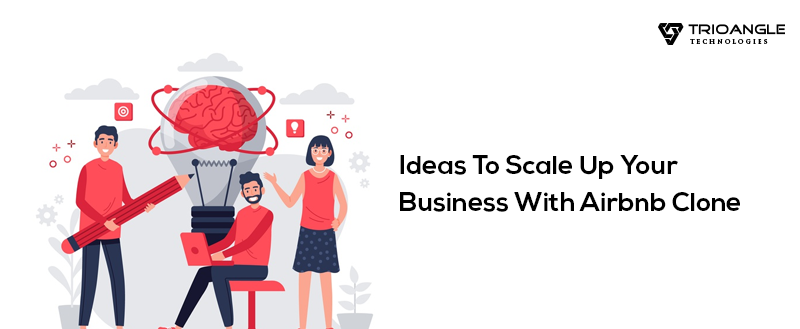 With the great leap of digitalization, many wishes offer and get services through it. Few connects such people and satisfies the demand and supply chain in the platform. For this service they earn some percentage of amount.
In that tone, today's digital revolutions firms like Airbnb, Uber, TaskRabbit come under. Here let's see about Airbnb. In online marketplace they offers best vacation rental service by connecting host and guest. They get service fee for this service.
Inspired by their reach, many business blommers wish to start business on vacation rental business. To those, you can approach a best airbnb clone to start business instantly. In this competitive world, a best airbnb clone can afford you instant solution in a cost-effective and reliable manner.
Airbnb clone are the readymade scripts with core features of Airbnb. 100% flexible script that are easily adaptable to your business ideas. Through you can scale-up your business easily and reach a wider audience.
Ideas To Scale Up Your Business With Airbnb Clone
Rental business visionaries can improvise their business as per industry and customer needs. Approach a best airbnb clone, to customise your ideas & to stand in this powerful platform. You can enhance the script with designs, features to increase earning possibilities
Badges:
Users are real assert to the vacation rental system like Airbnb. Welcoming new customers and retaining already one are important for any business enhancement. Understanding this concept, Airbnb offer slots of features and functions to users that ease the booking. Similarly the badges like "Super host" for host, "Airbnb plus" & "luxe" for listing, are special status for host and their listing. Through which it captures the attention of guests that leads to increase in booking.
Boost Up:
With best working system and robustive database, the system allows numerous listings. To be unique one can boost the listing at the top to grab users attention. If it can be marked as featured. To promote the listing, the user can promote the listing in the system.
Car Rentals:
Transportation is one of the booming industries. We can also say it a billion dollar industry where invest on it. In such luxurious industry you can be a part of it. Just customise your rental script as car rental script. If you wanna cost-effective approach, you can plunge into industry standard car rental scripts Like, Makent Cars– The best car rental software with fine features and functionalities. It is available both in web and mobile apps. Here we have a perfect ready-made software to flourish your car rental business.
Boat Rentals:
Transportation is considered to be the most popular and profitable business. It may be any means, its reach and need never gets faded. In that case business on boat rental is at the top tip. Trioangle provides best boat rental software to the young minds and helps them to launch a business quickly. Our ready-made clone script inspired from the working model of Airbnb, also possess attributes which Airbnb has. You can elevate your business to the next level with well-structured boat rental script.
Space Rentals:
Wanna rent space for events? You can customise you script for event activities or you can choose already existing readymade script Makent Space for instant solution.
These are some of the options jotted down  to wide spread your rental business with customised Airbnb clone. If you wish to add more, well you can approach such ideas to a best working Airbnb clone script. To know more click on [email protected]