Online food delivery service is having a huge growth in the COVID – 19 pandemics. Nowadays, lots of users prefer the online digitized medium. More users are ordering their food online. Let us have to know about the online food industry, the business model, how it works, and the functioning of the food delivery system.
Revenues in Food Delivery Industry in Years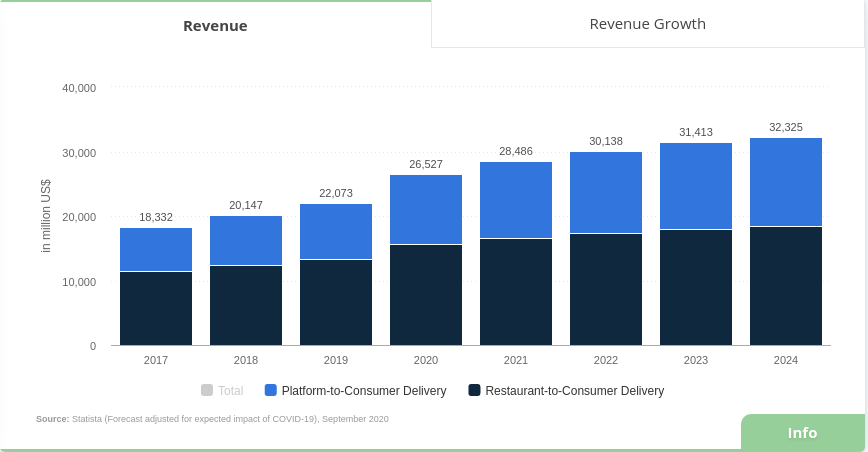 According to Statista, the food delivery industry is increasing its revenue in millions in the year 2018 – 2023.
Revenue in the Online Food Delivery segment is projected to reach US $26,527m in 2020.
Revenue is expected to show an annual growth rate (CAGR 2020-2024) of 5.1%, resulting in a projected market volume of US $32,325m by 2024.
The market's largest segment is Restaurant-to-Consumer Delivery with a projected market volume of US $15,631m in 2020.
In global comparison, most revenue will be generated in China (US$51,514m in 2020).
Users Increased in the food delivery industry in years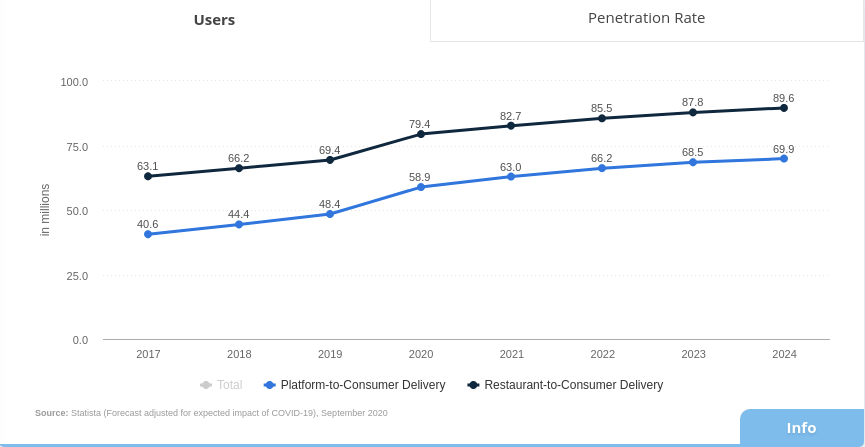 According to Statista, the number of users also increased from 63 million to 85 million users in the online industry. In the global market, the users will be huge in the upcoming years in the online industry.
What is UberEats?
UberEats is an American online food ordering and delivery platform launched by Uber in 2014 and based in San Francisco, California.
Headquarters location: San Francisco, CA
Founded: August 2014
Revenue: 2.51 billion USD (2019)
Founders: Garrett Camp, Travis Kalanick
Parent organization: Uber Technologies Inc
Subsidiary: Ando
What is UberEats Clone?
UberEats Clone from Trioangle is one of the best choices to start an online food ordering and delivery business. UberEats has some unique features which make them one of the most successful apps among entrepreneurs. Now you know that cloning UberEats will help your way to success.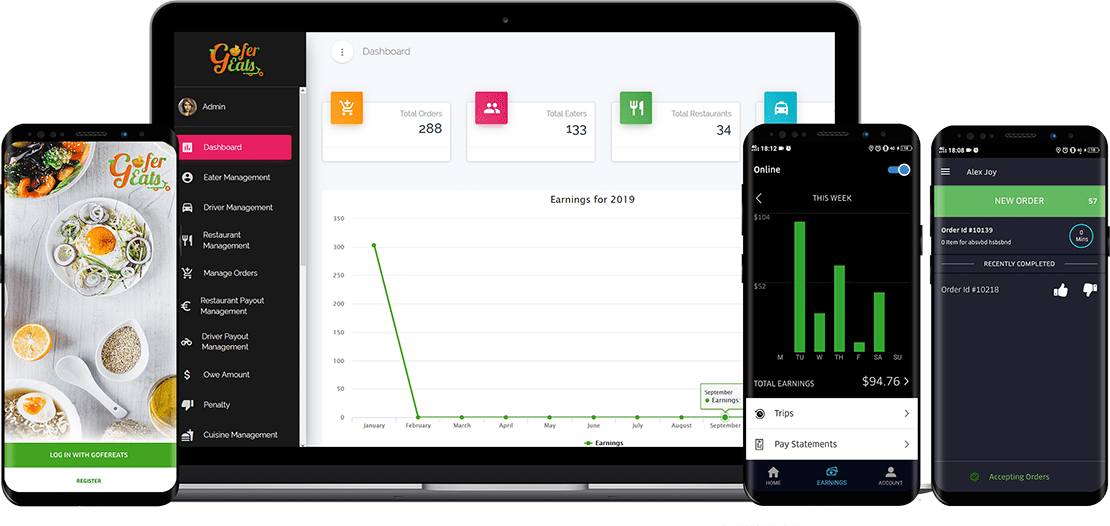 Trioangle UberEats Clone
GoferEats is the best UberEats clone that comes with the all needed features, reliable workflow, and 100% customization. It's available on the web, Android, and iOS platforms. Further, it has a separate panel for the eater, restaurant, and driver to enjoy the services. This UberEats clone script is the ready-made software to begin a business instantly. Our Script has four sites like Eater, rider, restaurant partner, and a separate admin panel to monitor all databases.
Booking Or Services Fee: In our GoferEats, Admin can receive a commission fee from the restaurant partners on the cost of each item that is ordered by the Eaters.
Restaurant Partners Commission Fee: GoferEats has developed to help restaurant partners attract more eaters and reach a larger customer by listing their restaurant placements or suggested list.
Delivery Fee OR Convenience Fee: GoferEats help the admin to charge a flat delivery fee from its customers for their order. The delivery charges will vary depending on the eater's location and availability.
Driver Commission Fee: The amount that GoferEats says it charges their drivers are 25%(can be changed as per the admin wish), but it actually takes a little more than that from their earnings.
Trioangle Offer
Trioangle offers Free installation, free bug support, and as per the client's wishes customization will be done within the time. One month of free site maintenance. All services work will be done for the script at a low cost. For X-Mas & New year, the Food delivery Script was providing the best offer of FLAT 50% with some add-ons. Grab your offer soon. Offer available till Jan 5th, 2021.
Conclusion
If You are ready to launch your food delivery business. It's best to choose this business. This food industry business surely gives you a profit. Our Trioangle gives you a food delivery script ASAP. All kinds of customization work will be done with separate costs and take profits within 5-7 business days.
To Check demo, features, and more https://www.trioangle.com/ubereats-clone/
If you have any queries, feel free to mail us at [email protected] or Whatsapp us on 6379630152.