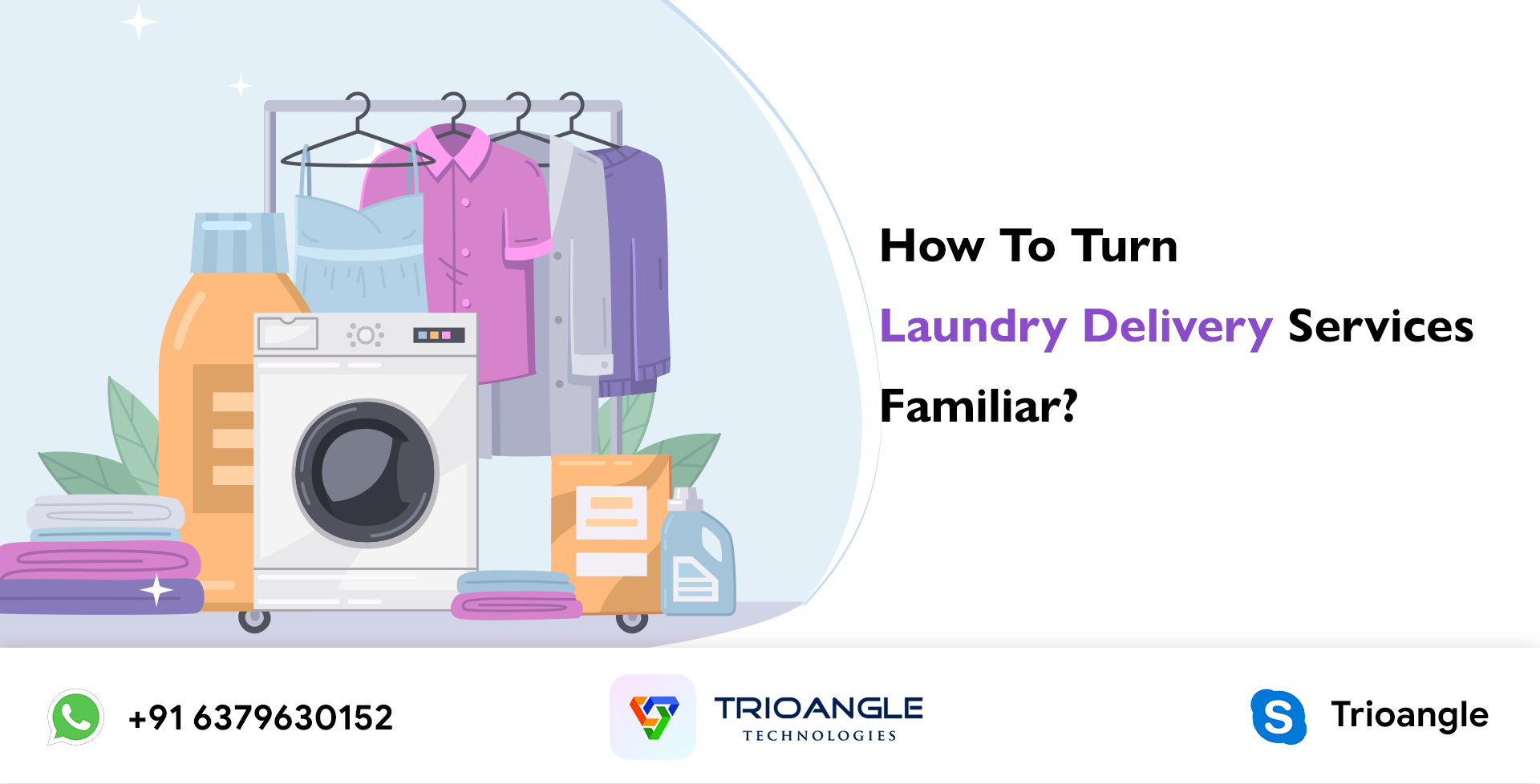 Introduction
In this current busy moving world, lifestyles of people are highly competitive and evolving regularly. A dedicated timeslot for some individual tasks is much tougher than anything. Likewise for laundry tasks too. 
So, with the shortage of time to spend on some tasks and the demand among the people to run their life easier the On-Demand Laundry App gets popularized gradually as a trend. Especially, due to the increase of laundry service providers.
To solve such issues faced by the people, as an entrepreneur or business owner you can develop an on-demand laundry service app because it is the right time to transform your business into a dedicated online medium. 
There are many existing on-demand apps in the market, but when it comes to an on-demand laundry service, there is less awareness in the market presently. So going on with this trend by the entrepreneurs has a scope in the laundry service market.
Suppose you are preparing to get into laundry service or like to carry your traditional ongoing business into the online platform to expand your client base. In that case, this is the correct time to invest in crafting a dazzling On-Demand Laundry App solution. 
This blog will clear everyone who is in the plan, through the great learning process to build a feature-rich app solution.  
Global Market Stats Of Laundry Service On-Demand
By the year 2019, the laundry service on-demand market is valued at around USD $30.2 billion dollars. By the year 2027, the expected reach is around $343.4 billion dollars.

In the United States Of America, the maximum revenue generated in 2021 is nearly USD $28808 million in 2021.

By the year 2021, the profitable global growth of the On-Demand Laundry App is around USD $104.28.

The predicted growth increase is around USD $141.58 by the year, 2026 with an annual pace of 7.4%.
How to Attract More Clients To Your On-Demand Laundry Business?
Environment-Friendly Services:-
It is very critical to acquire more clients to present to your business ASAP and promote with an effective market strategy. Also, no make your clients be a  part of your business by presenting environmentally friendly and toxic-free services which will motivate them to be in it. 
Offering chemical-free cleaning, using ineffective detergents for washing clothes, etc… Initiatives like all these will let clients choose and adopt your services with healthy and eco-friendly habits.
User-Friendly User Interface:-
To make the clients spend more time on your app usage is by providing them an app with an attractive design and users friendly user interface. 
The feature-rich user interface will help in increasing the retention ratio of the clients, navigation, and easy understanding of the app functionality.   
Offering Customizable Solution:-
To offer a laundry service to your clients and make them be connected within your platform form for a long period of time, you must analysis of your clients' habits, such as count of laundry, monthly average expense, time taken for pickup and delivery, mode of payments, etc… Which all will helps in formulating the strategy to make it happen by yourself. 
Different Business Model Of On-Demand Laundry App
On making the development of the On-Demand Laundry Service App quite easier there are 3 different identical business models. These models describe the primary purpose of the app and dictate the app building consequently.
In-Field Model:-
In this model, the laundry service company installs numerous laundry agencies in a specific location.

In this On-Demand Laundry App model, there won't be any involvement of the laundry pickup agents.

The clients have to drop off their clothes with detailed requirements if needed with specific instructions at the specified laundry agency.

The clothes will be delivered to the client's location once it gets washed.
In this model, all the support of the laundry agency belongs to the owner of the business, which results in higher investment in launching a similar setup at the various sites.
On-Field Model:-
An established company to set up their outlet for laundry service to scale up the business.

At the scheduled time at the client's convenient time, the clothes will be picked up and delivered to their location.
In this model to deliver an excellent and quality service to the clients, skilled service providers and trained professional service providers are required to be in the business. The clients are attracted by the advanced and quick on-demand laundry service is existing.
Aggregator Model:-
This business model provides a platform for multiple identical businesses to build a marketplace.

The startups, which don't have their own physical existence or support, likely interest numerous small businesses to extend their business reach.

The listing of such new or small businesses on the online medium is charged with some cost or requires some fees. After that, there is no need to make a payment for the listing once done. Which just relies on the marketing process of the business owner.
In this model, all the payment transactions are handled by the admin, which also can introduce new plans, offers, and promotions for the business associated with the medium.
Effective Benefits Of Laundry App Development
Time-Saving:- 
The laundry service on-demand saves clients time, there is no need for the clients to spend their own time on laundry tasks, or don't have to handle and drop the clothes to get them cleaned. 
Instead, the clients can simply request the required service via the on-demand online solution by mentioning the instructions for scheduling the date and time.
Service And Secure Services Delivery:-
The pickup and delivery of laundry service are safe and secure with full of safety measures like sanitizing, contactless payment, etc… These are for to hold high-end safety without interfering with clients' services.
Effective Management:-
With this on-demand solution, laundry services extend their support to many people. With this single platform access, no need for any commercial buildings to manage the business. The business is effortless and manageable remotely via the On-Demand Laundry App Solution.
Bottomline,
Come to an end. Laundry services are familiar only if they offer extensive support to customers in a smart way. Factors to attract customers, various business models and the benefits of the Uber For Laundry app listed in this blog definitely makes you a familiar player in the market. Let us start your laundry services and turn them into familiar ones right now.