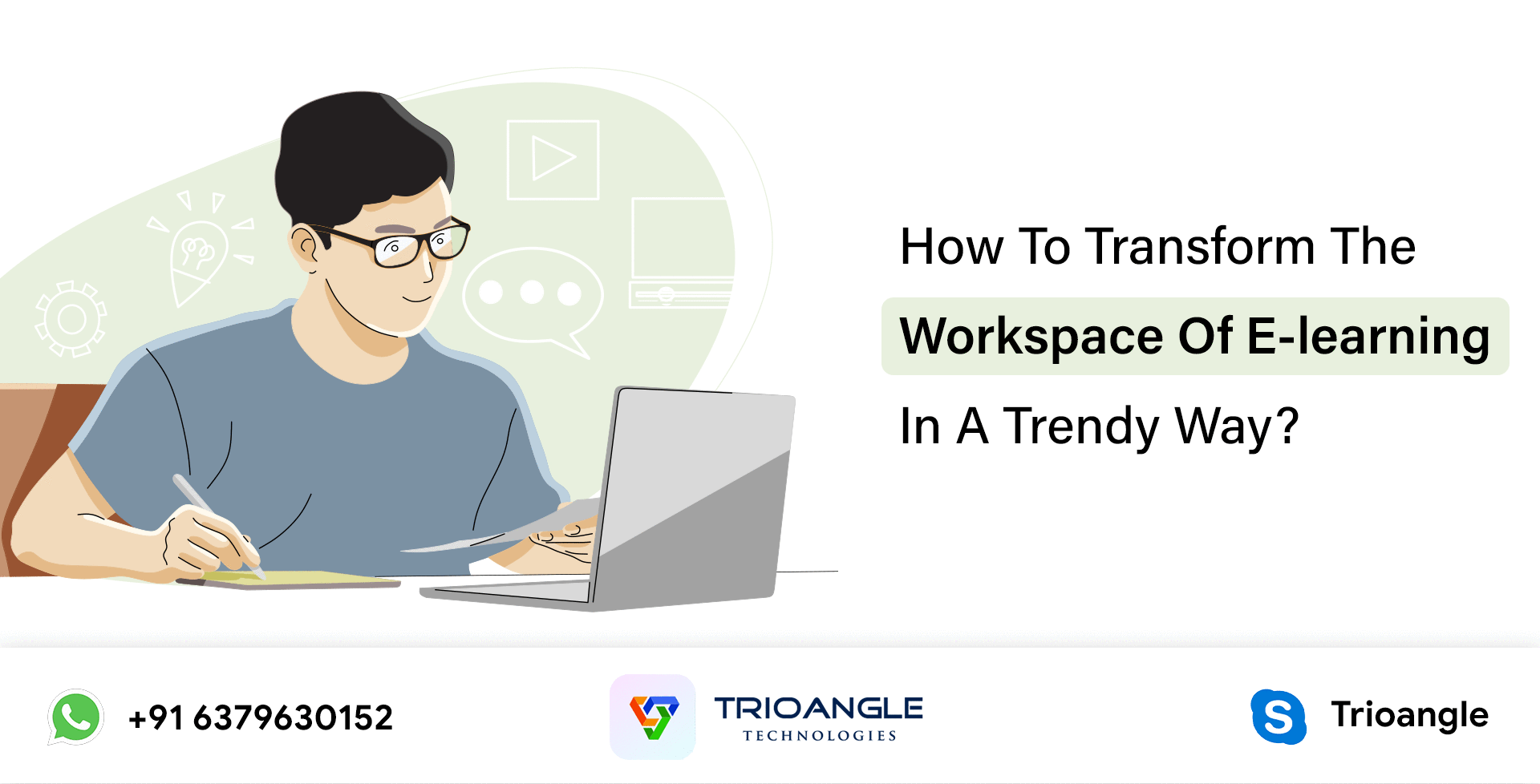 In recent days, everyone is passionate about knowledge-sharing. Developing the right platform is an essential thing to make knowledge sharing as smart and efficient. E-learning is one such familiar platform that holds advanced features and the latest technologies. 
So What is E-learning?
An E-learning platform is the delivery of knowledge and activity through digital resources. Although, E-learning is based on formalized learning. It is provided through electronic devices such as computers, tablets, and even smartphones. This makes it easy for users to learn anytime and anywhere without any restrictions. 
Towards Smart Elearning Workspace: Trends to Look Out
Let's look out at 5 top trends that are at the nascent stage. But, will eventually become the main keys:
Data science and artificial intelligence reach hand in hand when it comes to online activity software. Data science helps AI which is the outcome of machine learning.AI is a great tool as it helps to predict user behavior and customize the content accordingly.
People often fear that robotics might overtake humans. But, the reality is that robots can work in pairs with humans and embrace a collaborative effort for better outcomes. So far, we have features like chatbots, an automated response system, voice assistance, and so on. 
Another reason why AI gets the spotlight is that robots can process data based on the performance of the students, in our case, the employees. As a result, we get a personalized learning experience.
Any other online classroom software, incorporating technology adds benefits for the users.AR and VR are two fascinating technologies that give immersive experiences, making learning fun and engaging. 
Upskilling through traditional methodology can cause boredom and a lack of interest for the employees. Wherever you train them with help of a VR system, they are more likely to imbibe what's taught better than otherwise.
The employee should not be just trained to do their uniform job. But, also improve other skills such as time management, communication, leadership, team coordination, and other skills. This skill improvement helps them to face challenges and find a feasible solution during a crisis or even for a short-term project.
Giving them tasks associated with work-life skills can enhance them nearly. This way they would not just be effective but also efficient in creating others productive too.
The core reasons for building the right E-learning platforms in a unique mode are listed below. 
Promo Lectures Videos:

As we all know that ads can reach more viewers, we have added this feature to our e-learning platform to engage more users. Also, it enables adding and managing promo videos.

Quizzes:

It is one of the key features to evaluate after learning a topic. This is the best way to get to know the depth of knowledge received. The e-learning platform provides a quiz section to make students feel confident in every particular topic.

Download lectures:

This section In the E-learning platform allows the user to download the video lectures to learn anytime anywhere without being online.

Certificate management:

Anything without proof is not validated, and so certificates are provided after completing every course to value our learning.

Multiple Languages:

In the e-learning platform, language customization helps learners to acquire their skills in their comfortable language options.
Real-time Solutions to the Obstacles in the E-Learning Space:
If you are targeting a learner and you are making a platform for them only then do you need to know their point of view, especially in online learning. To engage more users based on the content and the fun activity along with courses. Ways of developing a future e-learning platform are normal appearance and its content.
Some entrepreneurs don't comprehend the fact that this generation always looks for more futuristic options. That is the reason, Entrepreneurs should consistently choose a script like Expertplus, Which is loaded with multiple features and the latest technologies to meet students' requirements. 
If you are developing an online training platform, then you need to focus on futuristic tools and a nicer appearance only works if you have the right course. The end concept of e-learning is knowledge sharing. 
So, the content part must be important to make the learner experience. Many interactive sections and information video lectures along with animated graphics make your platform more interesting and makes more attractive.
When you are developing an interactive app along with powerful AI-based tools then you need to have one technical expert with you, they will monitor the performance of your e-learning platform and regular updates for making it fully functional all the time.
They will not only help you in updates and installation but also they will act as a pillar in your online venture.
Finding a solution that has all the functionality of the above challenges and also at a comfortable price is very easy now. The e-learning service platform is the one-stop solution for you to create your Android application and as well as iOS apps from scratch at an affordable price.
An E-learning platform is the best solution to customize and comes with the latest technology to make your platform.
Wind up,
Educational Associations that help millions of learners constantly wish to curate reflexive content.  While school systems must invest in technologies, it is prudent they have the right interventions and tools that are safe, cost-effective, and equitable for all learners.
It benefits to partner with a technology key provider that uses research-driven technology and walks you through the curation method of winning an E-learning application.  Such wide apps can help you to preserve time, cut costs, and increase outcomes.