Are you the person who is seeking a better business opportunity without financing a large amount of money?
You are at the right place to carry on.
Starting a home food delivery business via UberEats clone could be the right choice for your business plan in this digital era. Especially if you are in plan to invest less, then home food delivery would be a great plan to catch the lucrative one. 

Let's get into the article, to comprehend the important parts of starting a home food delivery business.
Know The Worthwhile Of Home Food Delivery
Before, entering the business development process with UberEats clone, it is highly important to know whether the business is worthwhile or not. And to know the future sustainability or the demand and need for that business. It would assure your business clarification. Let's know, 
Food delivery is going with the speedy tech, the apps like Uber Eats, Grubhub, and Doordash are enhancing the food delivery business into the techie space. Where people can enjoy their desired food without any hurries or rush with just a couple of clicks. Hence why, these food delivery apps are considered the on-demand business now.
According to a statistics report, the food delivery market will surely move to higher growth with more profitability. And it is estimated the entire food delivery online will reach over $320 billion market value by the year 2029.
So, starting a delivery business is highly profitable, especially with homemade foods, which would get more intense from the users of its high quality and hygiene rather compared to the big restaurants.
Choose Your Home Food Delivery Business Model
There are majorly three types of delivery business models in home food. They are,
Entire-service Business Model
If you are choosing this entire food delivery business model, you could be responsible for all, from preparing the food to delivering it to the consumers. So, look at your possibilities before picking this business model.
Prepare Only Model
In this, as the name implies, your process is only to prepare the food. The ordering and delivery can be managed by other third parties, and you can just import your profile into any food delivery service providing an app like Uber Eats, Doordash, etc.
Or you can solely hand over the delivery functionality to any delivery partners.
On-Demand Business Model
With this model, your consumers could ask you to prepare their desired food based on their demand. You can simply make those menus in your kitchen, and list them out to sell. So, have your food delivery online medium with this option too.
Let's fix your business model with any of the above-mentioned types.
Decide- How To Get Consumers For Your Home Food Business?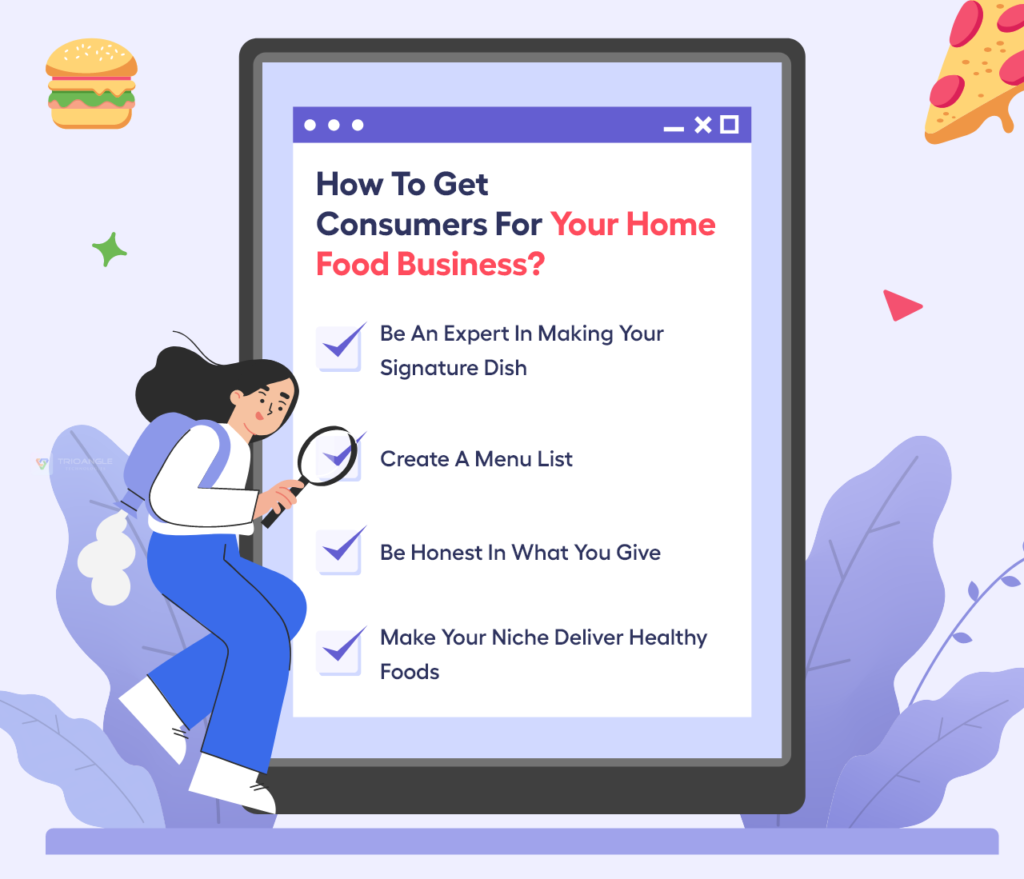 It's highly crucial to know how to get the consumers. Because every business focuses on getting their targeted consumers. It's the only primary part to run your business.
So, here are some important steps that you need to concentrate on to get and retain your customers.
Try To Be An Expert In Making Your Signature Dish
You might see many restaurants in different regions, which are exclusively got fame for their signature dish and the usage of UberEats clone apps. Likewise, make your home food delivery business with a signature dish. Experiment many times before supplying culinary creations, because it will assist you in getting a large number of consumers and make them stick with that certain dish. 
To say clearly, create an efficient recipe formula for your specific dishes.
Create A Menu List
It is my opinion, to create a menu list or meal plan, to know the daily investing cost of your food delivery business. Because a calculated menu will assist you in working within the budget plan.
Before preparing your menu list, analyze the demands of the food in your business locality. Certainly research your target audience, vegetarians or preferring meat-based dishes?
According to your consumers cater your menu list.
Then, include your menu lists with appetizing descriptions by using some alluring words to entice your consumers at first sight itself.
Be Honest In What You Give
Nowadays, customers are gradually transitioning towards affordable and nutritious methods of receiving personalized meals. Many consumers are frequently away from home and need to get paid for meals. These customers seek alternatives that provide healthy meal plans via subscription services that can be enjoyed in the comfort of their homes.
As a home chef in the home food delivery business, it's essential to be authentic with these customers and, most importantly, with yourself. Therefore, it's important to use ingredients that are safe for health and to maintain hygienic kitchen practices. If a customer is unaware of any particular ingredient, it's best not to use it as it may cause problems for all.
Make Your Niche By Delivering A Healthy Food Style
So, in this business, ask yourself a question, Why people are seeking homemade food?
One stop answer is health and hygiene that to avoid the food colors or some chemicals in it. Hence, the whole purpose for you is to cater the healthy clean food. That comes up with the right ingredients that release the right amount of carbs, proteins, and fats.
Let's make the food orders tasty and hygienic to get more consumers via word of mouth by ensuring the homely essence to the consumers.
Provisions Need For Starting A Home Food Delivery Business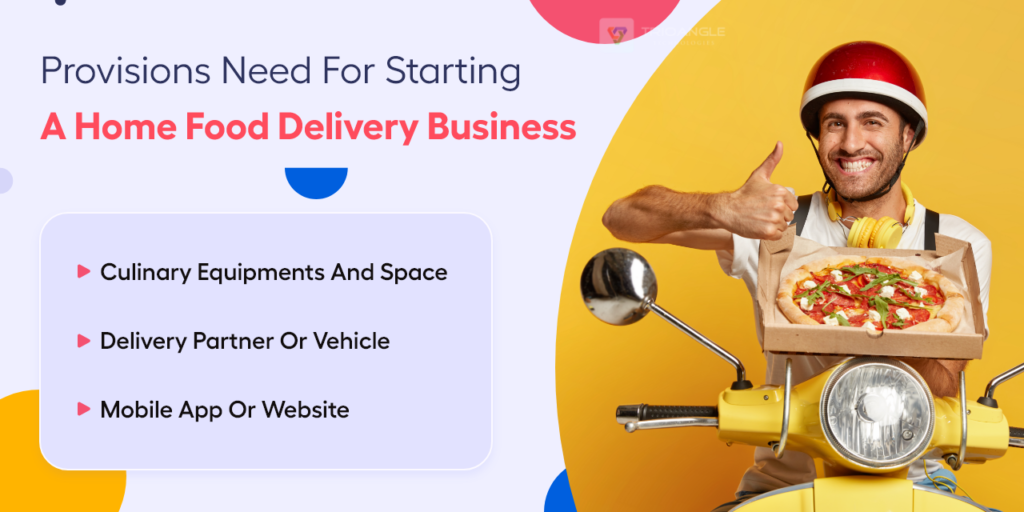 Here are some of the essential requirements for starting a home food delivery business. As said earlier, this doesn't need a huge investment.
Culinary Equipments And Space
It is the initial thing, where your homemade food business will begin. Purchase the kitchen equipment new or for rent or buy used products which are in good condition based on your budget plan. Possess other tools like commercial-grade refrigerator, and scale to fulfill your cooking needs.
Have a decent kitchen space to prepare all your meals that is sufficient for making all your whole day's food business needs.
Delivery Partner Or Vehicle
If you are fetching the business model with delivery then you need to take responsibility for the delivery too. Have your own delivery partner or own vehicles and delivery people to process all the deliveries. Suppose, your homemade food delivery business possesses a regular number of consumers, you can use a van to make the deliveries.
It will reduce the cost of delivery by controlling fuel and labor costs.
Mobile App Or Website
Starting your home food delivery business with an online presence is highly essential in today's tech world. So, build your food delivery mobile app or website with all the core features and allow your users to book their orders within a few taps.
This mobile app and website will make you more competitive in the market and create your brand identity too. One single website or app could enhance your customer experience about the meal and other availability which ease their filtering process.
You can stay informed about meal preparations and the deals of the day through instant notifications and also could get money through digital payment transactions.
So, separate your budget plan for the home food delivery app or website.
Before, this you see the essential factors that are required for starting the home food delivery business.
Let's see how to launch your food delivery business
Look On How To Launch Home Food Delivery Business
Once completing all your business requirements based on your business model, there are some processes for implementing to live your business. Here are some of the importance to check on,
Research And Analyze The Market
Researching the market and identifying your niche will assist you in getting an important decision for your home food delivery business development. It will help you to build a food delivery business strategy and show you where the pinpoint you are lacking in.
Analyzing the market will move you to compare with the competitors in that region and makes you to what the global food delivery players are progressing. This will assist you in gaining the best trends and features, that will enrich your brand and helps to stand out from this crowd food delivery marketplace.
Write A Detailed Business Plan
A business plan will move your development process without any deviations. So, have a crystal clear business plan for your home food delivery business on what your business going to serve the consumers.
This business plan could include all metiers, such as
Researching about the location and the targeting consumers
The meal plan and your packaging costs
Location-based delivery offers and deals
Other necessary requirements like electricity, labor, and fuel costs for kitchen and delivery.
Possess your marketing and sales strategy that assists you in developing the home food delivery business with new traits.
Work On To Make Your Home Food Delivery Business Authorized
When it comes to restaurant or home food preparation it is important to get authorization or official recognition to value your business.
Here are some important to check in while legalizing your business,
Food safety regulations
As a home food delivery company, you need to comply with food safety regulations to govern the preparation, storage, and transportation of food to prevent the spread of foodborne illnesses.
Business registration
Registering the business with the appropriate government agencies and obtaining the necessary licenses and permits to operate legally.
Taxation
You need to pay taxes on the income and collect remit sales taxes on your food delivery process.
Insurance
Possessing insurance will protect you from heavy financial risk in the circumstances of any damages or accidents during the delivery process or by the kitchen appliances.
So, fulfill your home food delivery business with legal professionals to ensure compliance with all relevant laws and regulations in the jurisdictions.
Market Your Home Food Delivery Business
Marketing your business completely depends on your targeting consumer behavior, likes, dislikes, and needs. This type of promotion will help to increase your unique selling proposition that automates your customer's loyalty.
Here are the steps to fulfill your promotions,
Optimize your menu listings according to the consumers and deliver personalized queries to them while bookings.
Post your unique meal plans on social media to attract new customers
Reward your regular consumers with hot offers
Promote your home food delivery app or website in a different medium to reach a wider range of consumers.
All these above techniques and research will assist you in getting the best way of promoting your food delivery business and it would attract the targeted audience directly.
Summing Up
Almost, I've covered the top essential things that you need to be enhanced in starting the home food delivery business.
Let you take your initial step in developing the business, though it might be a daunting task it will disappear automatically once you get the potential customers.
If you did all the development operations in the right manner, then definitely home food delivery would be an exciting and rewarding venture in your entrepreneurship travel. All the pinpoint is to have the right strategic approach to stand out in the crowded market.
Let's start the home food delivery business with all the new sets and energetic ideas to earn revenue back in millions.