Online dating has become an integral part of modern life, and it's changing the way we connect with each other. For me, it all started when a friend decided to try her luck with online dating. I was skeptical at first, but as she shared her experiences with me, I began to see things differently and started using dating services.
She told me about the convenience of being able to swipe through potential matches on her phone, the thrill of getting a message from someone she was interested in, and the excitement of going on a first date with someone she had never met before. As she continued to use the app, she met people from all walks of life and had experiences she would never have had otherwise.
That's when it hit me: online dating isn't just a trend, it's a revolution. It's creating opportunities for entrepreneurs who want to build businesses that help people find love.
In this blog post, we'll explore the world of online dating and discuss how to start an online dating business. Whether you're looking to start your own business or are a newcomer to the startup scene. There's never been a better time to get involved in this exciting and rapidly-growing industry.
So why still lingering? Let's get started with this blog post!
5 Things to Know to Start an Online Dating Business:
"Without a plan, even the most brilliant business can get lost. You need to have goals, create milestones and have a strategy in place to set yourself up for success."
-Yogi Berra
The five things discussed here provide you with plans for starting an online dating business. As Yogi Berra stated, you'll have goals, set milestones, and create strategies once you completed reading these five things. So, relax, sit comfortably with a notebook, and start consuming the knowledge on how to start online dating business.
Market research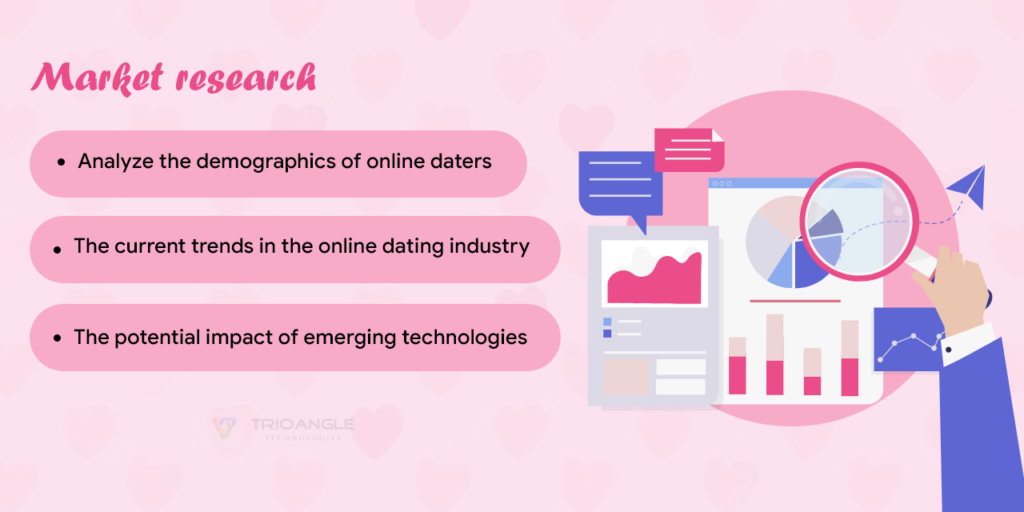 Analyze the demographics of online daters
Understanding the demographics of online daters is crucial to start an online dating business. According to recent studies, online dating is most popular among individuals aged 18 to 24, with over 22% of this age group using online dating apps. However, the use of online dating platforms is increasing across all age groups, with over 15% of individuals aged 55 to 64 using online dating services.
It's also important to note that online dating is no longer just for heterosexual relationships. The number of people who identify as LGBTQ+ use online dating services. So, the dating market is increasing, with some dating apps specifically catering to this segment.
You need to find the market to utilize for your business by doing the groundwork. So you can serve the demand better and augment your business growth as well.
The current trends in the online dating industry
Did you know that one of the most significant trends in recent years has been the rise of "swipe-based" dating apps, such as Tinder and Bumble? Its popularity is widespread as it allows users to quickly swipe through potential matches and connect with people who have also expressed interest in them.
Another trend is the increasing popularity of niche dating apps that cater to specific interests or communities. For example, there are dating apps specifically designed for dog lovers, farmers, and even people who love bacon.
You have to incorporate features in your matrimonial business that should go beyond just connecting users with potential matches. Go with artificial intelligence and machine learning algorithms as this trend is just now growing around. It attracts users toward you for providing advanced benefits over other dating markets.
The potential impact of emerging technologies
Emerging technologies such as virtual reality(VR), augmented reality(AR), and blockchain have the potential to transform the online dating industry in significant ways. By utilizing virtual reality, you can allow users to go on "virtual dates" without leaving their homes. On the other hand, augmented reality helps users find potential matches in real time.
You can use blockchain technology to increase trust and transparency in your online dating business. This technology reduces the risk of fraud and improves user safety while verifying user identities and recording transactions.
As these technologies continue to develop, you need to stay up-to-date. You can explore how to leverage these new technologies to innovate your services to outrank the competition.
Business Model for Starting an Online Dating Business:
Forming a unique value proposition
Your online dating service should have a unique value proposition as the competition is fierce in this industry. You need to differentiate your service to set it apart from other similar services.
To achieve this, understand what your target audience is looking for in a dating service. Is that they expect the platform to be easy to use, advanced matching algorithms, or a particular niche?
Take a particular niche for example. There are plenty of services available for teens and adults to get online matchmaking services. So you can open your services exclusively to 40+ aged people.
Likewise, you have to identify your unique value proposition. Once you identify your UVP, you can use it to distinguish your dating business from the ocean of dating services.
Variety of business models
There are several business models that online dating businesses can use. The most common models include subscription-based services, freemium models, and in-app purchases. Each model has its advantages and disadvantages, and it's essential to choose the one that fits your business goals and target audience.
Your business models should be friendly to users. If you offer dating services for subscription only, then consider giving users a limited-time free trial. Otherwise, your service won't work in a user-friendly environment. In fact, it's hard to grow a business with strict subscription plans.
Always keep your business model simple and worth subscribing to for users. So you can grow your membership count and also be able to offer better service for daters out there.
Techniques to stand out in a crowded market
To stand out in a crowded online dating market, there are various techniques that you can utilize. One effective technique you can do is to focus on bringing something new to the industry.
For example, you can incorporate unique features such as video profiles or advanced matching algorithms to make your service more appealing to users. Nowadays businesses use gamification to increase user engagement. You can also include it to enhance users' engagement in the dating platform.
By incorporating these techniques into your online dating business, you can create a unique and engaging platform. These techniques will pave the way to stand out in the thick market.
Technology and Infrastructure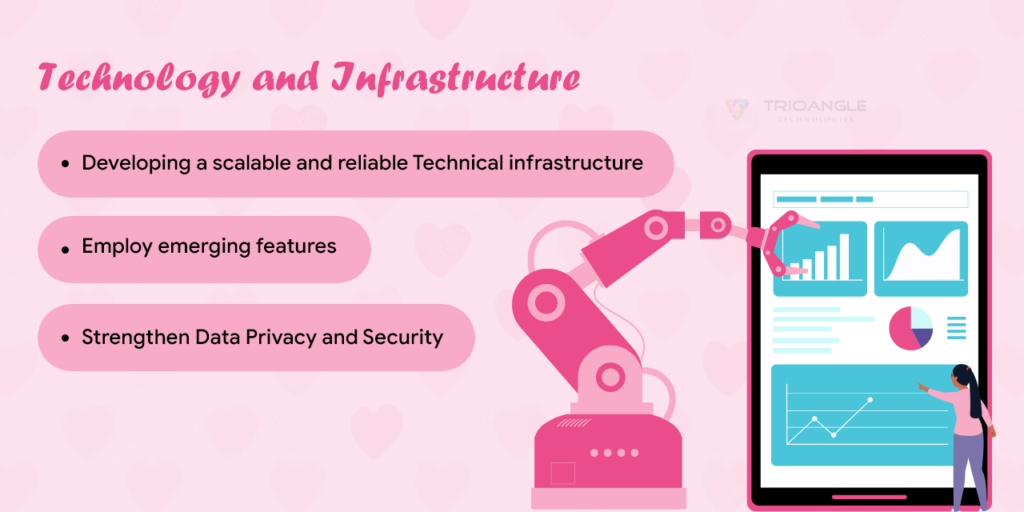 Develop a highly scalable and reliable technical infrastructure
To run a successful online dating business, you need a highly scalable and reliable technical infrastructure (i.e. software or application) that can handle a large number of users and transactions. To form a robust dating platform, you may need support from experienced mobile app developers or web app developers.
They help you design a perfect solution for your business. From users entering the app to exiting it, they provide an attractive interface that makes them stay and use your dating application for a longer time.
Remember once their job is done, they deliver the dating software you require for your business. Thereafter you're the sole responsibility for ensuring your infrastructure can handle sudden spikes in traffic. You should regularly monitor the platform for its seamless performance and security.
Employ emerging features
Keep in mind that users using your dating platform are humans full of emotions and feelings. To make them more engaged in using your application, features are the sole option you can devise to achieve that. So consider utilizing emerging features in your business to be the trend in the industry.
Ice breakers, prompts, in-app messaging, audio, and video calling, push notifications, compliments, etc., are some of the emerging features of the dating industry. Make use of them to emerge peculiar in the service.
The dating business succeeds when more people interact, engage, and date online. These features will help you to stimulate users to prefer your application.
Strengthen Data Privacy and Security
As an online dating business owner, you have to prioritize data privacy and security to protect your users' information. From implementing secure login to authentication systems to protecting data, it's your duty to provide security for the user's valuable personal data.
You should also provide clear privacy policies and ensure that users are aware of how their data is being used. By prioritizing data privacy and security, you can build a trustful environment for your users. And also you can create a safe and secure platform for your online dating business.
Marketing and User Addition
Devising a strong marketing strategy
Marketing is elementary and essential for every business. To get a better response from the demand, you need to put in strong and unique marketing strategies. So you can differ from dating companies that do marketing as a chorus.
Digital marketing is effective nowadays for businesses. Understand the engagement metrics of social media such as Twitter, Facebook, Instagram, and TikTok to fast reach potential users.
There is another way to attract a better audience base. It's by making yourself an expert in the dating industry and offering things that you know about dating. By giving useful tips, you can attract people and offer them your dating business to make use of.
By the by, you brand yourself as a renowned expert who has a profitable dating business too in his hand.
Improve user addition and retention tactics
Have a data analyst or become an expert in that field to improvize user addition and retention rate. Without understanding data analytics, online dating businesses can't thrive. User data is vital to learn their behavior and their pain points.
You need to understand users to offer them personalized services. So they recommend your dating service to their friends. Finally, new users will come into your business with existing ones continuing your service. So use data-driven insights to provide excellent customer service which is basic to increase the user base.
Building a strong brand identity
To build a strong brand identity, start by determining your brand values and voice. Develop a consistent visual identity across all channels, including logo, color palette, and typography. Eventually, create a brand style guide to ensure brand consistency in all communication.
Monetization and Revenue Streams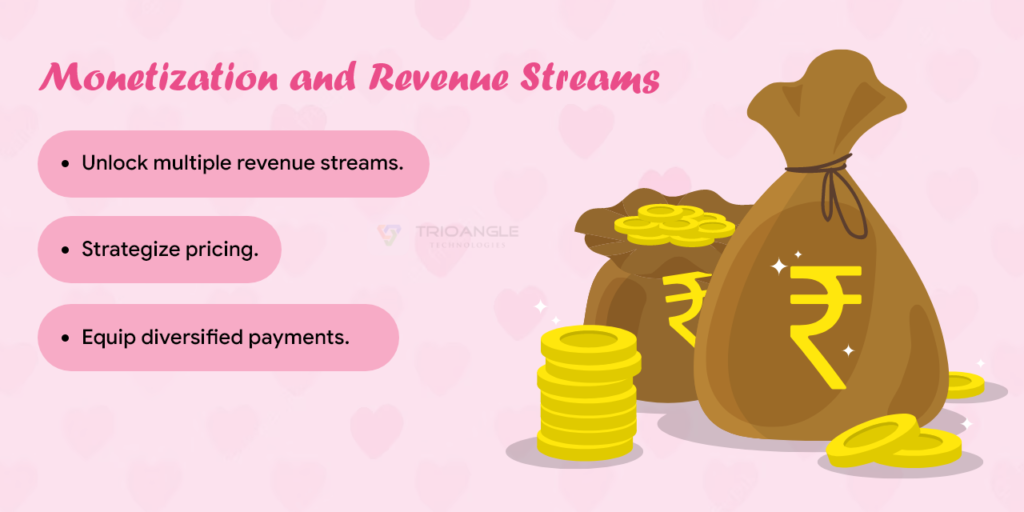 Unlock multiple revenue streams
The world is not old school anymore. In today's digital time, anybody can earn handsomely. By having an online dating business, you can unlock multiple streams of revenue such as subscriptions, advertising, and in-app purchases.
With these revenue channels, you can diversify your income and can eradicate the fear of depending upon a single source of revenue. With diversified income, you can multiply your return on investment from your dating venture very shortly.
Strategize pricing
All businesses do competitor analysis when the topic 'revenue optimization' rises. But you don't do that. If you do, don't depend on that data too much because your innovation and efforts are somewhat different from others. It may deserve more than the market price.
So focus on providing better service for a good price. Make it imploring to users. Your competitors will start optimizing their prices to yours once users feel satisfied with your service.
Equip diversified payments
Diversified payments are very helpful for your dating business, as it allows you to offer multiple payment options to your users. You can offer a range of payment methods such as credit cards, PayPal, and mobile payments, you can make it easier for users to sign up and pay for your services, which can lead to increased conversion rates and revenue.
In addition, some payment methods are more popular in certain regions or demographics. For example, mobile payments are more notorious in emerging markets with younger users. You can utilize these payment opportunities to attract a wider range of users and increase your dating business's share.
Conclusion
In conclusion, starting an online dating business is a lucrative venture. But it requires careful planning and execution. By following the five key things digested in this blog, you can increase your chances of success and stand out in the competition.
First, conduct thorough market research to understand your target audience and competition. This will help you develop a unique value proposition and stand out in a crowded market.
Second, choose a suitable business model that aligns with your goals and resources.
Third, build a scalable and reliable technical infrastructure that allures users and delivers a seamless UX.
Fourth, prioritize marketing and user addition techniques to build new users, retain the count, and establish brand identity.
Finally, consider offering diversified payment options to improve user payments and your business's growth.
By following these steps, you can create a thriving online dating business that delivers value to your users and generates a healthy return on investment. So what are you waiting for? Now you absolutely know how to start an online dating site business. Confidently, dive into the world of online dating and create your own success story today!