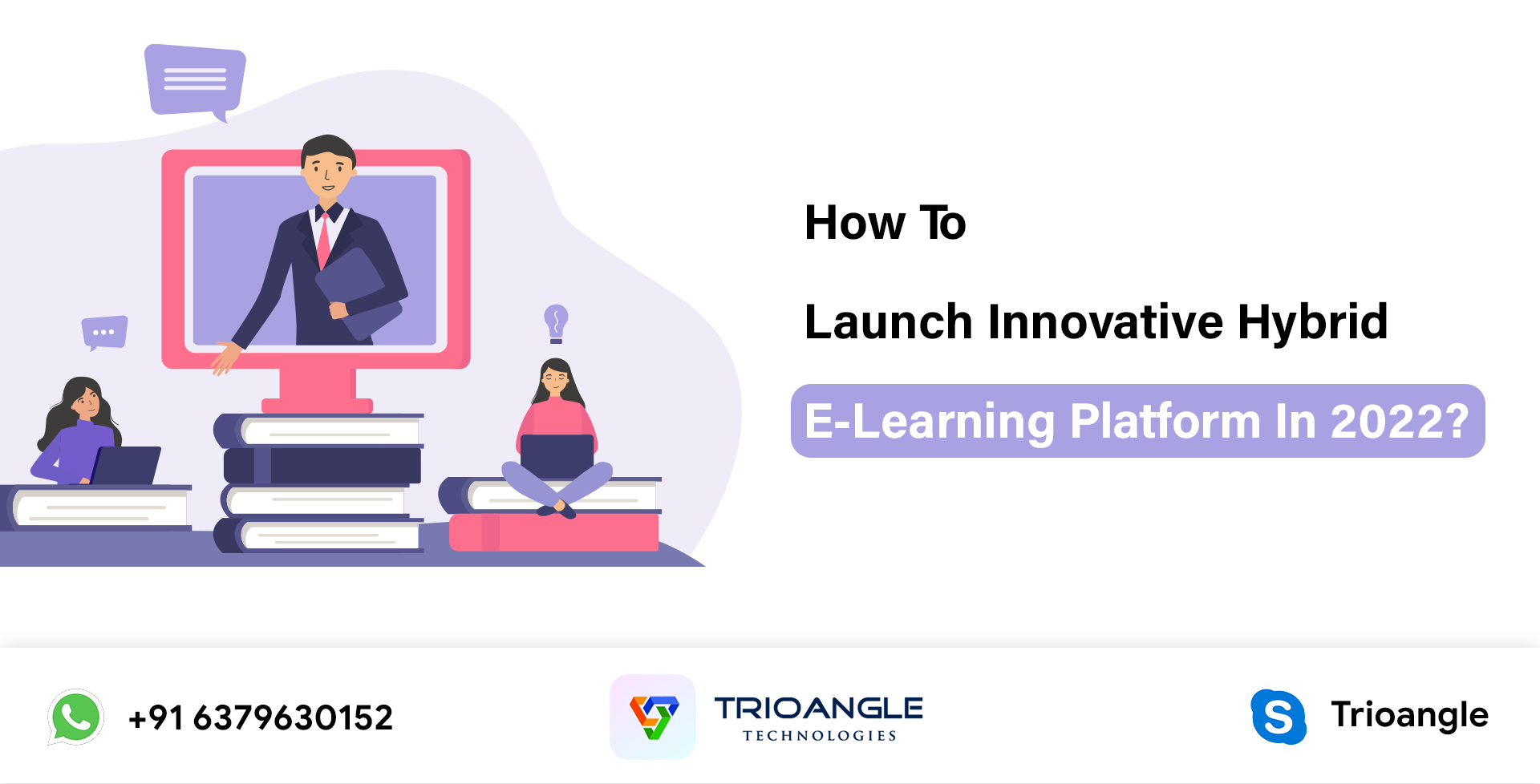 Nowadays, an online learning platform is the best place for easy education via online modes. According to the report, 93% of companies have a plan to adopt online learning. It's a web space or portal where education content and resources exist that make the students get a wide range of knowledge on many topics in one place. 
It is also an excellent platform for both students and tutors to feel comfortable when entering into the Elearning services. Specifically, lectures, resources, opportunities to meet and chat with other students, and more. 
Entrepreneurs who are passionate about developing a knowledge-sharing platform, know that there is a need of developing a learning management system. That has all the essential features and the most delinquent technology.
E-learning software enables start-up businesses and entrepreneurs to construct a robust learning marketplace capable of holding extensive online resources in a few hours.
The World is Getting Ready for Custom/Hybrid Elearning:
Does your company want to be the top trendsetter with custom E-learning solutions?
Read on to know how your company can do it!
Activation Of Mobile App-Based Learning:
Does your company want to be spotlighted in the industry?
Then, you have to invest in something based on the point of today's generation.
Yaa! it's a mobile phone.
Research states that 80% of the world's users use smartphones.  Most of the learners prefer learning courses in their time of need or in their free time. So mobile learning offers that comfort to the users. With mobile, you can cover a range of training needs.
Self-learning

Proper training

Simple training

Collective or Sociable learning 
Also, business owners saw an improvement of 55% in their business after adopting mobile learning. 
Isn't it?
Custom E-learning development ideas can do more. And various mobile learning applications can keep the user engagement. Some of them include:
Quiz applications

Audiovisual content

Professional and classroom training aids
Game-Based Learning:
Interesting learning is great!
To be one of the trendsetters, you have to leverage the user's interest to gain the maximum attention from the audience. Game-based learning is one of the most helpful approaches that engages and motivates users to learn.
In companies, 33% of employees prefer to have game-like learning in their training.
What is gamification learning?
67% of pupils prefer gamification learning to make them study with interest. Let's assume a glance at some game-based learning.
There are tips at each level that perform as motivation and permit users to move forward with games.

With gamification, a business's ROI sees a high rise!

With gamification, your company's team will have more useful recollection and retention paces.
Micro Videos:
Today's generation doesn't prefer the large size of content learning. Also, the long content doesn't suit their needs.
What to do?
And, the perfect solution is micro video learning. E-learning developers break the traditional content learning to help the users with efficient learning.
In fact, investing in micro video learning wouldn't cost much. Based on the report the cost is 50% cheaper than longer E-learning courses. 
Immerse Learning Experience:
Custom E-learning consequence like AR and VR learning solutions has carried the world. According to a report, 97% of pupils like to study a VR course. Also, 41 % of educational institutions and 16 % of marketing companies use VR solutions.
Why they are effective?
They engage users and improve retention rates because they bring real experience. Along with helping users, businesses using AR and VR resolutions see an increase in transformation rates. It leads to higher results.
Tips to Choose Right Digitization for Hybrid Elearning:
Finding the best e-learning platform for your teams shouldn't be a struggle. So let's explore a few insider tips to choose the learning program.
Current Pain Points:
How can new learning is helpful?
The ideal software fills the crucial gaps in your stack and enhances the experience for online learners. You can also get some input from your team to disclose hidden pain.
For example, instructors may have a few things on their software wish list that will enable them improve the curriculum and host live learning events with ease.
Set Time Line:
This is the top point when choosing your digital learning platform to avoid a potential delay. Ultimately the web should be easy to master and quick to implement. 
This is particularly true if you need to establish your combination learning program.  on a tight timeline and bring everyone into the fold as shortly as potential. For instance, admin, tutors, and learners must be able to attend virtual classrooms and collaborate within a specific time frame in order to increase investments.
Weighing Options For App:
Most digital learning systems have different forms of plans to choose from. Typically, they are all based on the size, capability, and the number of hosts you require. This is why it's important to get an obtained player count ahead and clarify.
Allow Free Trials:
A free trial gives you the opportunity to test drive the tool prior to purchase. You can also decide if the digital education resolution is user-friendly and if it has all of your must-have features.
Remembering pain topics permits you to figure out what's most important and experience in the free trial with continued focus. You know the target area to concentrate on based on your objective, user preference, formats, and so on.
Tactics You Can't Miss While Developing Elearning Platform:
Learning app solution allows all the automatic processes for your application builder for an e-learning platform with smart functions and features. 
Smart sign-on 

Data management Suits

Automated Certificate

Allow the group learning

Fit to handle webinars

Auto assign rules
Wrapping up,
Companies can explore custom e-learning development modules and make comfortable learning for the users.  If your e-learning platform wants to be on the trending list in 2022, follow the above techniques to build.
And, you can overcome all the limitations mentioned and pave the way for virtual learning platform success by leveraging the full power that connects offers your organization. 
E-learning is not just a change of technology platform. It is part of the redefinition of transmitting knowledge, skills, and values to new generation learning.