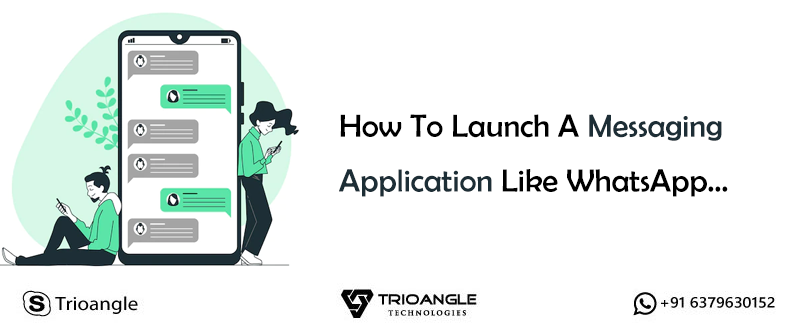 Make Your Instant Messaging Application Like WhatsApp
Nowadays, communication plays a crucial role in our day-to-day life. When it comes to the business field, it is very pivotal. So, the WhatsApp clone Script develops a new trend to create a messaging application like WhatsApp.
The version of WhatsApp Clone performs functions like WhatsApp. With the exceptional functions and user-friendly interfaces, WhatsApp clone makes your messaging app be the trendy one
Using this WhatsApp clone, you can quickly develop and launch applications like WhatsApp.It is a pre-build function with all the advanced features.
So, Why WhatsApp ..?
It is one of the best messaging applications with a high reputation in this business field. It can connect your friends and families or your clients all over the world. The fixation of WhatsApp increases day by day. And they have wide popularity and revenue. Currently, WhatsApp is a Highly used social media application.
The best Advance features of WhatsApp Clone Script is given below..,
Texting limitations And Messaging System:
Everyone uses WhatsApp as a communication medium to share their messages instantly. It always provides the feature of an unlimited messaging system.
Sometimes we face a lot of struggles in messaging systems. This is dynamically used to solve this problem from out of sort situations.
Media Sharing Option:
This feature helps the user to share their photos, videos, Location, other documents, and even contacts also. They can share their document in preferred options with an end-to-end encrypted system.
Create Group And add a member:
This WhatsApp clone Feature helps you to communicate with a bunch of people at the same time instantly. And, you can also share the message and receive the data from others.
User Profile Management:
WhatsApp clone gives the option to the user to control their profile setting function based on their interest. They can upload their profile picture and share their status in this field.
By the privacy setting, the user can maintain their profile safe and secure from others. This will make an impression on users when it comes to the business field.
Audio/Video Call Option:
Another process to communicate is the calling option. So, these are very crucial features in communication. This can make the calling option without any distraction.
And, you can make a video call from all over the world with the crystal clear process.
Delete From Everyone:
In WhatsApp Clone Script, the delete for everyone option helps the user to delete the miscommunicated messages from the others.
It cannot show the deleted messages to others. This option is used to delete a particular message in a few seconds.
Update Status and Stories:
It allows the user to post their status and stories in the form of text, image, emoji, and GIf.The status will be displayed for 24 hours from the uploading time.
Blocking:
The blocking/unblocking are used to block or unblock inappropriate messages and spam. The unblocking option is used to chat by the user. Once the chat is unblocked, the user can make a message back.
Push Notification:
This feature is used to allow the user to receive the notification when the user receives calls or messages in the offline status.
Conclusion:
Come to an end. You might have knowledge regarding WhatsApp Clone App and its attractive features from this blog. Our developers extend their ideas to help you to build an extraordinary Whatsapp clone application with a lot of advanced features to grow your business. 
Wish to launch your own platform? Let's Get In Touch:
WhatsApp: +91 6379630152
E-mail: [email protected]