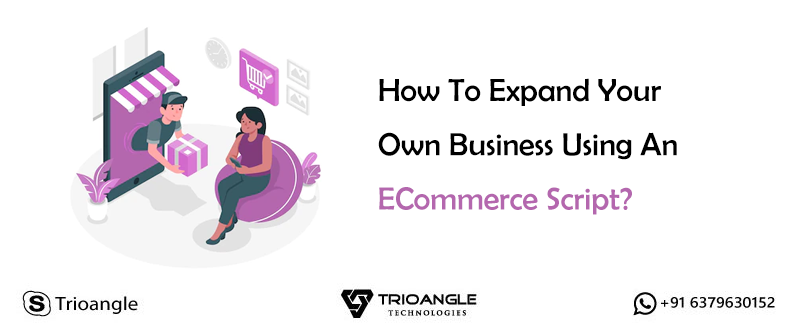 Ecommerce is the term that explains itself as commerce done on the electronic platform.
This form of business revolutionized the business world and limited a lot of retail practices and one among them was "touch and feel".
This has been a constant and wasn't a problem for people because they can see and feel the product of its quality and worth.
It's not only the products that kept evolving but also the way the business was done kept changing too. Until eCommerce came into play and completely changed the purchase behavior and shifted purchase power.
It has seen great growth and is estimated to generate a revenue of more than 18 billion USD as of 2027 with a CAGR of 22.9%.
Ecommerce scripts showed up in the market after 2008 and saturated the market by giving birth to new business people and ideas.
There are many available eCommerce scripts for different businesses but how can you use one to expand your business and generate skyrocketing revenue.
Now let's see how you can expand your business.
How to expand your business using eCommerce Script?
Analyze the demand for your product in-depth
Initially, you need to understand the demand for any business you start or own. But for eCommerce scripts, you need to understand the demand for the products you are going to sell or affiliate.
You can perform market research using tools or suing marketing agencies for a detailed report of the expected demand for your products.
Perform a detailed customer research
Once you understand the need for the product you have to focus on the customers for whom your services are being offered through your eCommerce script.
It is wise to decide this part with an expert and understand the niche you are about to perform your business and set goals accordingly based on the product and customer research report.
Design your unique business model
The business model is the skeleton or the basis of a business you are going to run.
This should be designed based on the product and the niche you are about to serve. This part is where you decide the flow of every operation that you are going to execute from the addition of products to the purchase of products.
Among the other steps, a unique business model is the most important one.
Scout for a technology partner suitable for your business
The next step is to find a suitable business partner to help you run the business. Because developing your own eCommerce script and perfecting it will need a lot of time and money.
You can select them based on the benefits and services they extend with their product.
Discuss your business plan with the selected partner
We can develop eCommerce scripts using the needs you state to us but it also comes with a lot of benefits and support based on your business plan and ideas.
Frame the right packaging and delivery system
Once the above steps have been completed you should focus on the packaging and the delivery system because it is going to influence your operating revenue and the cost of the service provided.
Features That Extend Your Business
Among them, unique business model creation and the right partner to implement it are special mentions. Trioangle Technologies plays a major role in these extremes. We provide eCommerce scripts based on unique business models for the business with essential features you are about to start and manage.
Personalization Driven Module
A unique customer journey has to be built to make the customer complete the purchase and gain value from the shopping. This is called customer experience.
You with the help of your partner can easily develop a unique way to make customers loyalists to the service you provide.
Come up compare of pricing strategy
Compare your pricing strategy with your competitors and come up with your own pricing list for your products.
This pricing shouldn't be so high because not many customers will be able to purchase your product. And neither too low because it will make customers perceive the product as low quality.
The mobile platform is the most commonly used mode to do purchases or search for a product.
So, if your eCommerce script app is available on android and iOs will make it more visible and increase sales. Trioangle provides a ready-to-use mobile app along with your script development.
Make sure to be available on Omni channels
Present in all available channels is called omnichannel marketing. And in the current trends, it is wise to be available in the omnichannel to increase visitors and sales for your business.
Trioangle helps you to be available in omnichannel with the best-built most robust multi-vendor eCommerce platforms.
Be available on social media platforms
Being present in all and suitable social media platforms can give your business and products a boost to reach customers organically.
Our eCommerce scripts are integrated with all available social media platforms so that you can connect in an instant to increase your visibility
Create value with customer service
After the setup of your business, it's wise to provide customer service and support to solve issues that they are facing and to make them complete the journey.
We provide you with the right support to solve any issues with our eCommerce script even after script delivery.
And finally building a good relationship with your vendors is an important factor to run your business smoothly. The commission and fee systems will help you maintain a good relationship with your vendors and to make payments.
We have built features that will reduce friction between you and your vendors so that you can understand and support each other
Well, this is how you can expand your business using an eCommerce script that Trioangle technologies provide. Get ready to expand business by making a try with these details:
Whatsapp: +91 6379630152
Skype: trioangle
Mail: [email protected]
Website: https://www.trioangle.com/ecommerce-app-development/