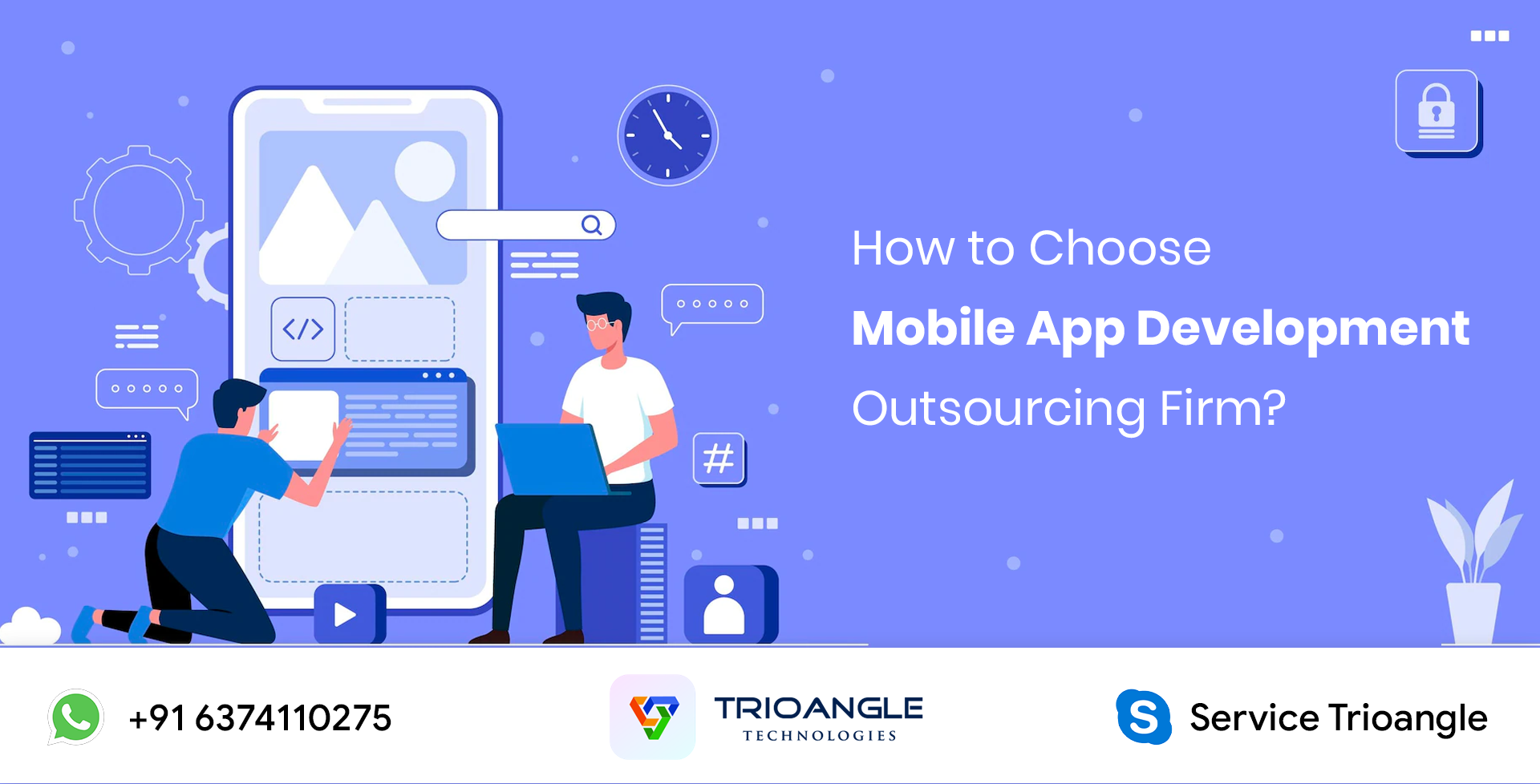 Mobile application development is a globally familiar process and the need to take on-demand firms to the next level. Nowadays, mobile apps are tech assistants and they are developed commonly for Android/iOS platforms to make businesses closer to people. 
Outsourcing such mobile app development services to the best one in the market is a familiarity in recent days. With major factors like cost and time, outsourcing turns out to be a new era in the market. 
Finding the right mobile app development outsourcing firm is the basic objective and several metrics govern selecting the right firm. This blog depicts all such things. Also, this blog summarizes how Trioangle is the right firm and fits into the metrics perfectly in detail. Let's move down to the blog. 
Mobile App Development Outsourcing – A New Era in Online Market :
Mobile app development outsourcing is a new era and it becomes a beneficial option for startup seekers. Coping up with the new era is an important requirement for newbies as well as experienced professionals. 
Let us know how mobile app outsourcing is a trendy option now!!!
Off-the-shelf software solution 

Large-scale freelancers Availability

More software development companies
Off-the-shelf software
This option implies the usage of ready-to-go software platforms on a large scale. The arrival of multiple online solutions with respect to increasing users' requirements align with the objectives. With this emergence, off-the-shelf software solution development is an evolving activity in the online market. 
Large-Scale Freelancers Availability:
The availability of freelancers on a large scale. Hence, developing online solutions via these freelancers is the feasible option that takes your business to the next level in the online market. 
Offshore Company:
Going for the offshore company is a beneficial option for on-demand startup owners. With all essential techie platforms and features, an offshore company is a brilliant option. It is essential to find and tie up with the offshore company to make the mobile app the frontline in the market. 
Metrics Need to Focus While Outsourcing :
To bring the app developers to meet the demands in the online market, you must choose among the following working models: 
Project Based :
Once outsourcing a dedicated team, you hold a pre-defined goal for the group to reach within specified timeframes. By goals, we suggest a set of specified conditions your app must meet. In this path, you, as a customer, are responsible for the outcome, not the standards, technologies, and tools utilized for the project. 
Project-based application outsourcing includes:
A fixed-sized team 

A fixed period

A fixed budget

The task of developing the best possible product based on the backing
Dedicated Team :
In this business model, the outsourcing company is liable for building the team and taking care of individual management and operation quality. In this way, you obtain a full-cycle mobile app development services team, also including PMs and BAs performing on a project pipeline or providing complete service. 
The provider is responsible for :
Task assignment 

Team leaders 

Project management 

Tasks schedule

Project status
Extended Team:
This instance includes assigning tasks to outsourced creators, as well as providing them with a place to work.
In this work you would also be responsible for:
Controlling the working process

Managing the project

Controlling vacations

Regulating working time

Promoting inside the team

Paying salaries

Creating motivation
Choose the most suitable payment model:
Once you outsource app creators under the Outstaff model, you pay them a monthly salary like ordinary staff associates. As for a dedicated team or a project-based working instance, you can select among the following options:  
Fixed Price :
Such an operating model works only in the mixture of the following criteria:
A relatively small project 

A limited budget

The scope of work is clear
Time And Material:
This payment model, also known as Pay as You Go, is dominant among companies that utilize Agile methodology. First, you and the team will decide upon the hourly pace of each developer, and then, you pay established on the actual time expended on the development. Companies use Time and Material when:
The client must modify the prerequisites during the process of work without modification of the agreement.
Trioangle-Right Outsourcing Partner, Why?
Let us spare a few words on the advantages of hiring Trioangle as the best outsourcing mobile app development firm. 
Access to global talent pool:
When you opt to hire a development agency from any domain of the world, you can access a bigger talent pool without any geographical restrictions. You can also do wider research wrapping hundreds of top-notch development companies.
Bringing the development cost low: 
Since you can reach out to developers in the wide-open world with different currencies, different remuneration standards, and cost factors, you can easily make a better bargain to hire an expert development company at a lesser cost. 
Latest development approach: 
Any leading development company with a global footprint and excellent command of the latest technologies and tools is likely to be versed with the most delinquent development methodologies and methods such as agile, rapid app development (RAD), DevOps, DevSecOps, and several others. 
By hiring them, you can effortlessly adhere to the latest development methods. 
Wrapping Up,
So, finding the right mobile app development company for your app project interests both extensive market research wrapping multiple platforms. Trioangle is a big outsourcing partner for startup professionals. 
Skilled developers perform an in-depth evaluation and coordinate their skills with the project handling experience that turns your startups familiar in the market. Let's Hire Trioangle as an outsourcing partner and make your online presence as solid.