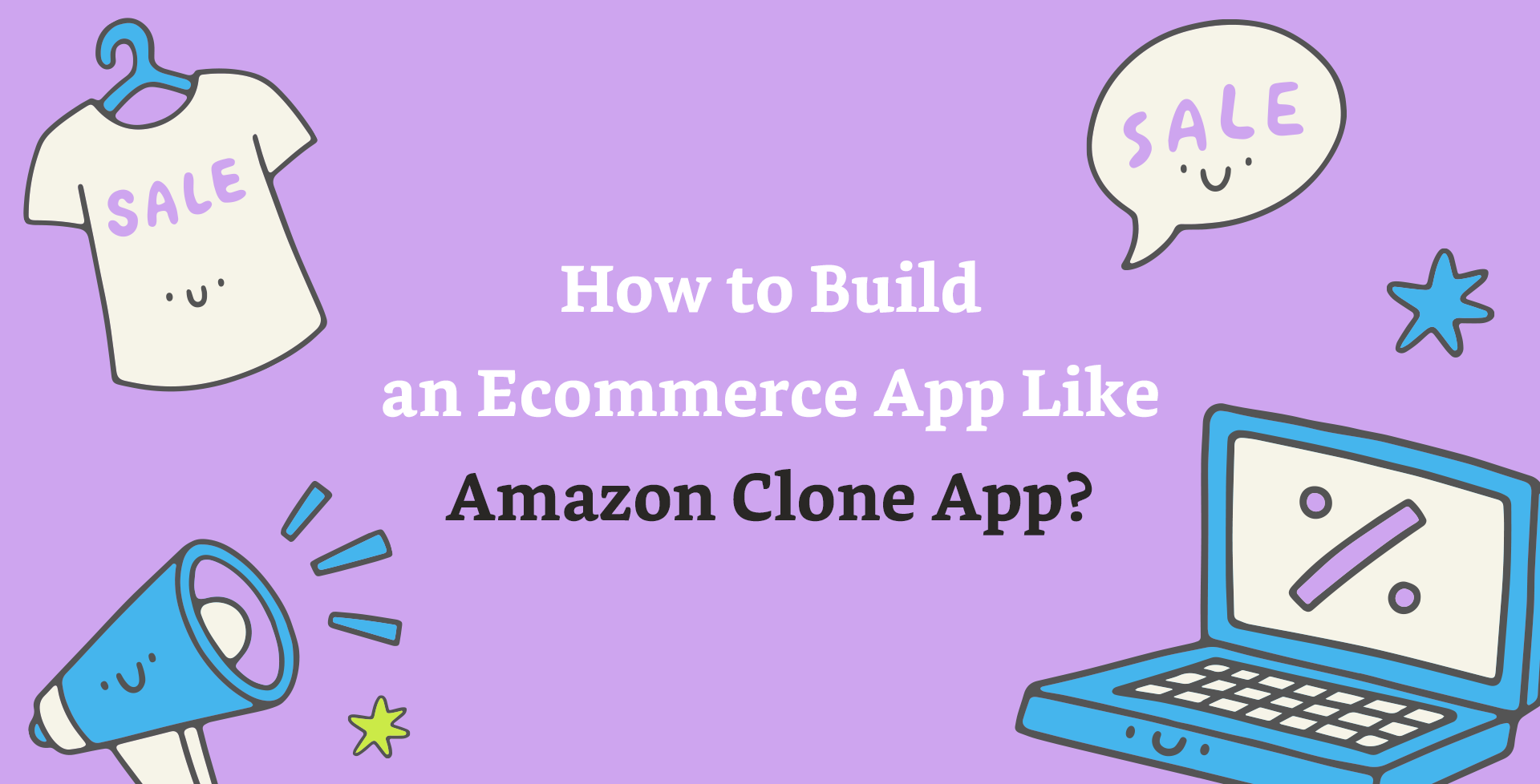 Everyone loves shopping, and when you can shop for the latest fashion from sitting at home with a just click is bliss. Online shopping offers an opportunity to everyone, and that's why online shopping is seeing a huge surge. Creating a one-stop place for all products makes people feel comfortable purchasing.
Amazon clone is a feature-rich platform that empowers eCommerce businesses in a smart way. The Amazon clone script allows people to launch their eCommerce business in a unique mode and provide a seamless shopping experience to customers.
Let's go to see the fundamental ways that enhance the development of the Amazon clone app in this blog. 
Application Development:
E-commerce app development is a difficult task. There are numerous things to consider while developing the app, including
The interface is simple to use, and the aesthetic appeal is attractive.
Do something unique from the rest of the crowd with a unique idea and concept.
Examine the other similar applications and select the benefits of each while attempting to eliminate the disadvantages.
determine how your employee team, stakeholders, vendors, and customers will communicate.
Because the SAAS platform has advantages as well as disadvantages, choose the correct platform for administering an application. Pick the best one and compare the features that can be the best fit for your current and future demands based on your strategy and budget.
The application development process can be following:
Planning & Market Research
The first step is to determine what your customer desires and the type of goods you want to sell. If you want to sell a wide range of products, create a category hierarchy so the buyers can quickly find what they want. Analyze the target audience's behavior, and trends and understand their basic requirements. This will assist you to make a decision about developing the eCommerce application.
Analysis of Competitors
The competitor analysis is used for reference and a better experience. Make a separate list of competitors' websites and discover why they are a top picks for buyers and also research their marketing techniques.
Never copy their business model or features. Instead of using them as inspiration to come up with your own better ideas and designs.
Choose Essential Features
It's time to establish your app's future scopes. User-friendly features are essential for creating an exceptional application.
Don't try to make an app that forces visitors to click on your site. Simply create a basic application that visitors will find simple to use, and they will automatically convert into customers.
Make your application user-friendly so that visitors show interest in your application. Don't irritate your visitors by performing unnecessary calls to action form.
Choose a Platform
Before choosing the platform, you should conduct market research so that you can easily identify the platform that your target audiences are using.
You can choose Android or IOS or both platforms for your eCommerce app development, it depends on the type of items and target audience.
Attractive UI and UX Design
Appealing design attracts more users to your application. Create a visually attractive application that gives to users a lot to explore.
If you don't know much about design then consult with UI & UX design companies. They will assist you in developing an attractive logo for brand awareness as well as the ideal design for your eCommerce app.
Integration of Advanced Technology
Try to make a scalable application, and future technologies should be included. You should be aware of the latest technologies and try to develop your application over them.
Try to learn about the Technology stack for a better understanding of technology. The technology stack will give you knowledge about the framework, frontend technologies, backend technologies, programming languages, Server side languages, and databases.
It's entirely up to you which type of application you want to construct. If you want sustainability then go for a native application and if you want a better time to market then build a hybrid application.
Some of the Most Important Features of the Amazon Clone App:
Features and functionalities are the initial criteria for app development. As far as you can decide whether you want simple or advanced features.
The following features are some most essential features in online eCommerce applications.
A Simple Registration Process
Make sure that your application's registration form must be easy to fill out. Keep the registration process as very easy and integrate it with the social media accounts such as Facebook, Gmail, and Twitter so the users can easily register and log in with their social media accounts.
Support Multiple Payment Options
If you want to stay longer in the market then build an app according to the customer's satisfaction. Nowadays, there are numerous payment options available and everyone uses a different payment method for online payment.
The online payment option is a very sensitive part of the eCommerce application. You must enable secure payment methods in your app that can accept payment through credit cards, debit cards, e-wallets, net banking, and cash on delivery.
Implement Notification Option
The push notification is essential for keeping the customers engaged with your app. With the help of the notification, your customers can be aware of the daily activities of your app such as sales, discounts, related products, promotions, and offers to bring back the customers to your site.
A Feedback Section
Feedback is the best way to find out our mistakes. Implement the rating & review section in your app, you will get an idea about the positive and negative sides of your app.
Customer satisfaction and feedback will determine the performance of the website. Rectify the issues on the customer's feedback and improve your website functionality.
Wish-list Button
The wish list button helps your customers to add items to purchase later. This option is very helpful for those customers who don't want to miss the current deal.
If customers found something they like but don't want to buy it right now but after a week they want to purchase, then the wish list button is the best option.
Search Feature
This is very important to make your eCommerce app with an embedded search feature. It allows users to search for their desired product instantly. Depending on the customer searches, you can show the relevant search results to customers for better experience and engagement.
Ineffective search results may cause you to lose your big customer that's why to try to make the search feature more smart and relevant.
Decide the Revenue Model:
Here are some ways to earn money from online eCommerce apps like the Amazon clone app.
Commission on Product Sales – You can charge a certain percentage of the amount as a commission on the sale of each product from the vendor. The commission charges may vary depending on the product category and the price of the product. The commission ranges from 5-20%.
Subscription Purchase – You can also charge a fixed amount of subscriptions from the vendors for listing their products on its platform.
Advertisement Commission – Being a marketplace owner, you can charge an advertisement fee for all the sponsored products featured on top of the search results.
Payment Processing Charges – Instead, you can charge a payment processing fee for each transaction on the platform.
Logistics & Shipping Fee – A huge portion of revenue is generated from the logistics that the Amazon clone app provides for shipping your products. You can charge a fee for all logistics and shipping services offered to vendors.
Conclusion
In this blog, we have seen the fundamental points to developing an eCommerce app like an Amazon clone app for growing your business in online shopping.
Entrepreneurs who are willing to start their online shopping business can go through this blog, and develop the Amazon clone application with the above-mentioned features, that enhance the strong customer base and growth of your business.