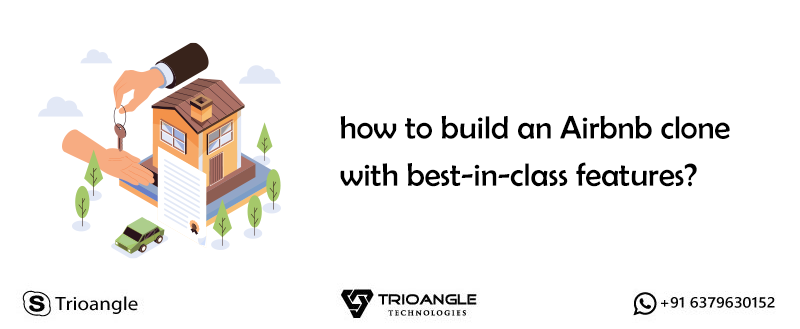 Rental Script is an online rental solutions marketplace that connects local individuals, hosts, or businessmen to tourists or travelers. Airbnb Clone App is a replica of a well-established brand similar with all its features and some unique features as well. It is now not limited to just a vacation rental platform but it also provides experience sharing, online teaching, hotel booking, etc.
Use Of Airbnb Clone Script 
The primary use of the Airbnb Clone Website is the best Business model to launch an Online Property Rental Startup easily. In the early stage, it was only towards lodging & booking rooms on an online platform. Later on, it has extended its approach that a guest can act as a host and can share experiences and explore or book a restaurant table. (Host-Renter, Guest-Rentee)
Standalone Features Of Airbnb Clone Mobile App
Property Listing, & Hotel Reservations
Attractive User Dashboards for Hosts & Guests
Performance analytics reports
Automated Booking Engine
Flexible Pricing Module
Contact Host
iCal Calendar Import/Export
GPS Coordinates
Street View
Social Sharing & Connect
If you are into an Online Property Rental Business or if you are thinking to start your rental site around the world, then Choosing Airbnb Php Script can help you earn a high income in a short span.
Host Features In Property Rental Script 
Hosts will be provided with many features to work effortlessly on a Bnb Script. Such as,
Registration: Host can register themselves for verification by entering their name, number, address, Email, etc. After that, they can register their Renting properties.
Log-in: Host can log in using their pre-registered credentials. In addition, they can also log in with their pre-signed-up social media channels.
Manage Profile: In Airbnb Clone App a host can edit, update, or delete their details. They can even change their password credentials.
Manage Listed Property: Property listing details like, facilities, price, availability, etc. can be updated easily at any time.
Booking List: The Best Airbnb Clone Script provides a calendar, which is displayed especially to showcase your all bookings date-wise.
Messaging Feature: Hosts can freely communicate through chat and can revert to all questions of guests before they book the place if they have any queries.
Rate & Review: Top Airbnb Clone Mobile App has the option that hosts and guests could give ratings and reviews of their stay experiences.
To make guests more engaging, The Best Airbnb Clone website has featured wonderful facilities for them.
Signup & login: In a customized Airbnb Clone Mobile App users can signup by filling in their details like name, number, gender, email, social check-ins, etc. After that, with their pre-registered ids, they can log in easily next time.
Manage Account: Guests can have the option to either update or delete their details and can change their credentials at any time.
Chat & Push Notification: Airbnb Clone App provides instant notification for all messages.
Advanced Search: In a vacation rental script Guests can search for their rooms, properties, or hotel bookings by filtering date, room type, price, required amenities, etc in deep.
Wishlist: In the Airbnb clone website if presently guest finds any desired rooms or hotels out of their budget or unavailable, they can add to their wishlist. Notifications will be sent if rent falls.
Payments: Guests can select a convenient payment method and currency to pay for the transaction. They can view their transactions in history at any time.
Maps: The mapping option in Property rental Script allows guests to check rent places in the surrounding area where they want to stay before booking.
In Other Words
The above features are the mandatory in-class features to build a successful Airbnb Clone Script. Developing a new bug-free Airbnb Clone App will high cost, take more time, stuck with frequent bugs, hardly. But smartly choosing the Best Airbnb Clone Script from the right provider will allow you to launch your startup within a week. A Good Businessman utilizes all smart ways to achieve his goals. If you are ready to achieve, Then…
Visit – https://www.trioangle.com/airbnb-clone/
Mail – [email protected]
WhatsApp – +916379630152