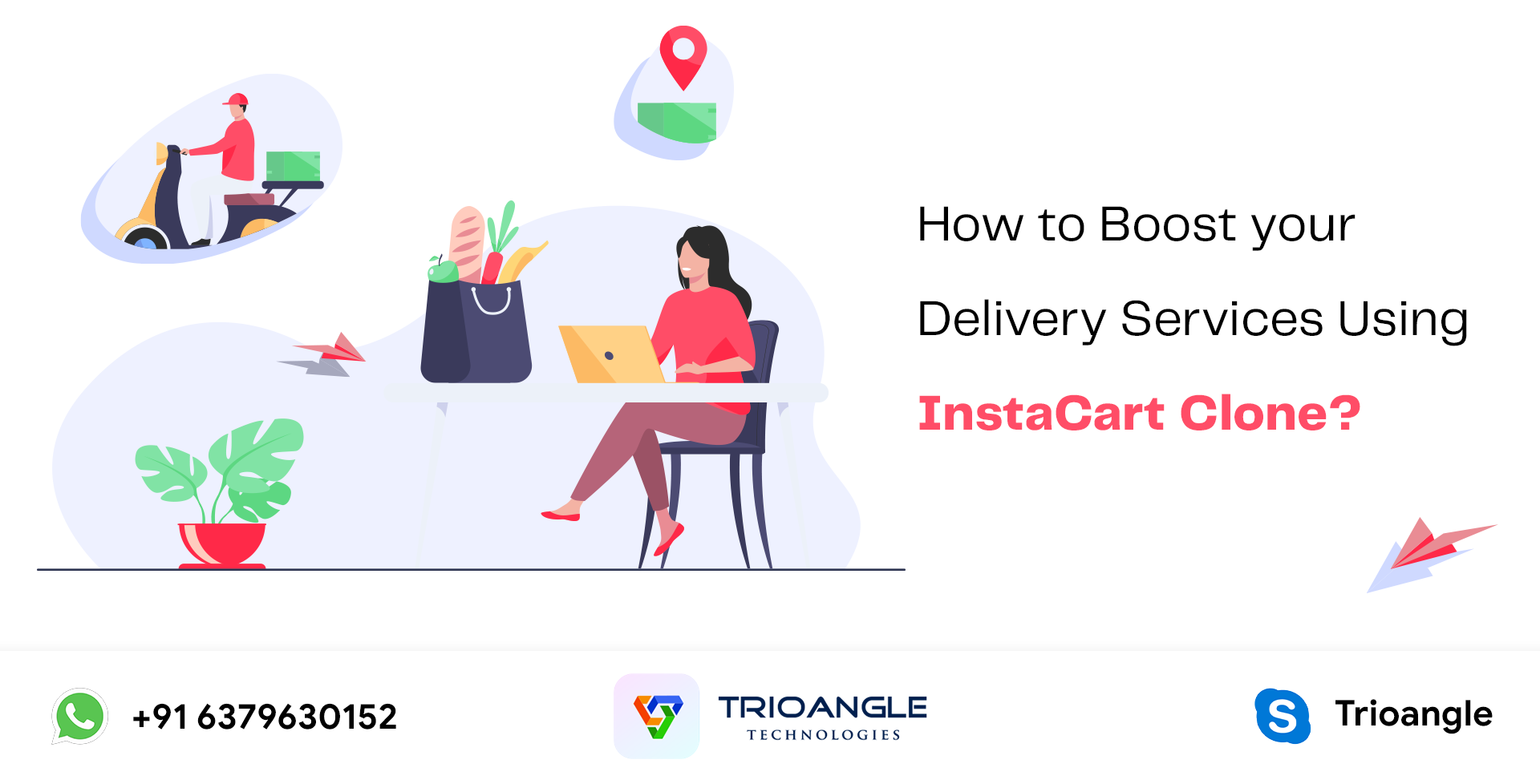 How to Boost Grocery Delivery Services Using InstaCart Clone?
Grocery delivery script is one of the fastest-Increasing business platforms in modern times as the number of people using the grocery delivery apps like Instacart clone more. The majority of people are ordering groceries online using many different applications.
The development of instacart clone apps is the only option that makes the grocery store owners boost their workflow towards fruitful services to customers. If you are in the pool, then this is the right time for that.
Are You Clear?
Still queries…!
By going through this Blog, there are some factors to be focused on in our InstaCart Clone that are very much helpful to boost your delivery services Using InstaCart Clone.
Factors That Need To Be Focused
These factors need to be observed while boosting your Online Online Delivery Application, this helps you to be incomparable to your competitors.
Simple-to-use
Easy to Navigate
Offering Flexible Delivery
Security
All-in-One Dashboard
Simple-to-Use
Make every step or process easy for the people to access like registering the products they are searching for, adding products to the cart, editing and reviewing the pay and order.
By enabling the filter option to speed up the search. Your customer will not be scrolling through every product to find the appropriate product they are looking for.
All relevant information like product name, High-quality pictures, Brand names and price should be in sight for the people.
Easy To Navigate
Offering unique categories that can be accessed from the top menu gives an option to enable the filter and sort items by brand, review scores, price, and group.
Make sure the information provided is easy to skim through so that users can find what they need at a glance. The key factor is to include a search function with accurate suggestions.
Customers should not leave only because the search results did not show accurate results.
Offering Flexible Delivery
Enable several time slots and delivery options. The best thing is to offer precise delivery windows and allow people to pick one of the best that fits their schedule,
And assure within the selected time frame to Deliver.
InstaCart clone provides different Delivery Methods which will depend on the customer's demand. This made the InstaCart clone popular.
Do your customers prefer to deliver products to their homes? Do they want to order online from the store? The more delivery options you provide the more you satisfy the customer.
Security
Customers should feel safe and secure while making payments online. Online Grocery Services should make their customers feel safe by assuring that all their data and other information is stored on a secured server.
Make sure that the delivery drivers' information and documents they provide should also be secured and ensure that every piece of information is protected by high bank-level security.
All-In-Dashboard
When you are selling products online the customers expect more than the quality of the product. For example, if the website crashes or the delivery runs late to reach, product information is misplaced or it is incorrect if these things happen the customer will hold you responsible.
A poor performance, a mistake in the process risk losing a customer forever, have to assure that every process should be perfect, Valuable, and up to standards
Although it is hard to tell what will happen tomorrow.
By this, we can say that Online Delivery Services will continue their Development.
Conclusion
Retailers who want to boost their Grocery Delivery Services or shape their market and contest their competitors should make a move quickly. If you need any advice to develop your Grocery shopping in our InstaCart clone, do not hesitate to contact us.
Mail: [email protected]
WhatsApp: +91 6379630152
Skype: Trioangle