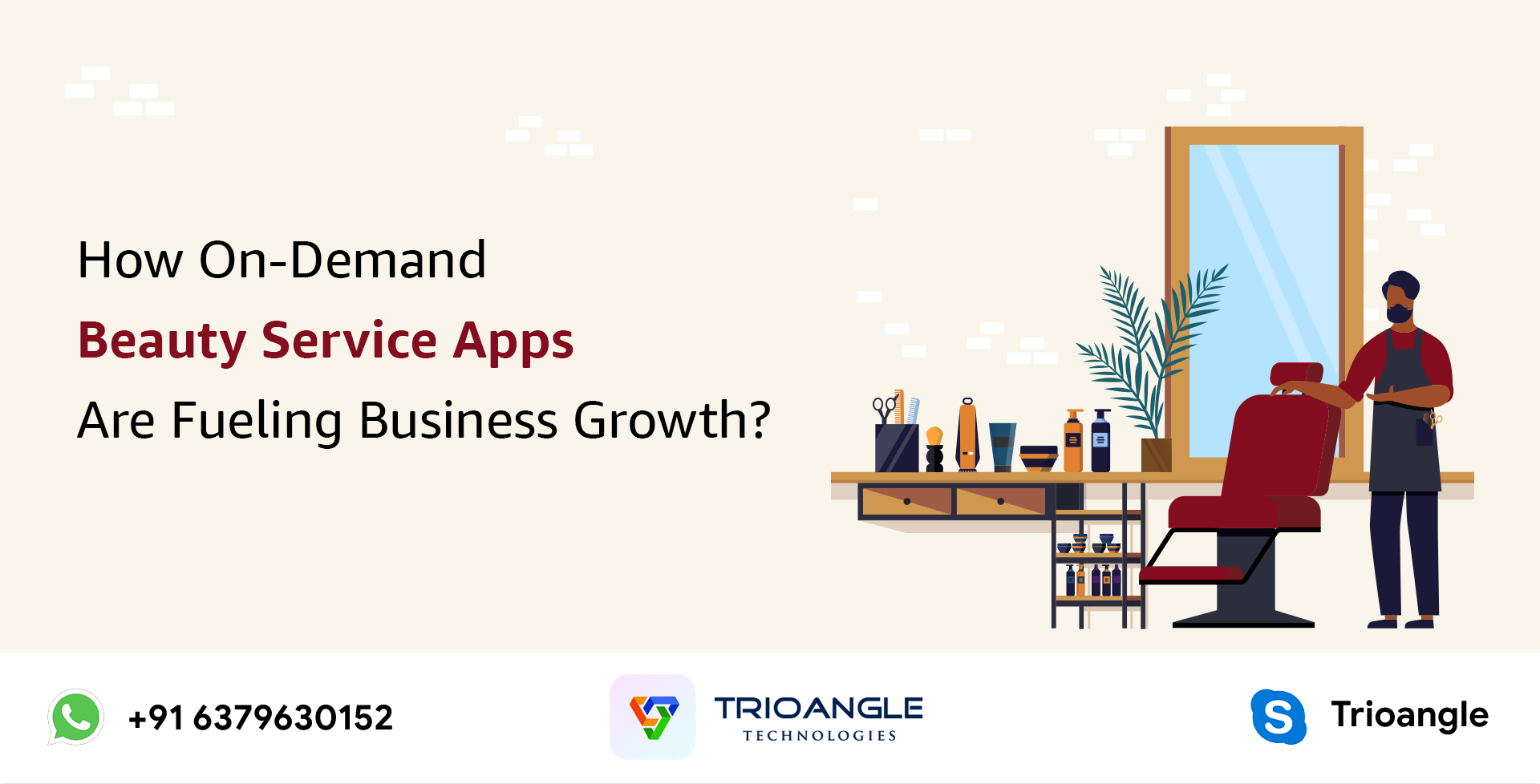 Scroll and tap! This is what a rapid fulfillment economy is bringing in. Today there is no matter of thinking about what service is required. Because a doorstep service can be accessible by hiring a service person with few taps. Undoubtedly, On-Demand Beauty Service App has been confirmed to be the bandwagon in the lifestyle, beauty, and fashion industry. To fuel the on-demand global market of spas, beauty, and hair saloons.
As a trigger, the pandemic crisis helped it. The industry of beauty services is transforming enormously with the on-demand beauty service app.
The entire business model is based on providing required beauty services to the clients at their residences while delivering beauticians a range of promoting their services and business in the industry.
With the advantage of the on-demand mobile application, anyone can hire a beauty service provider while in the past days only the upper class could easily access the services. So multiple privileges of several beauty services can be booked at affordable charges.
Global Market Size And Stats Of Beauty Services
As a fact, the industry of beauty services presently is growing globally at 5%. Revenue of USD $6.6billion is expected to yield in Asia-Pacific between the years 2016 to 2021.
According to verified analytics, the projected global market for beauty and spa services is to reach a revised size of USD $191.6 billion by the year 2027, extending at a CAGR of 4.7% over the era 2020 to 2027.
For beauty services in salons, alone females are spending USD $3,756 per year, And it is a huge formation.
Nearly 28% of service providers are independent contract workers such as cosmetologists, hairdressers, and stylists. This report is based on Forbes.
In the year 2017, the global market for beauty and spas is valued at around USD $128billion dollars. By the year 2024, the expected market growth is approximately USD $190.81billion dollars.
A profit of more than 5% has been gained in the beauty service market globally in the past few years.
In the market with the primary beauty service segments around one million professionals are employed. In the year 2014, nearly 656,000 worked as hairdressers, barbers, and cosmetologists, and the expected growth is 10% by the year 2024.
Different Types Of Business Models For Beauty On-Demand App Development
There are two different business models for Beauty On-Demand App development that you can prefer based on your business model.
Self-Owned Model:
Knowing about the already successful beauty business app model is essential if you are going to prefer developing the self-owned On-Demand Beauty Service App development models.
To promote your salon or a beautician's business, crafting an application from a well-established brand is a smart idea.
This app platform is used by beauty service providers to publicize clients about the service they provide. Also, it helps them to develop their profile online.
A booking alert is easily received directly by the owners, Here the app helps in this process. Also helps in managing the business online to deliver quality doorstep services effectively to clients.
Aggregator Beauty On-demand App:
An aggregator app connects many service providers related to beauty services in a single platform, they are beauticians, salons, hairdressers, and makeup artists together.
After this phase, you'll need to cooperate with local beauty spas and salons for services. Developing the app to find beauty services at residences will help clients and deliver profit to business owners. The revenue is completed by charging payments on each app's transaction from professional beauty service providers.
Opportunities For Monetization Via On-Demand Beauty Service App
Commission:
This method of monetization is a process of charging a commission amount for every transaction made by the beautician and the hair salon owners for the service payment received from the clients.
Features Listing:
On displaying the connected partners in the top list to get more bookings or promoting them separately in the Uber For Haircuts application to grab attention from the clients, this can be fixed with the payment for getting the featured listing. 
Advertising:
On advertising similar business products or agencies in the app with separate spaces, a good revenue can be generated by charging a payment for each click the advertisement gets.
eStore:
By integrating this eStore feature, many beauty products can be sold via the application itself. User engagement has also increased drastically. Selling the products via an app will give added revenue.
Crucial Things To Know Before Crafting On-Demand Beauty Service App
The essential things that should be evaluated before creating a beauty on-demand app are as follows:
Engaging user experience and the creation of the application do make a contrast. User satisfaction is the most essential part of the business success of the on-demand application.
User experience describes how a user handles or what is satisfactory while operating the application. Moreover, to reach a more extensive audience the designers should consistently keep the design uncomplicated and easy to operate so that the users can effortlessly understand the navigation.
The main purpose of the beauty on-demand service application is to deliver the experienced service of beauticians, hairstylists, and makeup artists within the specified or dedicated timeline. On-Demand says that the services are prepared, fast, and available at the user's comfort.
Online payment is a crucial feature that should be available in the mobile application. It delivers a marketplace where the users are able to book the services as per their requirements by making online payments through Paypal, e-wallets, Net Banking, Stripe, debit/credit cards, etc.
Conclusion,
Attaining growth in your beauty services is an easy one. Partnering with the on-demand Uber For Haircuts turns your beauty services into upscale. Market size, business models and the crucial things listed in this blog elevate the level of beauty services to high revenue. Wish to get such a feature-rich beauty service app? Then, your fingers tap here.