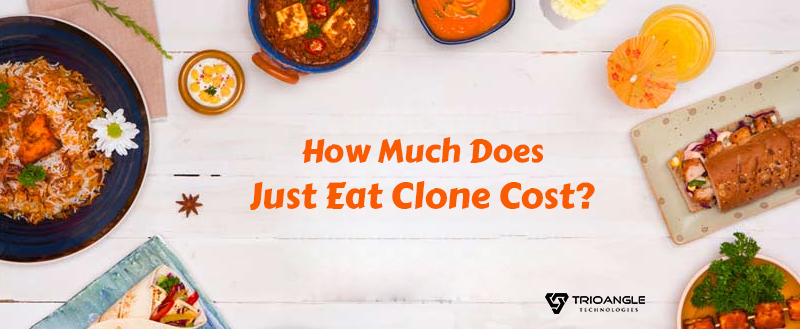 This blog has useful information about Just Eat Clone for entrepreneurs, startups, restaurant owner and companies. This blog also has information about pricing, features, and other information.
In recent times, there is a potential shift in consumer behavior as many of them say they enjoy dining with online food ordering service. This change in trend keeps on hiking as the millennials are easy to adapt to online ordering.
Just Eat is one of the top takeaways in the food industry and its processing more than 12 million orders a month. It works with a simple workflow that user order through Just Eat and it is processed and delivered by the restaurant.
But most entrepreneurs and restaurant owner have one thing in mind that how much it costs to build an app like Just Eat. Here is the answer for you.
Why You Should Build An App Like Just Eat
Before jumping into the topic that one should know why they should build an app. Rather than spending on a delivery service provider like Just Eat, you can develop your own app and website.
Connection Fee
If you are a restaurant then, a connection fee is charged you for gaining service from food ordering app. This charge is for adding your restaurant page and menu in the Just Eat portal.
Commission Fee
A commission fee of 14-30% is charged for every order you process in a food ordering app. From a recent report, a restaurant is spending more than 140 euros a month.
Advertising Charge
If you want to have promoted placement and increase your order then, you should spend some amount on advertisements. You are also charged a fee as surcharge during peak hours.
Benefits of Just Eat Clone
There are lots of benefits in developing your own app and website. I mentioned some here for your reference.
Build Your Brand
You can customize your app and website based on local trends and needs. You can use your own brand logos, images, and other details to educate your customer as well as build your brand. Through mobile app and website, you can have full control over your brand.
Grow Your Customer Base
With a mobile app and website, you have lots of opportunities to engage with your customers. You can also promote your brand in social media and other platforms to create more leads. You do have valuable customer data with you which helps you know more about your customers. Through a mobile app and website, you can directly connect with your customer and grow your business with them.
Reward Your Customer
There is no commission or connection fee for you so that you can deliver food at a reasonable price to your customer. You can also provide loyalty programs to increase your customer base as well as retention from your app. You can provide tailored deals and offers based on your local customer base.
Conclusion
Developing an app like Just Eat takes a lot of time and effort. To make things simple, you can buy Just Eat Clone and spend your valuable time in marketing.
You can also hire a team or app development company to develop an app and website for you.
I hope I have motivated enough to build an app or website for your business.
Thanks for your valuable time.
Bye.