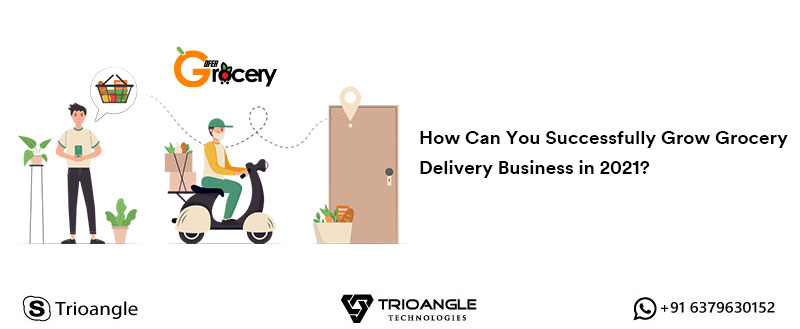 This blog will be helpful for those "Who start their new business" and "Small grocery stores can be developed in digitized platforms"

To Achieve Success.
Grocery Delivery companies more like Instacart are the best in the grocery industry to make more profits. Grocery delivery is developing at the best speed worldwide because of the pandemic situation, aged peoples, and more. The Entrepreneur can focus on the urban and metropolitan areas that have the grocery delivery business in all local areas. They can develop through the online digitized mediums. According to the statistics, the global revenue for the grocery delivery business will increase double times more in 2021. Due to the pandemic situation of COVID – 19, the users of using the digitized platforms are high in the weekly statistics.
Start your business with Best Grocery Delivery Script From Trioangle
Trioangle gladly presents the festive season offer to blast your business!
Get Flat 50% "X-Mas & New Year" offer for the best grocery delivery business,
Realize all your business dreams with Trioangle.
Trioangle
Our Trioangle is the best web and app development company with affordable pricing. Trioangle builds you the best grocery delivery script for the startups for the entrepreneurs or store owners to develop the business and make huge profits in the digitized medium.
Revenue In Our Grocery Delivery Script
Booking Or Services Fee: In GoferGrocery, Admin can receive a commission fee from the store partners on the cost of each item that is ordered by users.
Store Partners Commission Fee: GoferGrocery has developed to help store partners attract more users and reach a larger customer by listing their store placements or suggested list.
Delivery Fee OR Convenience Fee: GoferGrocery helps the admin to charge a flat delivery fee from its customers for their order. The delivery charges will vary depending on the user's location and availability.
Driver Commission Fee: The amount that GoferGrcoery says it charges their drivers is 25% (can be changed as per the admin wish), but it actually takes a little more than that from their earnings.
Conclusion
A horde of business visionaries is currently increasingly more slanted with basic grocery delivery business, seeing that it is advantageous and fundamental, especially during this pandemic. On the off chance that one builds up a vigorous basic grocery delivery application and mollifies the clients, the business will develop, and acquired are tremendous benefits and make high profits.
We Offer
If the Client is ready to buy the grocery delivery script from us, and once completed the payment process, we provide free server installation, free technical support, 100% source code, Free site maintenance for 1 month, and more.
Until the client gets from the business, Our Trioangle provides full support.
Any queries
Contact
Mail: [email protected]
Whatsapp: 6379630152