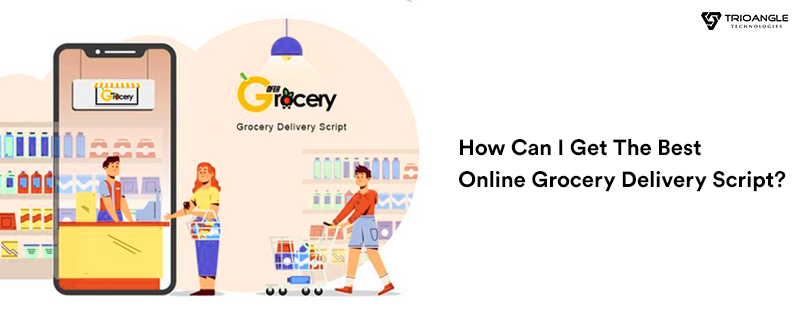 Online grocery delivery apps were getting more traffic with the popular frame on these recent days.
Do you know why?
This is because of the user's requirements. In the olden days, people use to push themself towards the nearby grocery market or departmental store to buy their desire grocery products. Though, the latter-days that trend has changed. Everyone wants to purchase their grocery product downright to the online medium and tend to acquires that at their door front.
While looking at the growth rate of online grocery delivery business that had reached the top of the above. With the updated technologies platforms like smartphones, online gadgets and some more.
On that, it's almost better time to start a business like Instacart. Why waiting?
Come let's roll on into the pool.
You can get the most reliable online grocery delivery script from the best thing since sliced bread provider. To express the noteworthy, for that Trioangle is one of the best services provides to get a well-built software as like as instacart. You can start over your business platform in 2020 without any complication.
With the help of Trioangle, you can structure out your company within 2-3 days. However, there are a few things to keep in mind when you're developing an application.
That has been breaks down below,
UX & UI:-
First make sure that, if your software is very explicit and make out for your users. This is one of the most important aspects to help the customers to lead off the process and stay longer to get great traffic. This option is one of the trump cards to show different screens and features faster. Chance to make your users feel user-friendly.
Six of the most important quality characteristics are maintainability, correctness, reusability, reliability, portability, and efficiency.
Offers & Promos:-
One of the core needed options, to make the customer feel the happy camper. On your products by having a loyalty system or promo codes. This will help you to attract new users to the platform.
Single App Payment Integration:-
Option like Paypal, Braintree, Stripe, and many other online payment gateways allows the users to have customer-friendly experience while using the app. During the entire process, the users can make use of the payment using their debit and credit cards. And besides this, also provide Apple Pay and Android Pay option.
Real-Time Tracking:-
Simple process to track the complete workflow of the users, storekeepers, and drivers. The users can track both storekeepers and drivers. The Storekeepers can track the drives. This will make them have secure orders for grocery delivery.
Schedule Orders:
Allow customers to the pre-order grocery that they will receive at a designated time. This is very beneficial for working professionals.
Conclusion:-
Launch your business and paint the town red right now. To know more have a glimpse of it, right now