Apple, the technology giant has come up with the power-packed software update ios12, that sparkles with new and exciting features. This update of the software is mainly focused on performance. The operating system, iOS 12 has introduced by the firm on June 4 at the keynote event of the World's Developers Conference. On 25th of same June month beta version of iOS12 is launched publically. With performance boost up iOS12 is available globally.
Working from the top to bottom to make iPhones and iPads faster and more responsive, Apple has made improvements to devices both old and new. iOS 12 has been designed to run on all devices that have iOS 11 as an operating system. Not only focusing on under-the-hood improvements for iOS 12 but also has an exciting long list of features in the update that makes new version more impressive.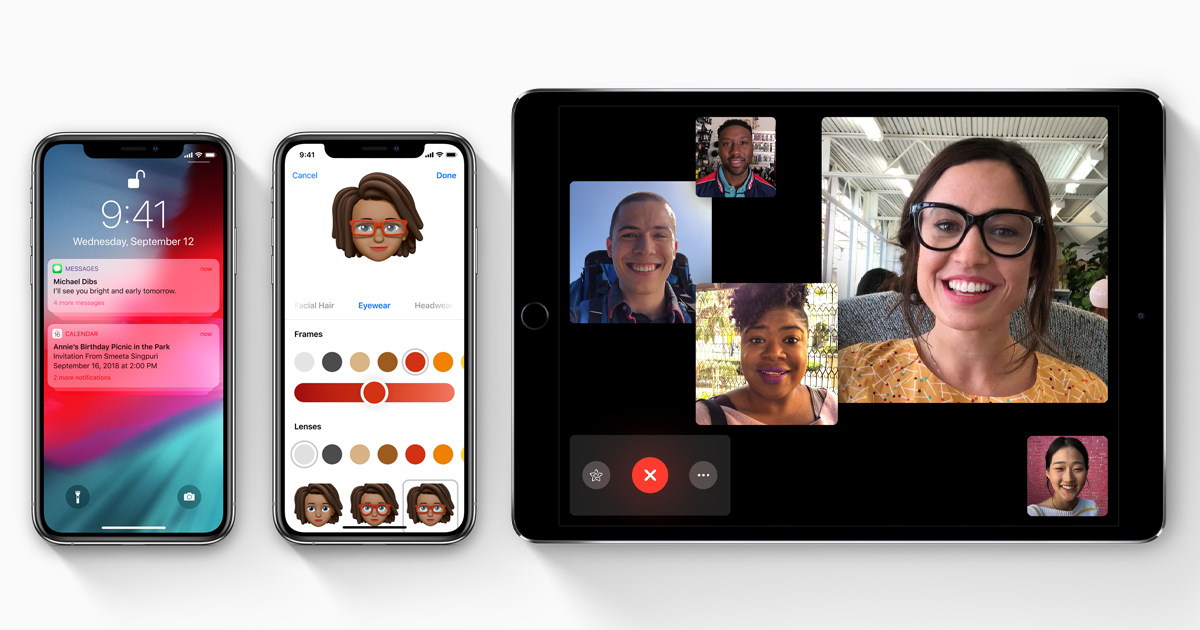 Captivating Features:
Performance:

The term performance encapsulates the works such as launching of app faster, the apps inbuilt opens and works quicker and more significant improvements when users are doing a lot on their device at once. Apple has optimized the system when it is under load.

FaceTime:

One of the exciting features that are coming later this year is FaceTime. It is a video and audio with the maximum of 32 people at once. Users can form a Group FaceTime directly from the group message threads or join active at any time. The person in video conversation is titled, the person speaking will be enlarged compared to others, so that users will never lose track of the conversation.

Memoji And Animoji :

Conversing with people without emoticons is impossible, to make the chat even more interesting, Apple brings Memoji and Animoji. Users can easily create customizable Animoji called Memoji to match their personality and mood. iOS 12 provides endless fun effects to create a Memoji.

Camera Effects:

Just by using an in-app camera, add personality to the messages and FaceTime. It is quick to create share a photo or video with Memojis, Animoji, cool fun filled effects and animated text effects and more.

Screen Time:

Apple defines how productive users are using the iOS device, just by Screen Time. Screen Time provides weekly activity reports detailing about how much time users have spent in each app, also Screen Time provides weekly activity reports detailing how users use an iOS device, details about visiting websites on the device, the app that sends more notification etc.

Augmented Reality:

It is possible with APKit2, these AR objects can now be sent with Messages and Mail and share a real experience. Use ap Measure in an iOS device to measure real-world objects by pointing device camera to it.

Take Control On Notifications: Get relief from annoying notifications. Manage the notifications from the lock screen. Apple's smart assistant Siri makes intelligent suggestions based on user's reactions. Message threads, notifications and alerts are grouped up.

Do Not Disturb:

Be ahead of interrupts with Do Not Disturb mode in iOS 12.

Photo Sharing And Photo Search:

Smart suggestion of photos to be shared from the gallery using the "For You" tab. Search suggestions help a user to find the exact snaps user looking for. It also prevents advertisers from collecting pieces of information like unique features of device user uses.

Privacy Mode:

iOS always been designed with built-in encryption, on-device encryption and other tools to maintain users privacy. In iOS 12 Safari plays the main role to maintain privacy by preventing share buttons, location tracking also comment widgets on web pages.

Shortcuts With Siri:

Intelligent voice assistance monitors the user's daily routines with third-party apps and suggests convenient shortcuts. Siri gets even more smarts by answering questions.
Much More Features:
New Apple Books And Stock App:

Discover, read, listen to your favourite books and audiobooks with all new apple books. Keep track market with live stock quotes and charts with new Apple's Stock App, now it is available both in iPhone and iPads.

Voice Memos:

The most popular voice recording app comes to iPad with iCloud. Users can access voice memos from anywhere.

Automatic Strong Passwords:

Complex and unique passwords of user's apps and websites are automatically created and stored in Safari and in-apps

Navigation Apps In CarPlay:

CarPlay now supports third-party navigation apps like Google Maps and Waze.

Autofill Security Code & Battery Informations:

SMS one time passcodes will appear automatically as Autofill suggestions. Battery usage is shown in charts.