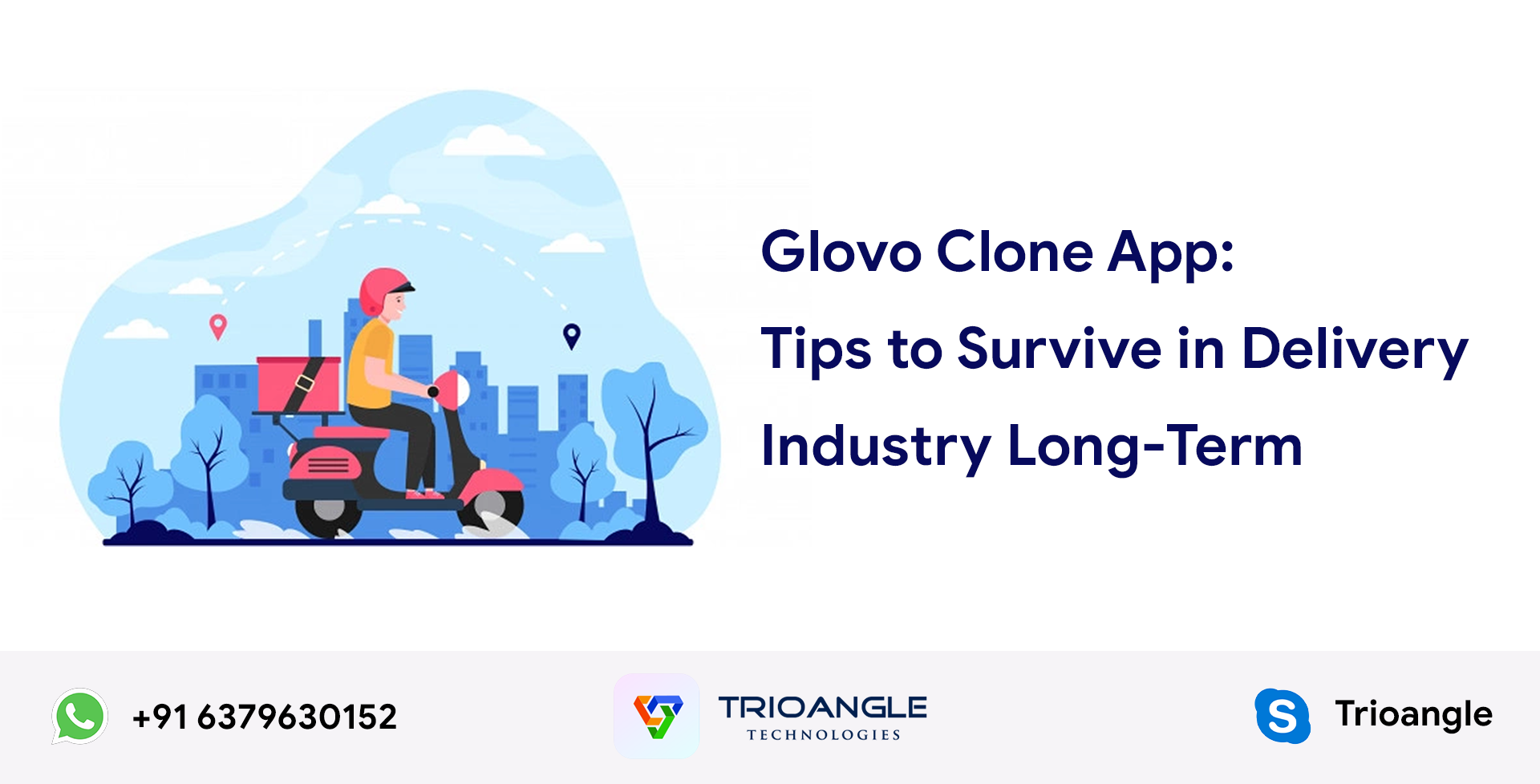 Nowadays, delivery businesses deal with a lot of orders due to the COVID-19 pandemic situation. The delivery startups are growing at the same time, hurdles also increased. Taking a small smart move can help you to overcome all those hurdles. Implementing a business setup can regulate the business flow process.
In this article, let us know about the features included in the Glovo clone by Trioangle to help you with on-time delivery and customer satisfaction.
Glovo clone
Glovo is a Spain-based delivery platform. It unites local business vendors with nearby customers. The customer can get essential products from the local store to their doorsteps like flowers, medicine, food items, groceries, and many more. Apart from local stores it also serves the products of big malls.
Survival tips
Being unique and delivering on time is key to success. To achieve these two parts implementing a delivery software setup with Glovo clones can help in many ways.
Going online entirely
A lot of restaurants and grocery stores are serving online because of the pandemic. When it comes to a delivery business serving online is reaching more people than serving offline.
Some customers prefer ordering through phone calls, but the possibilities of misunderstandings and mistakes are high compared to app ordering.
So, serving online entirely with a Glovo clone app might help you a lot.
Become wiser than ever
This inconsistent demand can lead to delayed delivery, to defeat this problem the Glovo clone app has an easy scheduling and order management system. Satisfy your customer without any hassle and serve wiser than ever.
Boost Convenience:
Online ordering and delivery services are introduced to save time, and effort of shopping and help to shop conveniently. The word "Convenient"
is the main factor to grab many customers. Including sorting algorithms to search required products can help customers to find appropriate products easily. The Glovo clone app from Trioangle is designed with these all set up to make customers convenient and happy while using your app.
Reasons To Consider Glovo Clone App
Delivery business depends upon many aspects to reach its success. Let's see some of the main reasons for considering the Glovo clone from Trioangle.
A great user experience.
High efficiency.
Ready to use infrastructure
Live delivery tracking.
Payment Modes.
Best CRM system integration.
These are some of the factors that are covered by the basic model of the Glovo clone app. Still, there are a lot of add ons available based on your requirement and budget, you can select your preferred Glovo clone setup to set your delivery business online.
Wrapping up
Now the business world and customers are learning to be digital and that has become the new normal. To be successful in this new digital culture, developing an app with features that makes customers convenient will help to beat the competition.
Build a Glovo clone with the help of our expect team by contacting with the following contact information.
Website: https://www.trioangle.com/glovo-clone/
Mail: [email protected]
Skype: Trioangle
WhatsApp: +91 6379630152