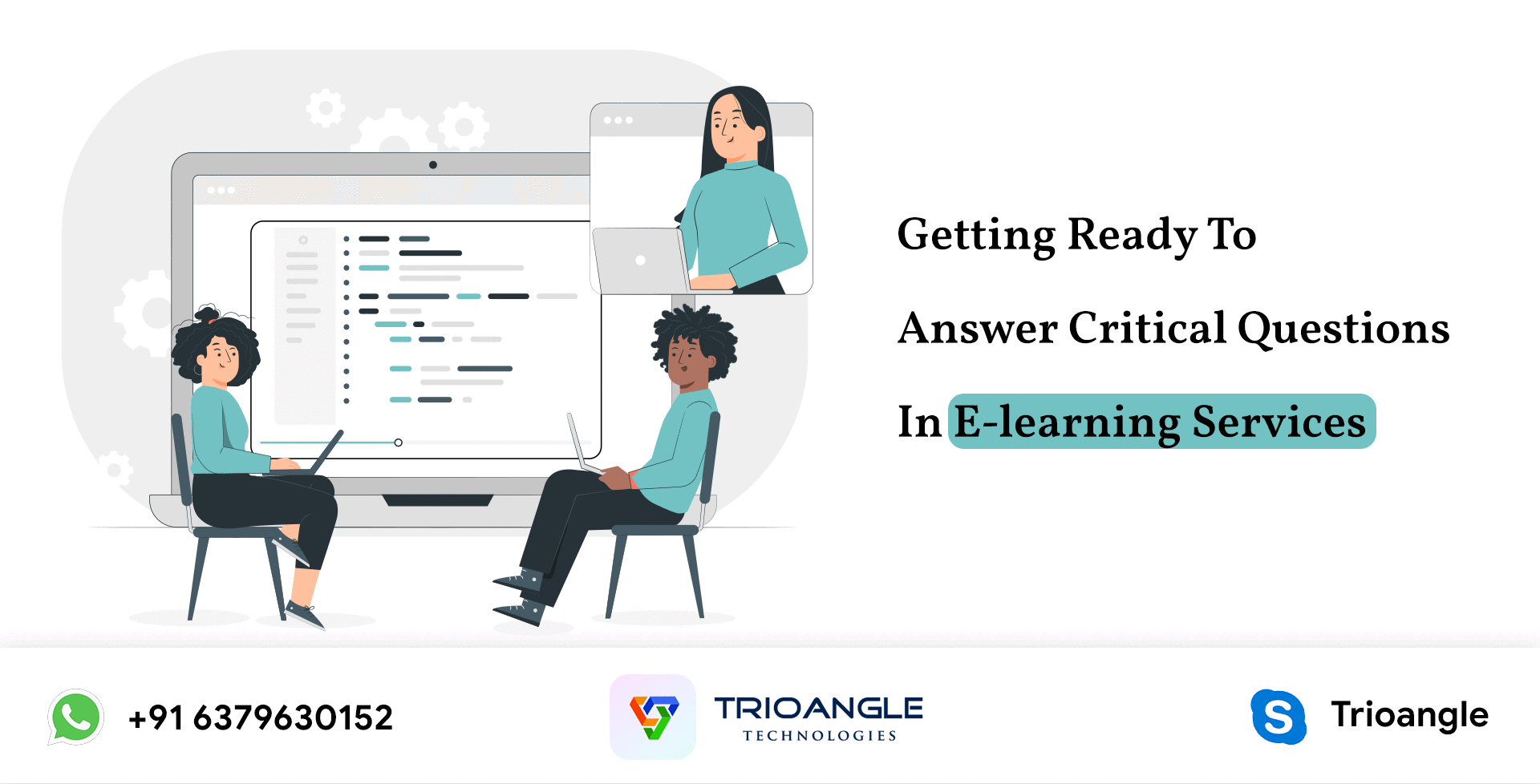 Pandemic situations turn the education industry in a new direction. Future of E-learning services runs on mobile and web platforms. Creating such platforms is a familiar and trendy process in the online market. 
Learning Management System (LMS) is a brilliant startup option where this takes the Elearning services into smart and efficient. Prior to developing, there is a wide range of questions revolving around your mind. Get into solutions for them by looking at this blog. 
What is LMS?
LMS will not replace that hard work and resolution that goes into creating lessons and educating people. The platforms connect everyone involved in students, instructors, and administration. It can accommodate any type of learning.
Top  Critical Questions for Elearning Services :
This question and answer section provides key principles, the primary components used in the learning system, the common challenges needed to overcome to make e-learning successful, and how to select the right platform to implement an e-learning system in your organization. 
Let's begin…..
How to Launch?
This E-learning system contains almost all features related to millennials' preferences like relevant content, instructional methodology, presentation tool, and assessments. All with the objective of enhancing knowledge and skills for improving performance.
Instructors who participated in Elearning provided the media-based learning system(Recorded audio/video)and software programs. Periodically we even find classroom activity increased with self-directed e-learning. We generally refer to training that uses more than one method for effective learning. 
What are Platforms to Prefer for Elearning?
The delivering platforms typically need a host using TCP/IP. Nowadays, many systems are available in the place that leverage websites to allow the user to collaborate or change content. Whereas earlier systems limit users to just view the material presented.
An example has a look at the LMS/LCMS and you will find an excellent example of how these features are combined into a single platform that serves virtually all the functions needed to produce and deliver e-learning.
What are the Key Challenges to Providing Elearning?
Considering previous questions, what prevents success in the creation and development of an E-learning system. are,
The wrong approach to content development

Wrong authoring tools

Wrong system employee for training

Wrong level investments
How to Implement an ELearning System?
These are probably the key steps to implementing an e-learning system. This planning should reflect a strategy that is in line with the organization's resources. So, you won't be caught in the center of execution without funds or personnel to complete. Consider these elements,
Number of current users

Statistics of users in three years

How many courses will you offer 

How new courses are introduced

Primar nature of courses

Multimedia format usage 

System management

Available budget
How to Increase Learner Engagement?
Creating a new platform initially lags the learner's count in the Elearning field Since pro players are on track. More engagement is the next step. Getting closer to the learners with attractive options steadily increases the learner's engagement. 
Getting the attention of the learners via attentive alerts of new courses, course updates, and instructor communication between learners and tutors.
Online Elearning Platforms: Ready-to-Go Solutions for Questions:
Profitable Driven Options:
The revenue-generated factors are in the e-learning platforms are 
Paid Course:
This model works on the function of paying some amount for certain courses to learn what they need to know. Not all the courses are free on the online learning platform and some of the courses need specialization to pay some rate to learn.
Subscription:
The E-learning platform has the subscription model to generate revenue in the form of Applications. It is introduced for students interested in accomplishing certification as a monthly subscription service.
Revenue sharing model:
It is also performed based on the revenue-based model. This method is the distribution of the total revenue generated by the sale of the products/services between the contributors. It's in the form of instructor revenue share. When the student purchases a course, the E-learning system can split that revenue to pay the instructor.
Platform Compatibility:
In platform compatibility, E-learning software is available on various platforms to make the process easier. We came up with a list of the top online platforms analyzed by type and categories that you can use to offer a high-quality learning experience. And the available platforms are 
iOS

Android

Web application
Instant Solutions:
Obstacles can often be found in every aspect of e-learning platforms from content development through delivery to effectiveness.
Course content should be in the effective form

Use of proper tools to make e-learning 

Online training modes

Fruitful investment option
Scratch or Pre-Built:
The first step of developing the application from scratch or pre-build options.Bothe in terms of user satisfaction.Even if this is the first time your organization is developing the application with its own dedicated training platform.
Social-Media Community:
Social media communication, through this form of communication, involves the vendor selection process in the importance of criteria, such as pricing, technology, quality, service, and many professional processes. You can do this best option to target your audience.
Wrapping up,
When analyzing your organization's needs, it is important to understand the nature of the e-learning system, its benefits, its options, and its limits. It is also important for you to become familiar with the various parts of an e-learning strategy and how they are integrated, along with the financial substances of your choices.
In making your choice of system, Finally, establish a plan for execution and select the right individuals to guide the procedure.