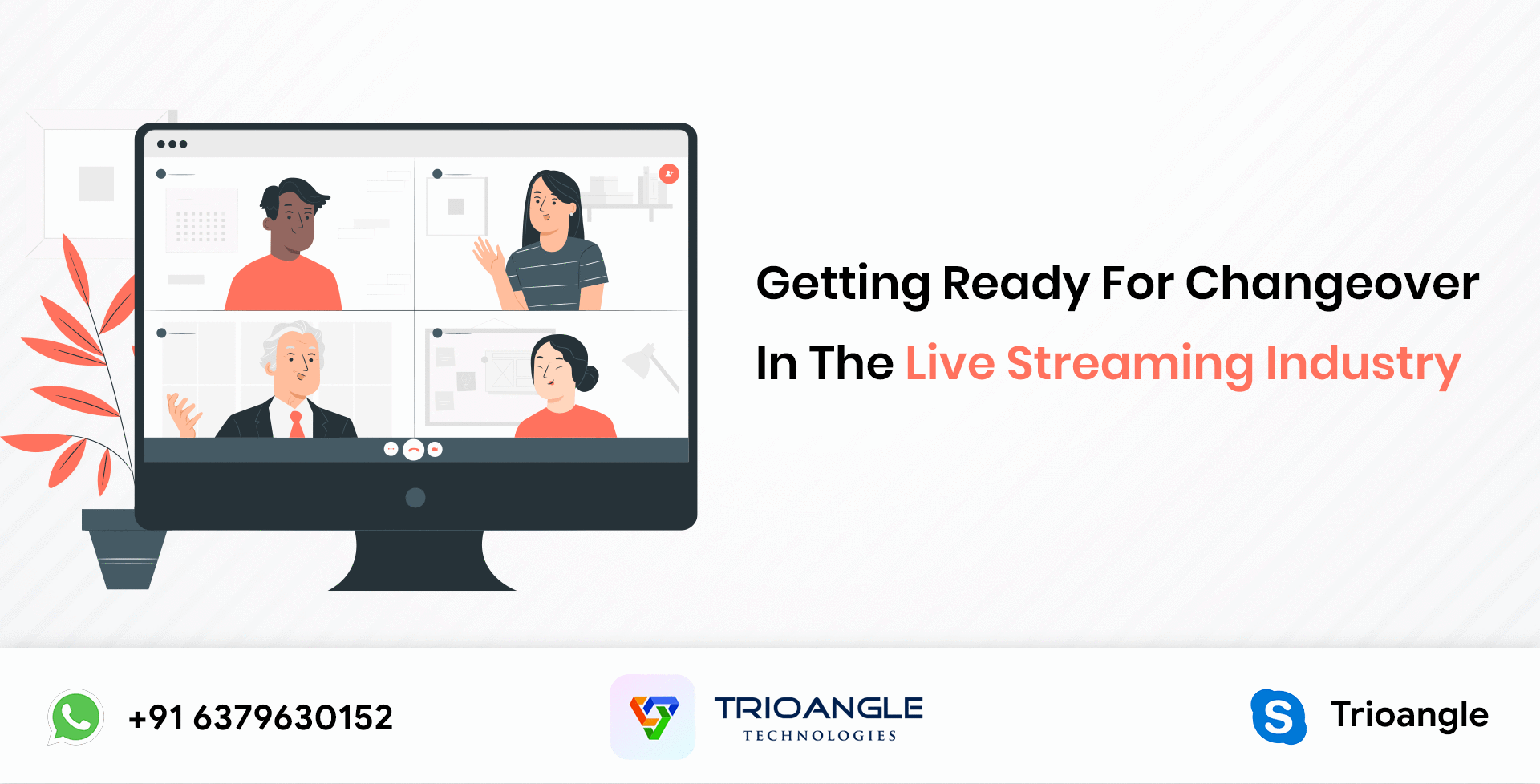 Live streaming platforms are booming over the year as a direct result of the pandemic. But, the growth started from here. Staying at home only accelerated the growth of the existing live streaming landscape. An increasingly popular way to engage with influencers, attend events and watch game content.
The major live-streaming platforms like Youtube. New features and marketing are taken especially when it comes to experimenting with advertising and commerce opportunities.
This blog highlights how the future of the live streaming industry will be and its extensions, major shifts disrupting the future positively, and the 5 ways that make you are getting ready for the changeover in the live streaming industry. 
Future of Live Streaming Industry: Extensions to be Aware:
Major social media platforms and video sites are leading the way due to the sheer volume of active users. There's an appetite for it. According to sprout social, which gauged consumer interest in different forms of social content.
Social platforms are quick to respond to demand, enhancing their video capabilities with live functions 

And new ideal features for consumers, users, and businesses. Facebook, Instagram, TikTok, and Youtube all report high gains in eth live streaming industry during the pandemic situation.

Youtube saw watch time on gaming live streaming exceed 10 billion hours. This growth is expected to behold even as virtual reality becomes less relevant. 
Some of the extensions are discussed here. 
Live Streaming With Influencers:
It is the key component of a live streaming application. For aware campaigns, products, lower level conversion strategies. Brands can extend their reach by collaborating with influencers who have a large amount of the following statuses.
Live streaming is the way for digital creators to present content that is often less polished than photos or recorded videos. The result is more authentic content engagement with digital shoppers looking to discover about the brand and product they see on the screen.
Gaming Livestreams :
Major live streaming applications gaming has carved out their own subsection of live streaming. People around the world spent a collective 9 billion hours waiting for live streaming video gaming content, from 3.8 billion hours. 
Billion industrial organized competitive video gaming gives viewers more reason to tune in live. That's good news for creators, who have the ability to monetize their live streaming with paid advertisement.
LiveStream Commerce:
One of the high development for live streaming services was the emergence of liver shopping on Facebook, Instagram, and TikTok. Some of the live streaming platforms allow the Call-to-Action(CTA) so the viewers learn more about the product or purchase within the app.
Live shopping is already a provides the large profit in China market where an estimated 45% of China's digital shoppers will buy through live streaming in 2023 under the china based retails. 

Early adoption with live streaming commerce is in the fashion and beauty space, both on their way to taking off in the US.
Many brands are new to this space stepping to live streaming without the required insight or knowledge to make an effective result and trying to show old ideas in this evolving medium. However, if they get it right companies will have the ability to command a huge, engaged audience and build a community around the live moment all at an incredibly low price.
Top live streaming in the current stage, brands should take note of the following trends 
Size Matter A Lot:
It's common knowledge that linear content distribution models are dying and traditional live models, build around exclusively on their way out. Instead, the modern audience wants the freedom to choose their preferred channels and platforms through which they consume content.
They are also resistant to content that boxes them in, instead, seeking personalized content that can be consumed when and where they want to and have the ability to share it within their digital community.
Community Wise Content:
The advantage of the live streaming platform has flashed the creation of millions of communities across the web, each with its own specialty and characteristics. Some of the owners of the source have a vast, engaged audience, which is extremely appealing from a marketing perspective. The group and individuals aren't simply going to hand over to brands access to those viewers.
Towards Entertainment:
Traditional networks, which have historically the rights to every significant live event, no longer command the audience and engagement they used to. That's why in order to maximize their reach and keep building their audience, they need to step outside of this model to grow. From sports to music, this is where brands have the opportunities to step in and take ownership.
Momentary Marketing:
By watching live content, you have an emotional reaction. Brands know how important that reaction is to grow their business, with finding that 83% of individuals are more likely to purchase from brands that they have an emotional connection with.
Organizations can support the live streaming moments for this means, tapping into the experience, understanding the audience behavior, and then providing intelligent trade messages to align their brand or product to a specific consistency allowing to trigger a quick response from the viewer.
5 Ways of Getting Ready for Abrupt Shifts :
Content Experience:
Rapidly improving the live streaming platform, the technology side of live streaming grows to match the quality of content that was benignly created and put on a show. This strength is hard to suspect considering the huge boost in the previous few years. There are more revolutions to come as the streaming generation enters a truly good experience.
User Experience:
One of the keys to making that link will be integrating virtual reality into live-streamed events. People at home want to participate in the vent and feel its buzz. Virtual reality will let people join and become part of the experience. But, I expect technology firms to make a huge leap forward in the next five years.
Options For Choose:
Live streaming events and sets will slowly replace traditional live stations. Nearly, a third of the people choose to stream their concerts online. This is just 15% who still listing to the traditional stations. 
The rise of the 5G network will only speed up the process. This allows the consumer to choose from thousands of options. Along with this, this provides a high range of listening experiences ranging from mass-market pop concepts to generating events. 
Be A Part Of the Streaming Boom:
Live streaming sports is one of the sectors to experience the streaming boom. Specialist events, and will continue to grow, opening up new markets and regions. More live sports than ever before will be streamed across the world bringing the audience together digitally.
And the big players are already starting to adopt huge hits with fans across the world. It is not just a player who will benefit from this there are an average of 26.6 million monthly sports viewers an 11.4 percent increase from last year accordingly.
Social Based Sharing:
This is one of the keys to success through social media fans want to share their experience seamlessly connect with the platform and join the event and they want innovative features such as video chatting and connecting sources to share their experiences. Above all, they want to share experiences with their friends, through virtual chatting and one-to-one communication.
Wrapping up,
Live streaming is a fun and efficacious mode to interact with your audience. It also helps you to reach a wide range of audiences and create a more serious connection with them without breaking. Many changeovers happen in the live streaming industry, to be a part of these, it is necessary to know the essential ways listed in this blog. Hope this will trigger your startup ideas in a new direction.