Goliath of online social networking has been rolled out video streaming service internationally. Watch a new platform for shows on Facebook. The company has launched a watch tab in last August only in the US and now it is available globally.
Facebook Watch: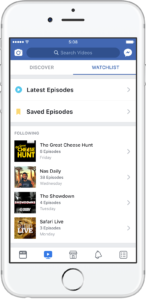 The goal of Facebook Watch is to offer users a place on the medium to discover shows and video creators and to start conversations with friends, other fans and even the creator themselves. It is available on mobile, on desktops and laptops and also in TV apps. The shows that are streaming are made up of episodes, live or recorded and it can also follow a storyline or theme. Users can keep up with the shows they follow, use Watchlist of Watch to be updated with new shows. The firm said that, since the launch, Facebook Watch has made the experience more social, including making it easier to see which videos friends have liked or shared also creating shows with audience participation at their core.
Social Platform For Shows:
People who are connected in this social platform are benefited in many ways such as gaining more links and kinds of stuff for educational purposes, helps to promote business and products in that way it gives a hand to all creators and publishers to find an audience, build a community for passionate fans and earn money for their work.
The company introduces Show Pages to make the process seamless to create a Facebook Show and publish new episodes. Show Pages makes it easy for people to understand what a show is all about, watch episodes and other related videos also connect with communities that have formed around a show.
Connect Globally:
Facebook is a social platform that connects people globally, but with this new video show attempt, the company connect people, as
People find a place to discover new videos: Users can get their latest favourite videos on sports, entertainment, news etc, in their personalized Watch feed.

Watch provides space to catch up with beloved creators and publishers: At the top of the watch feed, users can visit their own Watchlist. Customize this section by following more pages or can remove Pages from their follow list.

A repository for users saved videos: Users can save it to watch later in Watch.

Videos you can participate in: Facebook is constructing new video experiences that connect people and giving them the ability to shape the direction of the content.
How beneficial is this Watch?
Facebook supports creators and publishers with Watch globally in two main areas such as, helping them to make money from their videos on Facebook with the help of Ad Breaks, also helping them by offering new insights, tools for best practice for pages in Creative Studio.
Ad Breaks: Those are either mid-roll or pre-roll ads, or images below the video. Creators and publishers can insert the ads themselves or use Facebook's automated ad insertion features. Facebook says 70 percent of mid-roll ads are viewed to competition.
Creator Studio : Is the place where Pages can manage their entire content library  and business. This includes the ability to search across their library to view post-level details and insights, as well as mange interactions across Pages, Facebook Messages, comments, and Instagram. Other tools here focus on using Ad Breaks, viewing monetization and payments, and publishing the videos.
The Creator Studio is also seeing the addition of a new metric on audience retention added now, allowing publishers to better program their content.