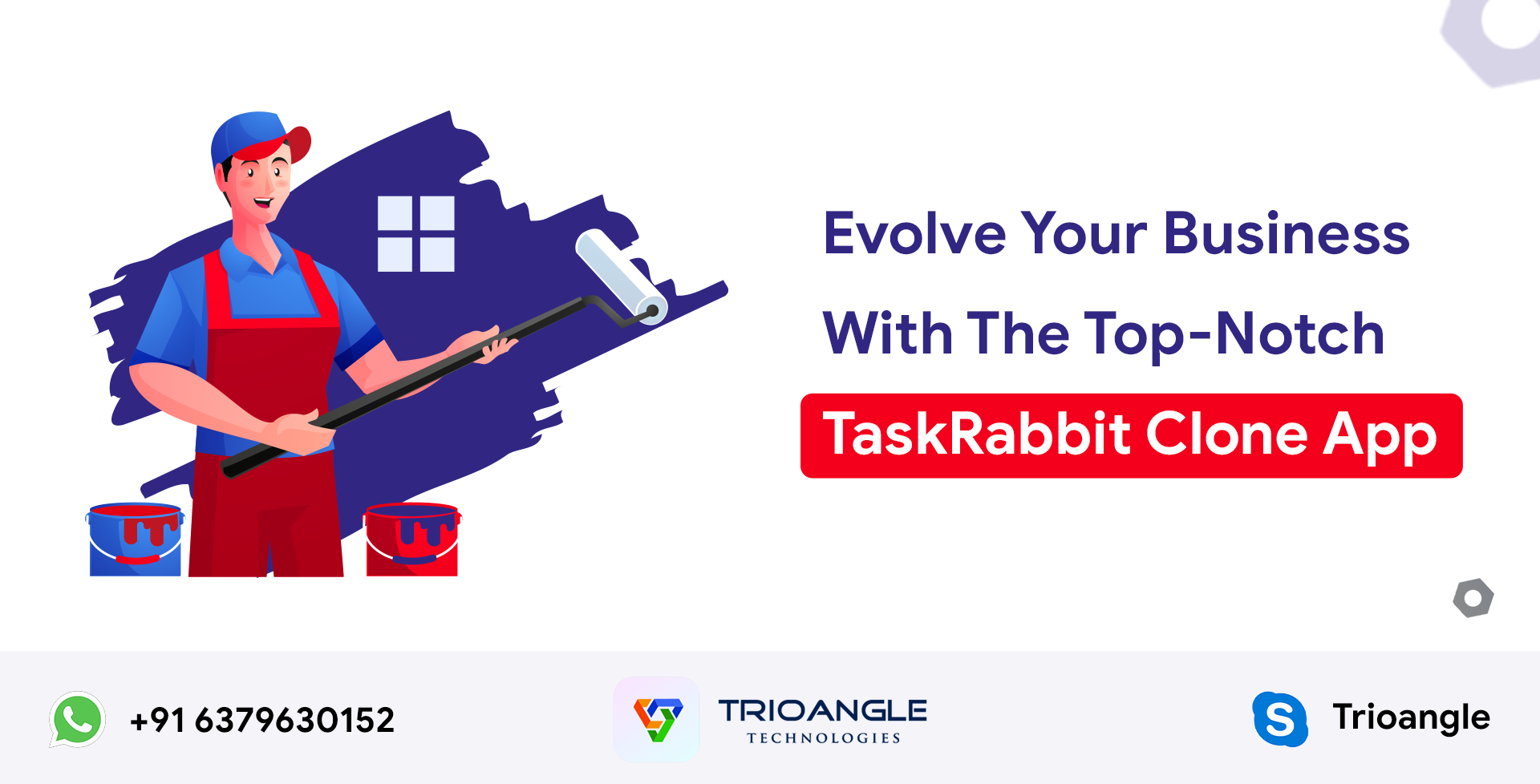 The actual way to rise up with success is to start taking action towards the digitized world. With numerous on-demand businesses commencing to bloom. If you could develop your business application, it would be the best move. You can get live with the TaskRabbit Clone to provide your users with quality doorstep home services.
Who would not choose a single platform which delivers multiple home services? Any needed handy services can be accessed by the users through this on-demand TaskRabbit app.
What Made The TaskRabbit Clone Popular Among On-Demand Service Industry
To make a move into the on-demand marketplace with the online platform with an instant solution, entrepreneurs are in search of a path. Our Trioangle Technologies is experienced in on-demand app development in the industry with owning the ready-made launch solution of Taskrabbit Clone Script for your business to deploy an app without any delay.
This directs to the perks of consuming less time than building an app separately. Our expert team aspires to help our clients to acquire profit from their online business solutions.
In general, TaskRabbit has acquired popularity in the on-demand house service industry. For your on-demand app visibility and fame increase, a complete code script will be provided from our side to business owners like you.
An app like Thumbtack will be integrated with the powerful features and most delinquent technologies for a seamless operation of your app in the feature.
Our app development establishment supplies 100% customization for you. This enhances the adequate opportunity for you to build, add on features, design the on-demand services app simply the way you desire it to be viewed on an online website. This enables your users to access your app conveniently.
Impressive Reasons Of TaskRabbit Clone And Thumbtack Clone Growth
End-To-End Solution:
Our app development company provides entrepreneurs like you the End-To-End solution for the required on-demand app. At this point, you will get instant solutions for your demands and solutions to construct an app. You can also avail the customization options on your app, and you can integrate or remove any features and functionality that will enrich the app's growth.
Beneficent Features & Functions:
Our skilled app developers combine your app with the necessary features and functionalities that will deliver a seamless app flow. Our team concentrates on providing you with a user-friendly app interface.
The whole team exclusively focuses on the TaskRabbit Clone and Thumbtack Clone app development with unique designs that will be eye-catchy for our users. The latest and advanced technologies will keep driving your business to suit the current trend.
App Visibility:
In addition to crafting an app, with our white label solution, we desire for your on-demand business to achieve more additional visibility. On the online platforms, your brand name and the logo will be portrayed, and it will help your business to gain its own identity among the users.
Cost-Effective:
Our ready-made app solution will help you to save investments and will provide which will be cost-efficient. Because hiring a developer to craft your app separately will increase the budget.
Cross-Platform Compatibility:
We Trioangle will develop the app to perform on multiple devices and websites to acquire an instant global reach. We assure you that your TaskRabbit Clone Script is compatible with devices of iOS and Android. So, you can reach all sorts of users with different devices. So, users can also use the app effectively on their devices.
Managing Functionalities:
You will be provided with the dedicated dashboard and management tool options. Through the admin panel, you can manage the whole business remotely in an easy way. The analytics report can be more useful to monitor the growth of the business.
Feel Free To Contact Us Immediately For More Information.
Visit Our Site: https://www.trioangle.com/taskrabbit-clone/
Whatsapp: +91 6379630152
Email: [email protected]