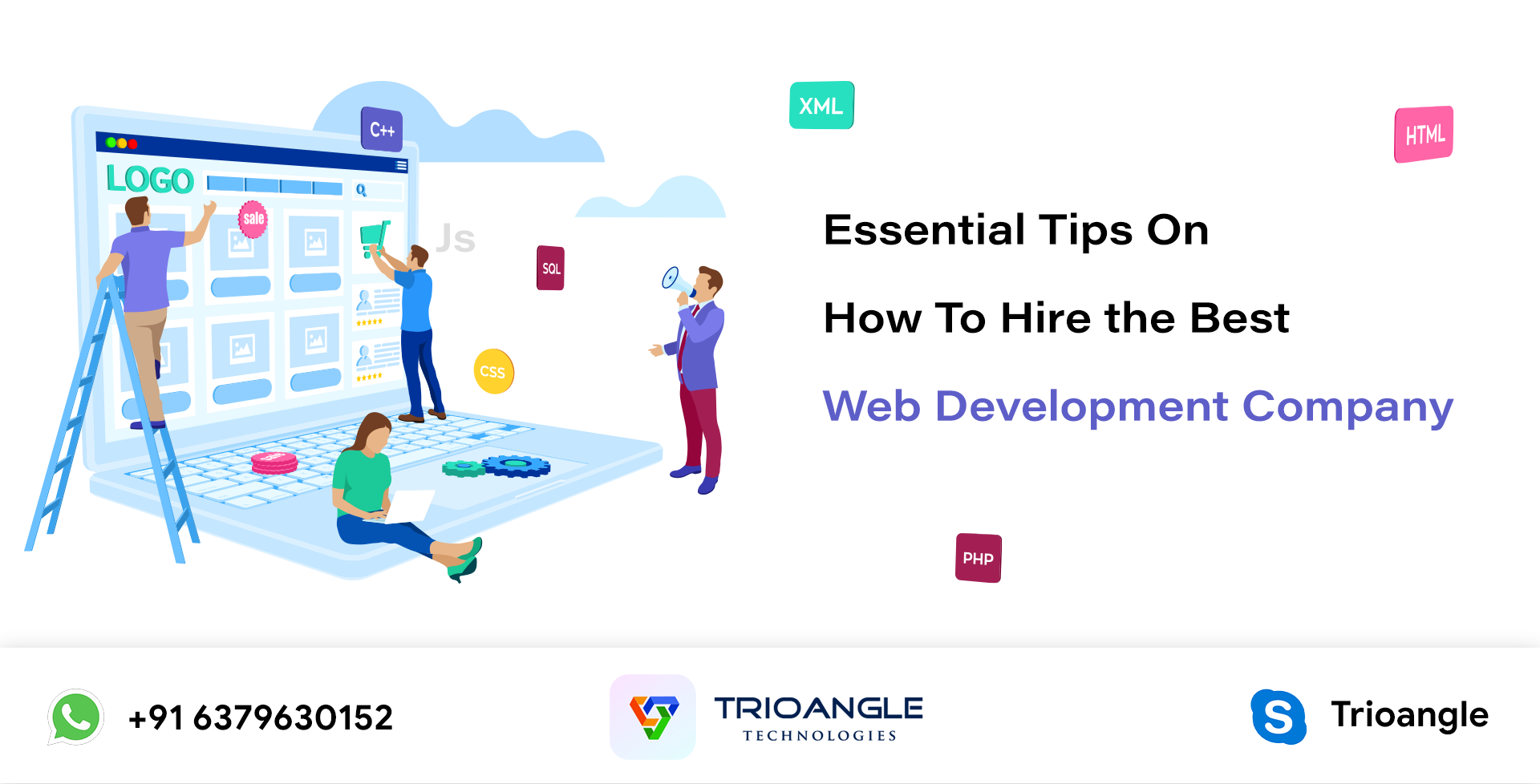 Every business is different and requires a special website to stand out from competitors.
When you google hiring a reliable web development company, you get several search results. Do you understand which company is most suitable for your business requirements? Most probably not.
What if you end up hiring the wrong company? It will not be much less than a nightmare. Right?
Before hiring a company, you have to consider many elements and evaluate different choices based on your needs. Selecting a reliable tech associate can be tedious as there is an abundance of them.
You won't have to worry; you will find steps to hire the proper web development company here.
Important Steps To Hire The Web Development Company
Step 1: Define Your Requirements
Have clear thoughts about your project
You should have some thoughts and ideas in your mind, right? The first step of hiring a web developer is giving those ideas a structured form. The clarity about your target audience, competitors, time duration, project outcome, etc., will help you in finding a more suitable developer.
Develop a roadmap for the developers
It can be done by creating a document with all your project thoughts and objectives. This system defines your project requirement, and the report you draft will be recognized as the application requirements document. This document, consisting of all essential points, will act as a roadmap for the developers. It will provide them with your time, budget, and requirements.
Step 2: Decide on Geographical Location
You have two choices to hire a development company based on place and timezone. You can either go for onshore web development which implies the development company that operates within the time zone or the same country. Or you can choose an offshore web development company that operates in different countries and time zones.
Both selections have their pros and cons. You want to analyze your preferences and availability of sources to decide.
Onshore Companies
Pros: Communication is extra efficient due to the same time zone, a better understanding of local patterns for design and user experience, and in-person conferences are more possible.
Cons: Increased project expenses
Offshore Companies
Pros: Significant cost discount (almost one-third compared to onshore competitors), shorter project starting time thanks to the availability of additional resources, and decreased labor costs.
Cons: Different time zones cause communication issues and cultural differences in user experience design.
A proficient developer is available everywhere. So selecting one to hire is up to your preferences. A good onshore company will be the fine preference for you if you have a reasonable budget, to start with, but if you're on a minimum budget, an offshore development team should be just what you need.
Steps 3: Consideration For Hiring 
Experience Company can be a game-changer
Before hiring a web development company for your project, you should check your project development team and developer experience. Analyze whether they have experience in similar niches and tech stacks that will be relevant to your project. The probability of your project's success increases a lot when you hire a web developer with the requisite experience.
On the other side, beginners will charge much less cost, but they would possibly create trouble such as less efficiency and delays. That's why hiring skilled developers with years of experience and working on similar projects is suggested. Hence, a professional development team can offer an outstanding website in the minimum time.
Check on relevant technical skills
Efficiency and the survival of the web development company completely depend upon the proficiency of the web developer. Ensure you hire web developers who possess the fundamental programming language and technologies required for your project. 
You can hire a front-end developer or a back-end developer if you have an active website. But if you choose a robust web app from scratch, you want an entire team with great expertise and skills.
Look for the expertise of developers in programming languages that will be required in your web app development. Here are a few technical abilities you consider while hiring a web development company.
The decision regarding tech stack alters depending on the kind of application being developed.
Analyze their portfolio
Web development companies love to show off their previous successful projects on their website. If you choose to analyze the developer's experience, quality of work, strengths, and weaknesses, then go through their portfolio thoroughly. Moreover, you will find the previous client's testimonials on the company's website which will assist you to make a more knowledgeable decision.
Interview and Sample Tasks
The method of hiring a suitable web development company is not rocket science. All you want is appropriate knowledge of the process that includes hiring a reliable development team. When you are ready with the listing of various companies, the subsequent step is to choose the most eminent ones. By assigning a short project or a sample task, you can analyze which company is the proper fit for your project.
You can witness their expertise, skills, and knowledge of a number of programming languages through sample tasks. By making use of real-time tools such as CodePen and Skype Interview, you can determine their coding skills. These tools provide you with an in-browser code editor to run and evaluate the codes in real-time.
Step-4: Engagement Models
Time and Material Hiring Model
Web development companies use this model to cost for the resources you prefer to hire based on the time period. It allows you to hire resources for a certain period.
Dedicated Team Hiring Model
The company will dedicate a group of resources to your project in this model. Depending on what you need, you can employ them on an hourly, weekly, monthly, or yearly basis.
Fixed Cost Hiring Model
The web development company professionals will provide you with a free quote for your project. The company specifies the charge and time you will need to pay.
Conclude,
Undoubtedly, the internet has made discovering an appropriate web development company a lot easier. But at the same time, with so many choices available, it becomes challenging to find the reliable one.
But not anymore!! Above, we have shared almost all factors you should consider while hiring a web development company. You can hire dedicated web developers who fit best for your project requirements by following the above steps.
Visit Our Site: https://www.trioangle.com/web-development-services/
Whatsapp: +91 6379630152  or  Email: [email protected]