DoorDash is a successful online food ordering application.DoorDash clone application is such an application with a seamless business model to achieve customer satisfaction. When people want to enjoy their favorite meal, they go to their favorite restaurant or order their favorite food online. In this post-pandemic world, no one is ready to go outside unnecessarily. This tremendous reach for online food ordering and delivering apps won't get down at any cost because people are enjoying this convenient method. Foodies love to utilize this convenient service from the on-demand delivery applications. Receiving their favorite food right at the doorstep has given rise to on-demand delivery businesses to a great extent. Let's see how Doordash is successful because of its business model compared to its competitors.
How successful is DoorDash?
Let see some of the facts and statistics that describe the success of the Doordash. 
DoorDash is an online food delivery service founded in 2013 in England by Tony Xu, Andy Fang, Parbir Adarkar, Christopher Payne.

DoorDash is headquartered in San Francisco, California.

DoorDash revenue hit $2.9 billion in 2020.

DoorDash reached its revenue by 241 percent in 2020.

DoorDash has 18 million customers, the majority of customers are from the US.

DoorDash manages 45% of the US food delivery business.

DoorDash average waiting time was 37 minutes to deliver in 2019.

Nearly 3,886 employees are working in Doordash(2020).

Doordash service is available throughout Australia, Canada, and the United States.
Table representation of Doordash growth based on year.(SOURCE)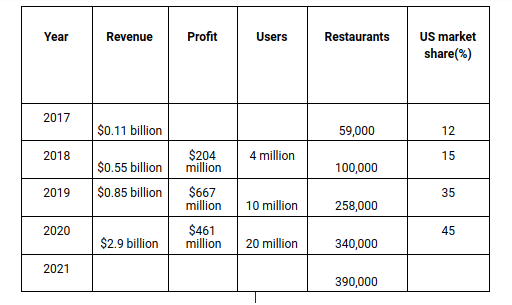 This comparison chart between Doordash competitors describes how Doordash is a successful business model.(SOURCE)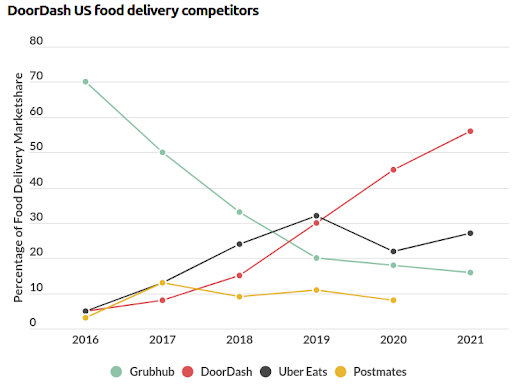 All three competitors are competing to increase the sales in the US to Doordash through low delivery and service Fee. Still, Doordash acquired 45% of total US food delivery because of its business model and customer service.
DoorDash Business model:
DoorDash business hiked with each year due to its reliable business model. It has successfully bound up with many restaurants and has satisfied the demand of customers in various cities. Explore the business model to understand how DoorDash increased revenue? How does DoorDash make money? Explore everything you need to know to grow your delivery business.
DoorDash Partners
Restaurants expand their brand awareness.

Delivery suppliers (part-time delivers)
Activities
Develop a relationship with restaurants.

Hire delivery drivers for delivering food.

Advertisement in social media and other forms of mediums.

A digital platform to provide and manage service requests.

Provide service to users with different payment mode options.
Expenditure Structure
The expense to develop and launch a platform.

Investment to maintain and run your delivery business.

Pay salary to delivery drivers enrolled with the platform.
Customers Benefit
Users don't want to go to restaurants physically.

Order food through an advanced seamless platform.

Various payment modes.

Offers and discount codes for orders.
Delivery Drivers Benefit
GPS helps to find an Optimized track to reach their consumers' location.

Earning for working part-time.
Restaurants Benefit
Brand awareness.

Earn more by taking more orders.

Don't even want any physical place to dine in.
Revenue Streams:
Commissions from restaurants.

Delivery charge from customers.

Advertisement income for the platform.
Sum it up:
If you are planning to launch your on-demand food delivery in the most competitive market, Doordash clone is one of the best choices. Now it's crystal clear how DoorDash reaches this success by its business model. To achieve huge success in the food delivery field, implement the Doordash business model into your on-demand online food delivery business by Trioangle.
We are always ready to serve you with more info. Leverage your successful business journey with us. To know more about our scripts and services contact us with the following medium.
Mail: [email protected]
Skype: Trioangle
WhatsApp: +91 6379630152