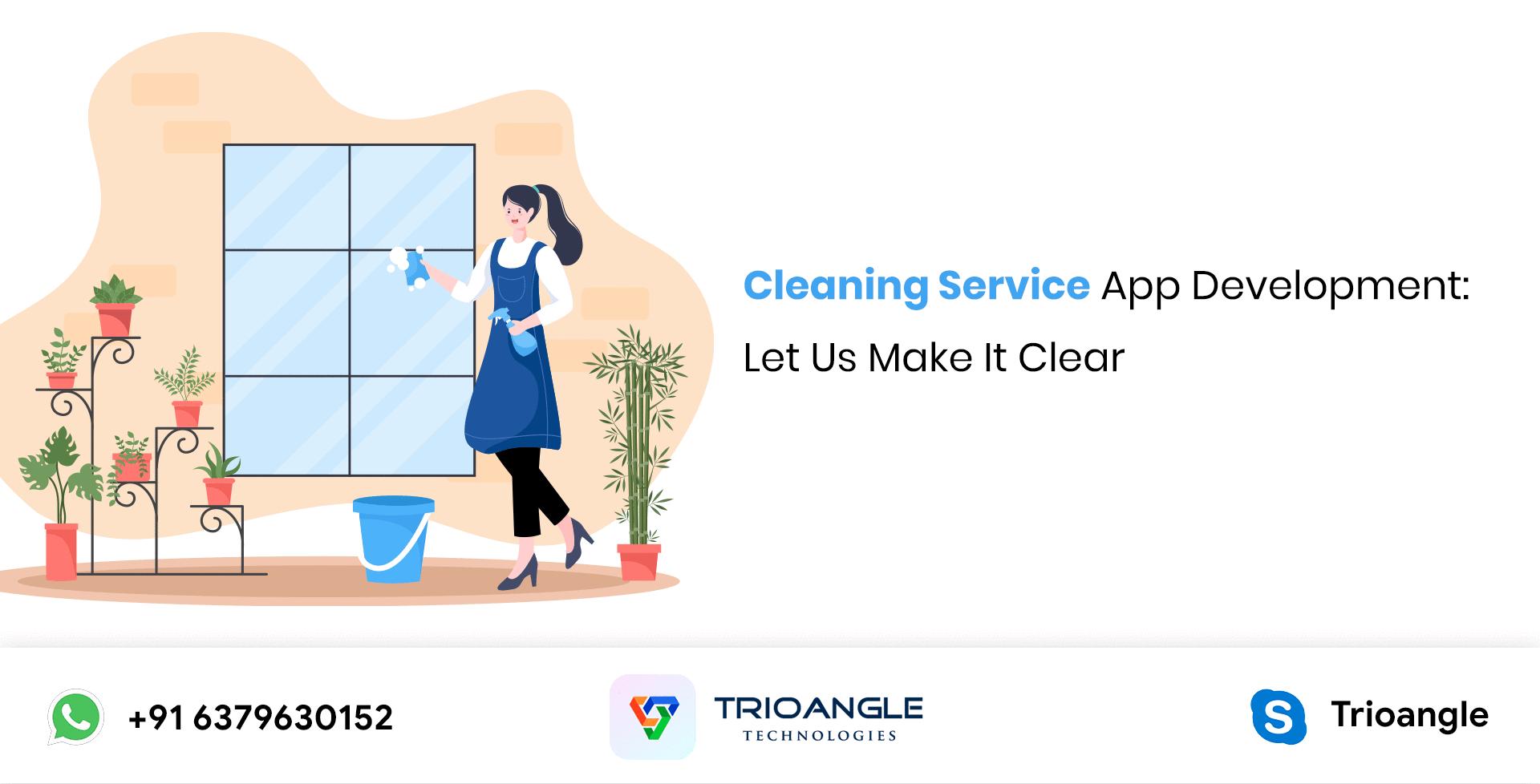 We all know that time is an important resource, it should be spent very carefully. So, it makes sense to concentrate on the really meaningful things and delegate all secondary chores to other persons. 
Similarly, maids service or cleaning service also belongs to minor chores. While you have an option to hire maids or cleaning service providers there is no need to suffer on cleaning commercial buildings, apartments, residents, etc. 
The professional maids are able to do cleaning tasks better, so it makes a way to spend your time on something more important and interesting than this cleaning task. 
This becomes the main reason behind the people's preference for these services get increasing and parallelly the cleaning agencies or companies are growing day by day. 
So many companies are looking forward to solutions to provide a perfect service to their clients. In this case, to fulfill the company's needs, the Cleaning Service App development arrives on the market. 
By developing a great mobile solution you can help both maids service providers who are looking for an opportunity to grow their carrier and the people looking for a better On-Demand Cleaning Service App solution to access the professional maid's service provider for their household cleaning service requirements. Let us make you clear about it in this blog.   
What Is On-Demand Maid Service App?
The Maids service business will never go out of business, How? 
Cleaning chores is exhausting work and it is harder to be careful with the cleaning.

Cleaning service is a highly time-consuming task and labor-intensive
On-Demand Maid Service App is an online service business where anyone can book a professional cleaner or maid's services in their location, through on-demand maid service app. An instant maids service is able to book by your clients via your app by appointment scheduling.
Who Should Initiate Development Of On-Demand Maid Service App Development?
By owning an on-demand maid service app the cleaning company is able to upgrade the client's interaction undoubtedly and also the profitability of the business gets affected positively. 
However, this is not merely the one and only option. In reality, any business owner preferring to get a source of stable income should find out how to make an On-Demand Maid Service App.
Instead of opening an agency for delivering maid services or looking for the commercial infrastructure to start a cleaning business, you must develop a unique online on-demand marketplace, a kind of connecting bridge between the professional maids and your clients. 
Your marketplace will act as an intermediator for service providers and service recipients. As an example, this denotes the importance of having an own on-demand app is a must need one.
How To Start An App-Based Business with Uber For Maid Service?
The maids or cleaning service can be upgraded to the next level by the on-demand marketplace business model. 
You have a question, "How can I make it possible?"
The aggregator On-Demand Maid Service App is able to connect the multiple maid service providers with your online platform's end-users. As an administrator of the on-demand cleaning service app, all the operation of your business is manageable remotely by yourself. 
The next question to strike your mind must be, "How to make money with the outstanding uber For Maid Service App?" As a primary, a commission-based on-demand business model is used for revenue generation. The commission share is received by the admin from the maids on the service payment gained from the end-users.
Beneficial Of Owning Uber For Maid Service App 
Let us discuss it briefly,
Client's Beneficial Point:-
The is convenient to understand about maids services provided by your company.

Your app acts as a platform and helps to connect all the cleaning agencies around your location. 

Depending on the service cost, location availability, service variant, etc… there is a high chance to choose and book an appointment with the most optimal maids services clients. Which is based on their requirements. 
Maids Service Companies Beneficial Point:-
Business productivity growth Expands rapidly.

Loyalty among the client's increases.

Ease of announcing the various service offers and promotions to your clients.

Internal business operations get optimized.  
How To Make A On-Demand Maid Service App
Prefer Perfect Location:-
If you wish to invest less, then you reasonably invest short. On another note, you should especially welcome a well-known region to you. Subsequently, you can consistently extend the range area. Choosing the location where you gonna make a startup is must need. It affects you in revenue generation, business growth, and audience base enhancement. Etc… 
Target Audience Analysis:-
It is important to know how to acquire commercial clients looking for maids more than to find and initiate a startup plan for maids services. So it's more important to know what is the requirements of your client and what they are looking for. Cleaning services are in several forms with the separately targeted audience.
Understand Your Competitors:-
To build a successful foundation in the cleaning service app development industry it's more important to have a competitive analysis. It helps you to have a clear idea about the pros and cons of this maid's service business in your location. So it helps you to surpass every drawback and provide your clients with a unique and quality service better than your competitors.  
Secure And Quality For Users:-
The problem of quality of services is intense. That is why Airbnb and Uber apps depend on their strict rating method and restrict participants who obtain low ratings. Maybe you should do the exact.
Maids Service Business Marketing Strategy:- 
Of course, making a mobile application is just half the action. Consider how to promote your maid's service business. There are plenty of options you can utilize including promotion on social media, paid promotional advertisement, service optimization, etc…
Concluding Notes,
Developing a Uber For Maid Service is a trendy one in the online market. Beneficial points in the customers, as well as cleaners, are more as listed in this blog. The description of how to develop the cleaning services app presented in this blog also takes the cleaning service to the next level. Let's start by considering these points.