Background
Food delivery is a rapidly advancing industry globally. Yet, many food delivery apps are thriving in the urban hubs, neglecting the rural and outskirts regions, leaving the residents in those areas without convenient access to food delivery services. For many unavoidable reasons, this situation is going on in many locations, where people have the desire to get food at their doorstep.
As an ambitious entrepreneur, Mr. Asfahan Ahmed recognized this service gap and was inspired to bridge it. This motivated him to establish a cutting-edge food delivery marketplace.
Eventually, he embarked on the journey of GrubUp in Australia, enabling people to indulge in delectable cuisine from their preferred restaurants, regardless of the considerable distance of 30-40 kilometers.
Asfahan decided to bring this food marketplace, a timely choice for every foodie. He envisioned that his food app would provide users with a seamless and delightful experience, boasting captivating designs and impeccable delivery operations.
In the year 2020, his dream came to fruition as GrubUp embarked on its journey in the food delivery industry.
Obstacles Encountered By GrubUps Owner
GrubUps owner has noticed the food delivery demerits in the Australian region.
Merely, the first difficulty he over-crossed is that food orderings are processed through phone calls with some particular famous restaurants.
No explored food listings, with captions to grab appetizingly.
The lowest number of online food delivery marketplaces is not enough to cover many regional peoples.
Asfahan resolved to conquer all these obstacles by developing a distinctive, user-friendly mobile application equipped with a plethora of features. This application would excel in networking, operate seamlessly, and execute delivery operations with precision and efficiency.
How GrubUp Starts Its Journey?
Ahmed found GrubUp in the year, 2020. While in business development thought he overcame many hurdles, to make his dream real.
The first thing, he struggled lot is to pick a mobile app development company. During this search, he has only two conditions that are qualified software at a low cost.
At this time, he reached out Trioangle team to develop a tech-savvy mobile app for an online food delivery marketplace.
Let us delve into the perspective of Mr. Ahmed, the visionary behind GrubUp.
"While searching for a top-notch app developer, I discovered the Trioangle team, who became my invaluable partners during my initial foray into the mobile app industry. They were the first team I engaged with for app development.
I shared my business ideas with the experts at Trioangle, and they meticulously analyzed and diligently incorporated all my custom requirements into a well-structured food delivery marketplace.
The Trioangle team, including their Business Analysts and support staff, provided me with a wealth of timely project updates and valuable information. Their seamless communication channels nurtured a smooth and efficient collaboration. Ultimately, I obtained my food delivery marketplace within the designated timeframe, delivering exceptional quality and a delightful user experience."
Afterward, GrubUp tackled eminently in the Australian food marketplace.
From this, you can apprehend the importance of "how strong a mobile application would be, it can start from design to seamless user functionality".
The proficients at Trioangle highly believe in delivering the client's requirements and executed it finally only after their heart-filled satisfaction.
GrubUp's Meteoric Rise To Prominence In The Australian Market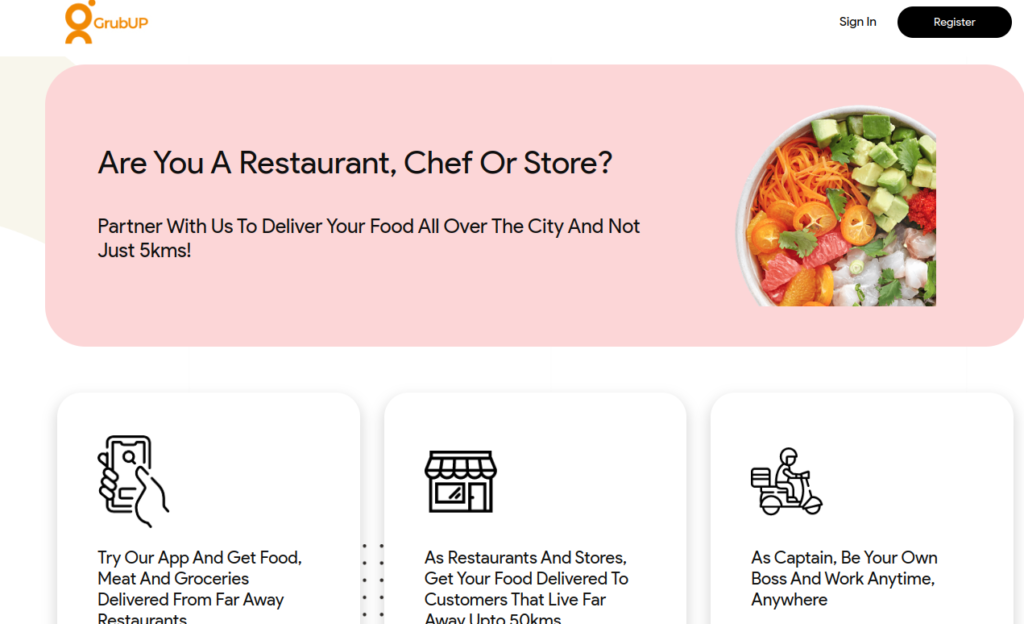 Grubup gives a wise solution for the foodie who is avail at a distance of 50 kilometers too. With its intuitive search feature and user-friendly navigation interface, Grubup entices users to conveniently order their favorite food through the app and have it delivered right to their doorstep.
GrubUps owner has noticed the food delivery demerits in the Australian region.
Offer a specialized hub for restaurants to showcase their exceptional and signature dishes, fostering seamless connectivity with consumers.
Up-to-the-minute information on food availability, fresh arrivals, exciting offers, and irresistible deals.
Seamless exploration through easy search, customizable sorting, and refined filters to uncover food items with diverse culinary attributes.
Quick bookings, and secured payment options with live location tracking for both the consumers and owners.
By offering these eminent features GrubUp creates a unique footprint in the Australian Food delivery industry. Where restaurants can connect with their consumers easily and users can collect their food anywhere at any time.
Steps Taken by GrubUp to Garner More Daily Bookings
At the outset, one year after its launch, Grubup attracted approximately 5000 daily users. Presently, it operates as the premier food delivery marketplace in Australia, witnessing a staggering daily booking volume of around 10,000 transactions on average.
Grubup utilizes many promotional channels to reach out to its potential customers in Australia. Their team focused on social media advertising highly. Along with this for getting customer retention, they do consistent email marketing, In-App promotions, and real-time grabbing push notifications to users.
Moreover, GrubUp prioritizes forging partnerships and engaging in cross-promotions with a diverse array of brands, restaurants, and influencers. This approach enables them to tap into new audiences and expand their reach.
Additionally, GrubUp implements targeted advertising initiatives in specific cities and actively sponsors local events, continuously enhancing its brand visibility and strengthening its presence in the market.
These strategies boosted GrubUp's daily booking volume.
GrubUp Shines Bright in the Food Delivery Landscape
Certainly, Grubup is poised to achieve significant milestones in the days to come. This is by incorporating numerous cutting-edge technological collaborations and vibrant innovations.
With its intuitive platform, extensive personalized offers, and lucrative deals, they are projected to generate substantial revenue in abundance. This trajectory will elevate its distinct position in the competitive Australian food delivery app market, setting them apart as a standout leader.