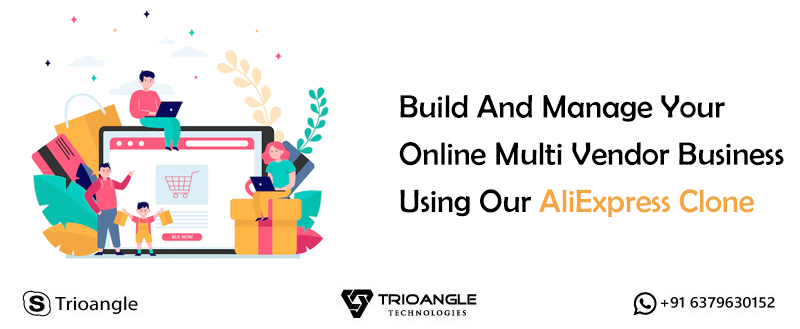 Ecommerce businesses have proven to be very consistent and revenue-generating businesses in recent times. There are many different platforms for conducting an online multi-vendor marketplace.
These online marketplaces are generating an immense amount of revenue and changing the purchasing behavior of customers.
The revenue generated was around 4.9 trillion USD in the year 2021 and is expected to grow to 7.4 trillion USD by the year 2025.
AliExpress is 9th on the global ranking for GMV (Gross Merchandise Value) and has seen an upward trend from 2016 to 2022 without any dip in their revenue generation.
Do You Have Any Idea What AliExpress is?
AliExpress is an online platform that is being used as a B2C marketplace for users to directly make their purchases from the manufacturers and resellers. This platform is very famous for its dropshipping model, where the shipping is done for free by the manufacturer after producing the product.
How can you use our AliExpress clone and what are the main features you need to know about it? 
Our Aliexpress clone is ready to use the platform well built with a variety of features to easily manage and run your own store.
The most importantly considered 3 features of our AliExpress Clone are:
Admin Panel

Merchant Panel

User Panel
In this blog, I will give you a detailed explanation of how our Admin Panel works and the features that you can take advantage of.
The Admin panel is the main feature that holistically controls the business. This panel is handled by the business owner and he\she can determine what needs to be changed and when it needs to be changed.
These changes can only be done with the help of the Admin panel because it contains all the necessary and required metrics to calculate and control the flow of business easily.
So, let's discuss some features that we consider very important in generating revenue for your dream business using AliExpress Clone.
Dashboard:
This feature in the admin panel will help you identify the performance of your business in just a glance. It has live metrics like products, orders, product category, total brands, and total product categories.
These metrics will give you detailed information on the performance of your business. You can use this feature to identify where to focus and in case of an expansion, you can easily decide whether to perform the expansion or not. 
This view also gives a graphical report of published and unpublished products and also a graph of the merchant products that have been published.
Manage Admin:
This feature allows the admin to assign roles for others in the team. The admin will be the sole deciding authority on whether to give a role to a person and can also assign specific permissions for access. 
For example, the admin can add an accountant and assign roles accordingly. In the case of a partnership, two admins can handle the project with some or no restricted permissions.
Manage Products:
The revenue will be dependent on the categories of products that we are going to publish in the AliExpress clone home. These products can be added or removed from this feature. 
This feature has been built in such a way that you can manage in-house products and merchant products easily. This helps you to identify the product's performance and what to focus on.
Reviews can also be viewed so that the granular problems in products can be identified easily.
Manage Orders:
This feature allows the admin to easily view the orders that are being placed. It has been categorized in a way that you can easily view the orders placed for the admin products and the merchant products.
This report helps to identify products that need to be given offers and to raise demands for some products.
Manage Promotions:
Every admin faces this problem to identify the offers that need to be given for some products. Using the order report and other metrics, you can easily identify the product and do promotions.
Promotions deal with features like Flash deals, subscriptions, newsletters, and coupons. You can add a product under the above-mentioned promotion methods to increase their sales.
Manage Payment Gateway:
Payment is where a lot of issues usually originate for the admin and they have to rectify it immediately for the customer to complete transactions.
We have eliminated that problem for the admin because we have established a well-built Payment gateway system and you can add and remove payment methods with ease.
Customers can easily manage and maintain these payments and view them.
These are some of the main features that you should know before starting your business using our AliExpress Clone script.
I hope you are intrigued to use the app from reading about the features. Make use of the features listed in this blog while developing and launching your business. 
For more details:
Visit: https://www.trioangle.com/aliexpress-clone/
Whatsapp:+91 6379630152
Mail:[email protected]