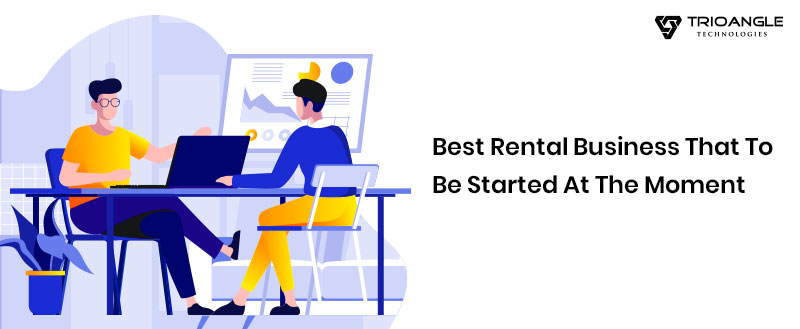 At the time of Covid-19, starting a scopeful venture was a wise decision. Most of the budding entrepreneurs start their business instantly to be placed on the market sooner. In this digital world, an application which provides technical support in any way can connect the people easily. 
Are you wondering, what sort of business to be started now?
Make a note of it, 
Your business should be purposeful.

Your business should be from the scope of the  relevant market.
Satisfying these two criteria, online rental business has been launched with new norms and metrics. Whatever the timeline, rental business gets adapted to market condition and need. This is a secret reason behind, rental business sustainability.
Best Rental Business That Can  Be Started At The Moment.
Vacation Rental Business – When a set of people head for a  trip,  favourite places reach  their bucket list. Longing for better space to stay with your mates, in such case you can book a most satisfied listing and feel like locals. Airbnb is one such vacation rental business, inspired to its victory then kickoff your venture with the best airbnb clone.
Car Rental Business – In some use cases like a comfortable trip to the airport, a family trip to any religious locations, for a tip-top business trip ride car rentals are a better choice for reliable and affordable trips. Wishing to start business on a top-lined car rental business, get an airbnb clone for cars and a customised car rental script to head start your venture.
Parking Rental Business – One of the fretful things is parking vehicles on urban city roads. Make the parking more simple with by incorporating rental concepts. Parking booking script is on the way to start your business.
Space Rental Business- Unused space is there in your location owned by you! Make money by renting it. Yes, list your space for short term rentals just to conduct activities. It is common rental practice, publises and spreads the common practice digitally with the space rental script.
Bike rental Business – Professionals who are working on rotational shifts, travelling from one place to another would be more difficult and costly. They can save money and energy with a rental motorcycle that booking a taxi. Micro Mobility today is something higher, wanna know its heights, then start a business on it and taste the real success.
Boat Rental Business – People who wish for adventure or wishing to trip with the cool breeze and seawater. Boating will be the most satisfying sport for them. To enjoy the season in cut-price boat rentals will be the best choice. Launch your own boat rental business with boat rental script and lead your successors with great business
Farm Land Rental Business – Is it possible to rent farmland? Yes, says today's technology. An owner of fertile land can rent their land to growers to practice agriculture or a space to set a windmill. By which everyone will be profitable.
Equipment Rental Business – Youngsters today are more passionate about photography. To take quality photographs and showcase their skills, all they required a professional camera or a high-end better quality phone. Rates of cameras and phones stun them. But don't worry they can capture their passion through a rental lens (camera).
Fashion Rental Business – Fashion parades are common in many countries. This practice is followed in schools also. Present day kids dress ups like superheroes and real heroes. Many parents can sense their heroism at a reasonable rate by getting rental properties and dress.
And much more rental business ideas are lined up, pick any one based on market research and launch your venture quickly with best offered quality rental products from Trioangle.
to know more contact [email protected]