With the great leap on the digital platform, common people feel more convenient with it and purposeful. Considering large population attraction and feasibility in the platform, business visionaries shoot out their business ideas and marks a strong foot impression.
The magazine entrepreneurs quote the future of entrepreneurship, startup "Within the next few years, we will see more entrepreneurs that have recently graduated from college." Making this statement convincing, real-life unicorns are alive in their corresponding industries.
Airbnb is one such, turns out billion dollars as revenue with its purposeful service. With an effective online presence, it hinges on four main principles, trust, efficiency, flexibility, and community.
Inspired to its success, business visionaries wishes to follow their path. An Airbnb Clone can be led to it. As Airbnb clone come up with core features of the Airbnb in a well-packed manner. A cost-effective and time-saving approach, that can incorporate all your business ideas and fine-tune your business.
Makent from Trioangle is the foremost choice for many business entrepreneurs who wish to start a business like Airbnb. As this ready-made script comes with a while-labeling to start business instantly. It is a business and the market fit product developed by analyzing customer's pain points. Rental business visionaries can stretch their branch with various ideas as it is easily customizable. It comes with dual web panels for users and admin, Android & iOS mobile apps.
Trioangle has improved the product standard with the latest designs, layouts, structures, features and functionalities like Airbnb in their frequent updates. Using cutting-edge technology and clean code, Makent helps in business establishment and development. Business visionaries linked-up will procure full-technical support and service to handle tough situations at times.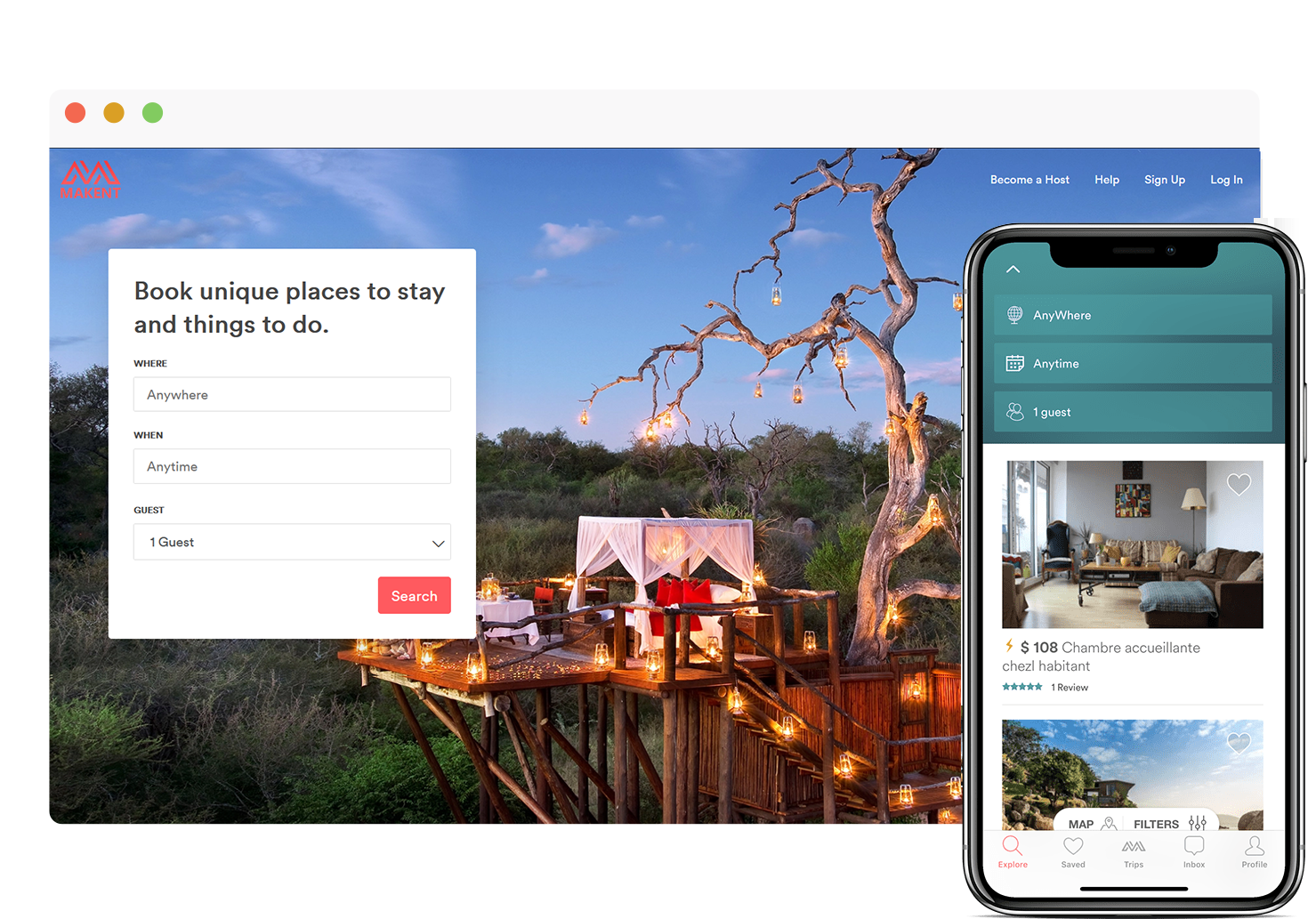 Benefits For User With Best Airbnb Clone:
Similar to Airbnb, the best Airbnb clone hinges 4 main principles of Sharing economy with its features and functionalities.
Trust:
Features like rate and review, allowing the authorized user, genuine listings, multiple payment gateways, and many more features ensure the reliability of the system.
Efficiency :
Makent, achieve maximum productivity with iCalendar, advanced search filters, user dashboards, payout preference, Multiple logins, multiple bookings, duplicate listings.
Flexibility :
The flexibility of the Airbnb clone script can be extended and can incorporate rental business ideas.
Community :
Users are real assets. Welcoming new ones and retaining the existing ones are more important. In the rental market, our script makes things feasible with travel credits, wish lists & customizable features.
Benefits For User With Best Airbnb Clone:
Single Dashboard :
In a simple and single dashboard the complete process of the rental is monitored. The admin can monitor and manage a business with any chaos as the dashboard is much more interactive.
Manage Business :
The users & properties connected are easily managed and monitored. Similarly to it, the rental process, cancellation, disputes are monitored with moves and controls. Also affords earning report to users, that aids for personal improvement and business development.
Sub-admins :
Suppressed with workloads !! Just split your work shares to a reliable person and monitor it.
Listing Approval :
Establishing a reliable connection among users in the virtual world is a bit tedious. Makent makes it possible with "Listing Approval" that only authorized and authentic listing are approved.
Globalization :
Widespread your branch in a digital platform with Airbnb clone, which supports multiple languages and multiple currencies.
Avail with the above described features & functionalities in Airbnb Clone. Feel free to contact [email protected]