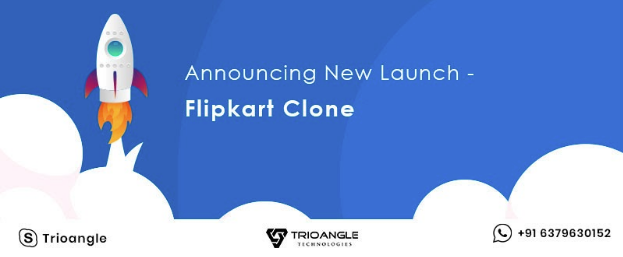 We are very excited to announce the launch of our new Flipkart clone script, visit us at https://www.trioangle.com/flipkart-clone/. After a few months of dedication and hard work, we are launching the Flipkart clone script.
Flipkart Clone
Flipkart Clone is the best Ecommerce clone script from Trioangle. Our script is user-friendly, buying, and selling around and over the network. Trioangle provides a Flipkart clone in Web, Android, and iOS platforms. It has a separate application for a user, merchant, admin. 
The workflow of our Flipkart clone
Buyer
The buyer will log in to the Flipkart clone website and search for the needed products. After choosing the products, the payment process will be through Paypal or any other application. Once the payment is completed, the shipping process will do automatically and the order is delivered to the user, the commission of the amount was deducted by the admin & the money transferred to the merchant.
Merchant
Merchant will log in to the site and list his products, the listed products should get approved by the admin, after the admin approval, merchant products are live and get orders from users. Once the merchant receives the order from the user, the merchant will start the shipping process, after the user receives the order, the amount will be given to the merchant through admin.
Admin
Admin has a separate web panel to monitor the user and merchants' databases. The admin can manage the payment options, currencies, languages, offers. Admin has all rights to work on the site. The Admin web panel is a user-friendly web panel. Once the user completes the payment option successfully, the admin receives the amount and the product received by the user, the commission amount will be deducted and transferred to the merchant. 
Technologies in Flipkart clone
Flipkart clone was done with the advanced and latest technologies.
For Mobile Platforms swift for iOS platforms and java for android platforms.
For the Admin web panel Laravel framework and Angular JS are used
For Database connectivity, PHP and MySql are used
To check extraordinary features, the demo of the site, and full details about the Flipkart clone tap us on the Flipkart Clone website. 
Thank you for reading the blog!
Meet you soon as a client…
If any more queries mail us at [email protected] or WhatsApp on 6379630152