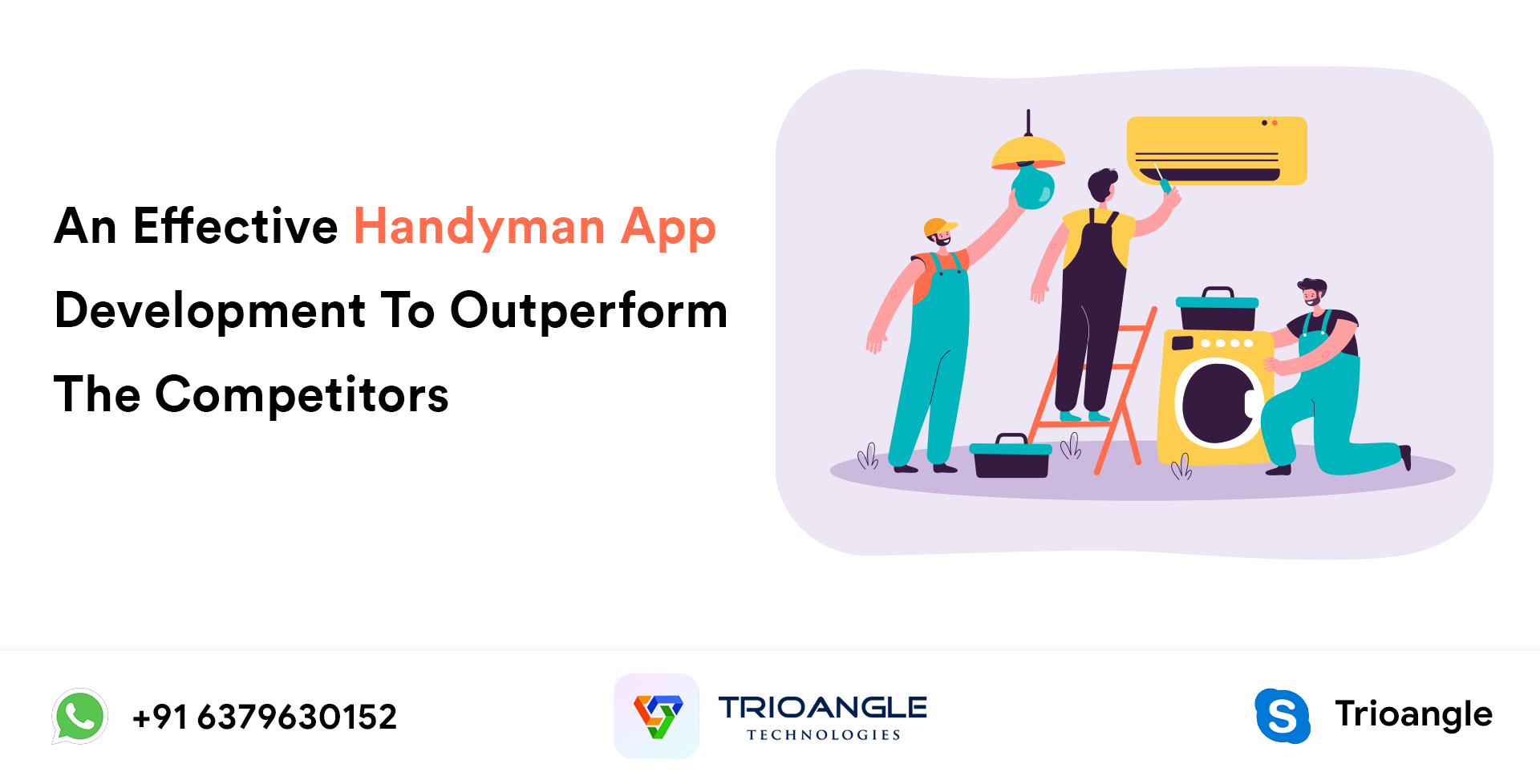 Due to their advanced features, swiftness, consistency, and convenience, on-demand apps have become increasingly famous in the past few years.
In this fast-moving world to make maximum work with the least amount of time people prefer mobile applications to book a professional handyman for their requirements.
On-Demand Handyman App Like Uber is an online platform that connects users with qualified professional service providers or skilled professionals looking for a freelancing opportunity.
Based on the future market stats, the expected value annual growth rate between the year 2024 to 2026 is approximately $3.5 trillion US dollars With a ratio of 52%.
Availing of food, taxis and, home services also can be accessible by the clients via their smartphones. There are several functionalities with advanced technologies to be integrated within the app to beat your competitors in this on-demand industry.
To be on the frontline among your competitors, you need to acquire advanced strategies to raise a successful business.
What Is an On-Demand Handyman App?
The on-demand handyman app is defined as a mediator between the clients and the business. Any services can be requested by the clients on their doorstep instantly. On accessing these services via the app the clients will be charged a fee amount for each service.
According to the verified review, nearly 22.4 million clients are attracted to the on-demand economy spending around $57.6 billion dollars.
During the pandemic, the on-demand services industry has boomed. Every essential requirement has been accessible efficiently by the people while they are locked inside their rooms to maintain a social distance from the public.
The on-demand handyman app is popular among users because there will be no bargaining or over-service cost, instead, it is affordable on booking the services.
How On-Demand Handyman Clone App Benefit To Businesses?
Business Scalability:-
You can start by creating on-demand apps specifically for your business. However, you can ultimately include other businesses to shift it into an on-demand marketplace. Moreover, you can monetize your medium by getting a charge from every payment transaction occurring in your online on-demand platform.
Clients Satisfaction:-
On-demand mobile apps facilitate client faithfulness by providing utilities on demand within a set portion of time. Likewise, By the on-demand apps, The on-demand services functioning with internet connectivity have progressed steadily.
Nearly 3.80 billion people have owned smartphones, which have shifted into a gift in the mask by permitting them to access on-demand service from the different locations they needed it.
Competitive Advantage:-
Custom-made on-demand services are more user-friendly and provide users with the most suitable on-demand services. On-Demand Handyman App aims to satisfy the demands and anticipations of the clients to maintain them engaged with their business. As a result, businesses might achieve strategic benefits and outperform their competitors.
UserBase Enhancement:-
Clients are more ready to make service requests repeatedly when they become accustomed to your service on-demand, and this is how you specify a loyal user base.
A satisfied client would go to heights to promote your app in their surrounding community and give good feedback. This shall support in attracting new clients, which helps increase the sale in the marketplace.
Flexibility:-
Without any extra effort and with few clicks, clients can acquire the required services available at their location. Handyman Clone App generally processes the booking instantly and smoothly and gets the service from professional service providers for their clients. 
As an outcome, an on-demand service solution provides flexible service for app users and standard income for the app owner.
Wrapping Up,
An effective Handyman Clone App will help your business to outperform your competitors. The above-mentioned benefits and functionalities will help you in understanding the on-demand handyman app so that you can move to the next step of crafting the app with us. We are ready to assist you in developing your own app with unique features to stand ahead of your competitors.