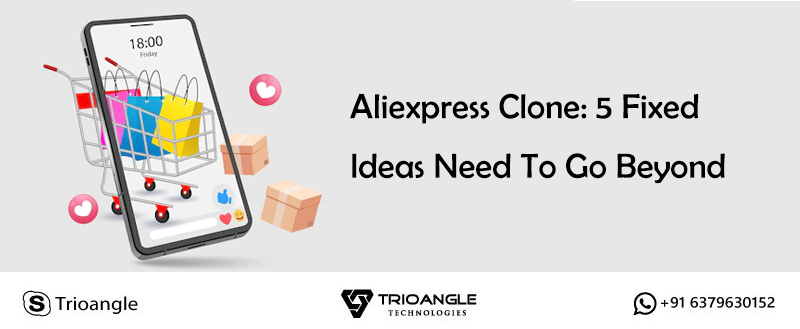 The world has a general assumption of products mainly based on the region of their production.
And obviously, products from China are considered to have low quality and low price.
This is because they have a well-advanced technology development and their way of re-engineering products has mainly labeled them low-quality producers.
Alibaba, which has great control of the market in China, also came up with a sister company called AliExpress.
Since Alibaba deals with products in bulk for merchants it is mainly considered to have low-quality products.
And, Aliexpress being their sister company has been perceived in the same way as Alibaba but they are two different revenue models with different operations and focus areas.
But AliExpress clone has a very vibrant and wide range of features that are used in the recent business world to gain more revenue than others.
So, let's discuss the 5 general assumptions of AliExpess Clone that are changing in the recent trends.
All these stereotypes are mainly compared with this factor called quality.
Made in China are generally perceived as low-quality products because of their re-engineering to reduce the cost of the product.
Generally, a human's assumption is when the price is low the quality of the product is also low.
Rather than duplicating the product, using their high and improved technology is used for the production of low-cost products using low-cost raw materials.
Since products are available for low-cost people generally worry about the value the product is going to give.
They think that the product will not come for a long time, and will face wear and tear in a short time. This reduces the expected value of the product to a shorter time.
Brand identity plays a major role in this too because it is going to influence the value the product is being evaluated.
A product with a good brand image and identity is more likely to be purchased rather than an unknown brand or product.
These manufacturers generally develop or manufacture these products at a very high pace.
This has also made people consider products that are manufactured in a short time will have low quality and value. But this is possible with high-tech equipment with high accuracy.
These are the 5 main reasons for people to have fixed ideas about the AliExpress Clone.
But we have made a huge change in this assumption with our features built-in to our AliExpress Clone.
Let me give some tips to overcome these fixed ideas;
Every business is now concentrating on quality rather than on quantity because the purchase behavior of people has changed by these eCommerce businesses to reduce returns and increase revenue.
To produce products with low prices and good quality manufacturers are concentrating on the factor of acquiring low-cost raw materials to produce good quality products.
To avoid more wear and tear of products manufacturers have chosen to come up with designs with high accuracies to increase the value and lifetime of the products.
Brand identification is also being emphasized by manufacturers because of the change in purchase behavior. So companies are associating themselves with brands to produce newer products.
With high-tech, state-of-the-art manufacturing technologies manufacturers are producing new products at low cost at a very rapid pace to complete orders and satisfy their customers. This factor has increased the capital gains of the manufacturers and made them renounce manufacturers of quality products.
These are how the classic fixed ideas of AliExpress clone have seen the change in the recent trends.
We trioangle Technologies are leading web developers who have considered the above stereotypes and developed an AliExpress clone with features that will help you gain a stable revenue.
Our product allows the admin to solely decide on the product's approval so that the customers can gain the maximum value from the products without any issues.
If you'd like to try our AliExpress clone you can contact us at;
Visit: https://www.trioangle.com/aliexpress-clone/
Whatsapp:+91 6379630152
Mail:[email protected]