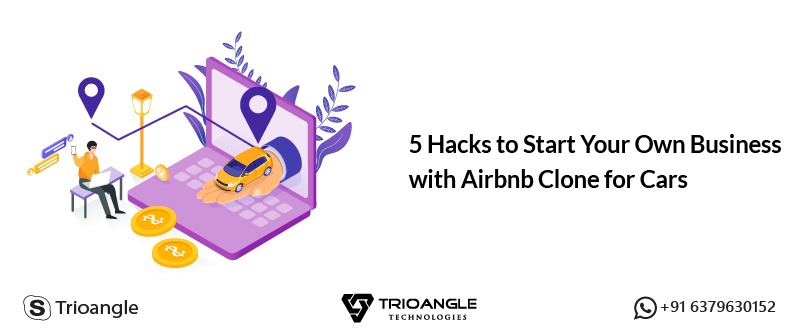 Business Visionaries wish to start a business. Points to be conveyed to them are,
Meet the common problem with a solution
Get technology to connect people
Pass on your business motive to a wide audience
Today's business comes into the platform with the limited resources in investment and technology. Rental business for transportation service is one such that helps you to launch your venture on all scales. Car rental industry has more scope and opportunities, people around start business with it.
To start a car rental business, holding a car is not an important criteria. From outstation travel to funeral procession, rental vehicles like cars, trucks are used. The opportunities are worldwide, grab them with Airbnb clone for car script. Don't worry about not having industrial exposure, here are some of the easy business hacks to be successful in the market.
Hacks To Start A Car Rental Company:
Form A Community:
Network with people around, form a car rental community. Connect those people into the rental system. Join any Taxi booking system or rental system as fleets. You can earn lots of money from it. To be the head of fleet, you need a verified profile and handful of providers into a connective channel.
Here a Benefits of "Form a Community"
No need to own a car
Lots of opportunities to earn.
Enjoy rewards & other loyalty benefits.
Start A Car Rental Service:
As an entrepreneur, you can start a car rental business with a car of your own.  To that there is no need for more space to launch a service with one cab. All needed is a friendly attitude and ready to serve your customers. 
You can easily get a loan from a bank to buy a car. Other accessories like cargo, taxi meters are also available at a cheap price in the market. Also can brand your taxi by painting the business logo, add phone numbers to your cab and so on. If you wish to set up a brick & mortar view and mass market your service with broadband mediums.
Here are benefits of "Start a Car Rental Service"
Your work! Your Sweat! You Get Profit
Easily Manage Finances
No sharing of commission fee
Place Ads On Cars :
Cars are medium for mobility and can advertise products. The launch of new product or services, outstretching of product to consumers are possible here. Using this mobility medium, ads can be placed and market products.
Here are the benefits of "Place Ads On Cars"
Can earn with unused car
Broadbanding of the product
Easy management of ads.
Car Rentals For Outstation:
If you own a car & not interested in driving then, simply hire a driver for your vehicle. Or drive to outstation buy your own You can easily manage your vehicle as well as your driver.
Here are the benefits of "Car Rentals For Outstation"
Manage multiple vehicles.
Easily administer drivers.
Oversee overall payout
Delivery System:
In a pandemic, some of the deliveries are done through rental cars and other vehicles. Foods, groceries, medicines, household items are shared to the users with the delivery system. Users at the receiver end are content with this delivery system.
Here are the benefits of "Delivery System"
Easy to manage multiple orders & stores.
Can earn with an unused car.
Overall payout is managed.
Merge With A Company:
It is helpful to merge your vehicle with corporate companies or other commercial stores which is profitable for both parties. Many drivers only drive for companies and earn a lot. When you have a link with a company then, you can add multiple vehicles to their service.
Brand Yourself With Airbnb Clone For Cars:
Although you can launch your business with the above ideas, airbnb clones for cars enrich your business and take it to the next level. It helps you to grow your business and make it valuable for your customers. This software also helps you to manage your business more effectively and make it more profitable for you.
Also read:
Scope Of Online Car Rental Business
What Are The Three Major Advantages Of Using A Car Rental Software?