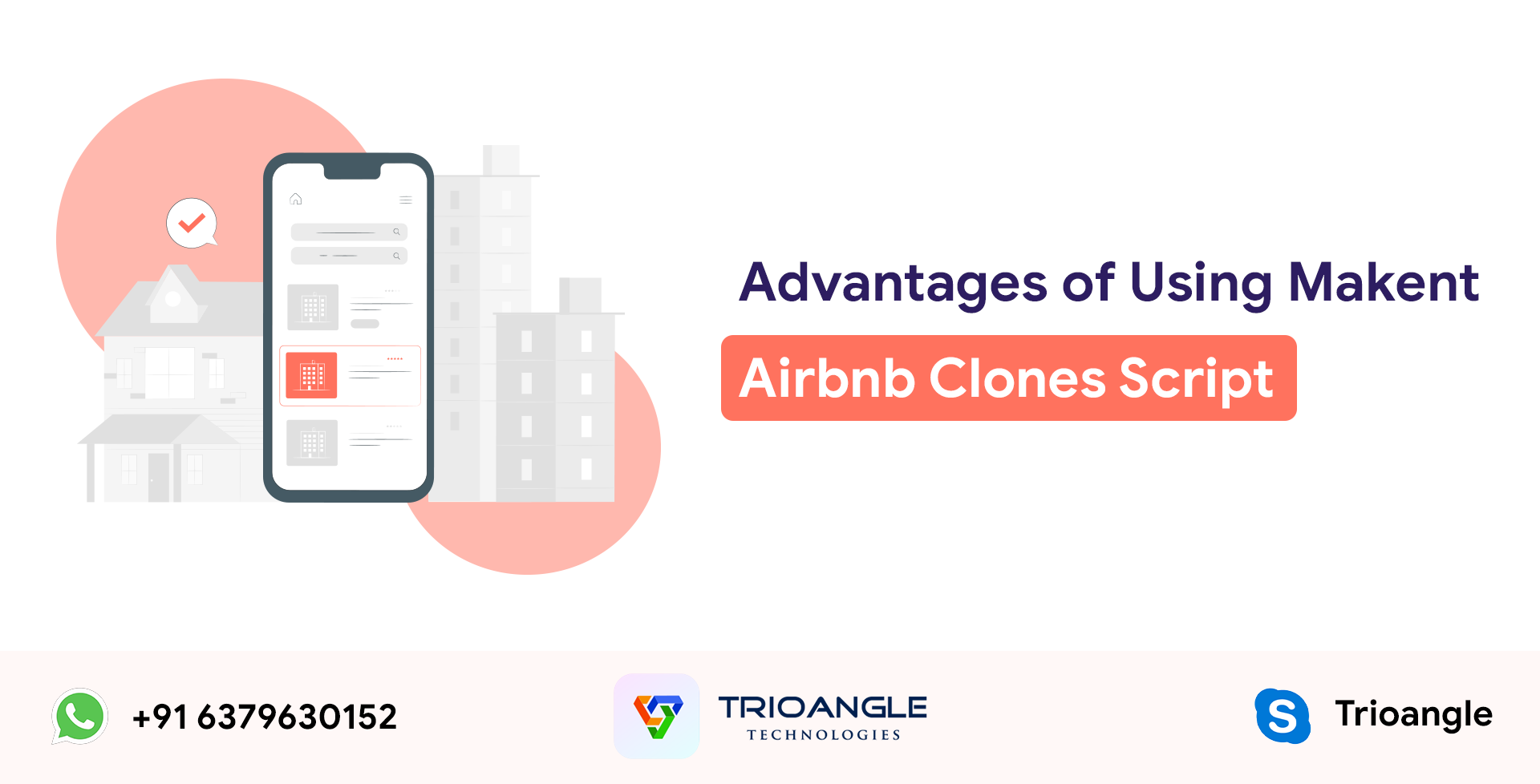 Business models like Airbnb Clone Script and its affiliates are preferred by millions of people across the world. Although it had humble beginnings, the Airbnb clone script concept is now creating a revolution in multiple hospitality and rental service industries.
Property renting is a profitable business, outstanding customer service, unbeatable concept and many other advantages are the reasons for its huge global success. All-time Demand lies at the heart of the property rental business and it has helped the rental industry come a long way.
The success of Entrepreneurs using the Airbnb clone script has created a huge demand for a number of Airbnb clone apps & websites in the rental marketplace. So the success of huge revenue in a short span is a matter of fact, for an increasing number of new entrepreneurs prefer to use the Best Airbnb clone software Like Makent from trioangle Technologies.
The various advantages of Makent serve as compelling contributing factors to this trend. Trioangle Technologies is one of the leading rental Airbnb clone app development companies, providing some of the major advantages of using Airbnb clone apps for rental services.
Multiple Rental Options:
Airbnb clone software for property rental service provides advanced features & options to its users. You can either choose to have the property for yourself or share it with others who need the same property for rent.
Both of these renting options are highly beneficial. While having the property for yourself gives you the leverage to use the property to its full potential, sharing the property can save you at least half the cost.
Wide Range of Property:
Unlike property usual rental aggregators whose fleet is limited to a certain type of listings, But Makent Airbnb Clone App for vacation rental services offers guests a wide range of rooms. This is because in an Airbnb clone business model private owners rent out their rooms and hotels to the renters.
So, whether you are planning a weekend getaway, you can pick a desired property from the available listing, according to the number of accommodations. A wide range of property listings will help you save money on all stays.
Multiple Payment & Currency Options:
Makent Property Rental Script offers multiple payment options including an e-wallet. As a guest, you do not have to worry about carrying cash or debit/credit cards with you to pay for your stay. You can just scan the QR code and make an online payment instantly.
App-like Airbnb (a rental script software) also accepts payment through various foreign currencies. So, if you are a tourist who is visiting a country for the first time, you do not have to worry about exchanging currency for making the booking.
Free Listing:
Undoubtedly one of the best benefits that a property owner can avail of only from Makent Airbnb Clone App for vacation rental services is that the property owners who wish to register themselves with an Airbnb clone for vacation rentals can list their rooms for free.
Most property rental aggregators charge a nominal fee just to list their rooms. Therefore, this feature of Airbnb clone for vacation rentals comes as a huge relief for property owners. With this feature, owners can get a real-time response for their listed properties.
Value-Added Services:
One of the unique features of Makent Airbnb clone for property rental script is a win-win situation for both the owners and guests. 
For the guests, they can select the value-added services from what the owners have enlisted.
For the property owners, they list a set of value-added services for guests to choose from and make extra money apart from the property rental cost.
For More Details
Visit Our Site:-
https://www.trioangle.com/airbnb-clone/
WhatsApp:- +916379630152.
E-Mail:- [email protected]