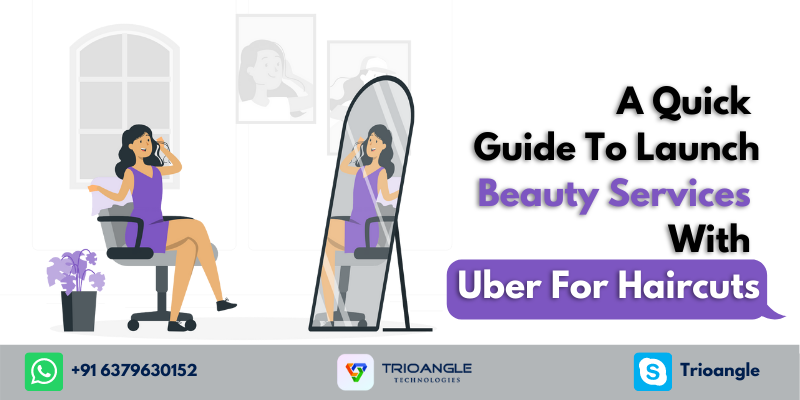 Globally the industry like beauty and wellness service is a majorly booming sector with the spectacular rate at present. The average annual spend on various beauty services of women is $3,756 as per the stats. The count is increasing rapidly. The industry can be directed to an unbeatable and extremely profitable business model by combining an Uber For Haircuts app facility with keep going beauty service businesses. The application will satisfy people who are in need of beauty service on-demand.
What Is An Uber For Haircuts App?
Nowadays, It is extremely restless to visit beauty parlours for routine beauty services and the extended waiting times make the condition even harder. The users expect a more efficient and economical solution that exactly satisfied their demanding beauty services routines. This is the main reason for the professional beauty artist or service providers, who are required on an On-Demand Beauty Service App. This app allows accessing the required beauty services by the users comfortably at their convenient time and location.
Why Invest In An Uber For Haircuts App?
In the current scenario, the industrial worth of beauty services is nearly USD $532 billion and its predicted growth is to reach USD $716.6 billion by the year 2025. In the lifetime of a woman, they spend nearly $225,000 for their beauty care alone, which is an amazing fact. In the United States out of 1.2 million professionals, including stylists and beauticians, nearly 70% of them use the mobile application to promote and market themselves and fulfil their user's requirements.
An Available Business Models Of Uber For Haircuts
Independent Beauty Service Model:
If you entrepreneur already maintains a beauty salon and is willing to extend the business, you can choose this independent model. Here the application signifies your own services directory, images, and cost range. There is no purpose of a mediator, and you can immediately coordinate with users and manage the booking request.
Aggregator Beauty Service Model:
In this business model, you collaborate with independent professional beauticians, stylists, salons, and connect them over the app. Every service provider will get connected to your network, and you execute their services ready to your users. Meanwhile, in return, you gain a commission on each booking and proceed easily with your application.
Must Include Advanced Features In An Uber For Haircuts App
Signup / Login With Social Credentials:
Easy accessibility and flexibility is everyone's expectation on experiencing new brands, which will be more convenient for the new users. The businesses are also transforming this to their advantage by enabling users to instantly sign up through their social media accounts like Facebook, Apple Id, and Google.
Push Notification Alert:
A push notification alert feature is a smart messaging-based tactic that enables businesses to have more reliable connectivity with their current users and extend their reach to market their services to undiscovered possibilities. Like service offers, discounts and giveaways, businesses can immediately send notifications on the mobile application to the users who have installed their app.
In-App Chat:
The most appealing feature of the Uber For Haircuts app is that they assist businesses to encompass influencer marketing tactics. In-app chats like modules let users solve their inquiries and concerns by communicating with professional stylists, makeup artists, and beauticians.
Review And Ratings For Services:
Businesses can join the trust of their users and enhance their brand worth using this advanced feature. The users can submit a rating and reviews for the service they have experienced, which these ratings and reviews will be more useful for the new users to choose the perfect service provider for their requirements with any second thoughts.
It's Apparent That Through,
Financing in the On-Demand Beauty Service App is the following big idea that extremely scaled businesses and entrepreneurs can leverage to generate profits. If you are looking to obtain perfect stability of marketing and income for the beauty business, then get in connection with our Trioangle Technologies an experienced on-demand mobile app development company right away.
For More Details Visit Our Website:
Email Id: [email protected]
Whatsapp: +91 6379630152