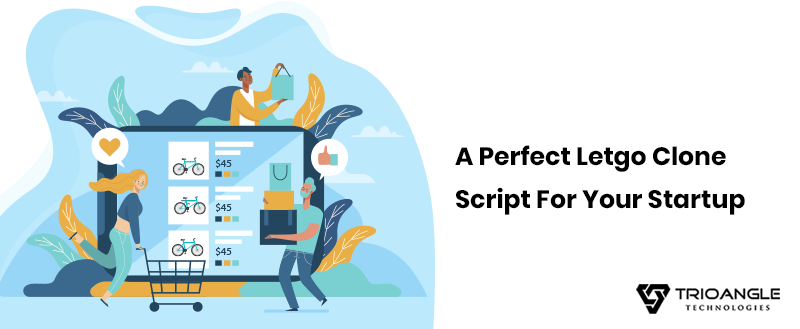 Hello!! Are you eagerly hunting for a best online classified business idea? Then this blog is for you. The multiple vendors are available in the market. Picking up the script after a perfect analyze is a very essential one. Because investment in the business is like cultivating a crop in the field. If your land is fertile, then inculcating your effort will sprout as a prime profit, incase if the land has a deficiency of fertility, then no matter all your efforts will be in vain. So here is a classified platform, do check the adoptable and flawless script which has the qualification to enhance your revenue. 
Trioangle is specialized in providing a top classified script in the market.
Let me explain in detail in the following paragraphs
What is a clone script?
Clone script is nothing but the pre-built script of the website or app which can be 100% modified according to your exact business need. The clone script can help the small business, a business startup to begin their business with low cost.
Benefits of clone script:-
Reduce your development time
Cost-effective
High chance of success
Less effort
Quick and easy launch
In the benefits section, we mentioned a point " High chance of success" How to achieve this benefit?
We sought to find out a strong basement business model called Letgo. It is a platform for selling and buying your second-hand stuff and it is currently operating in more than 35 countries. People love to use this app because selling an item through Letgo is super simple. Advance technology of selling and buying stuff at their doorstep has more reach in the marketplace.
Letgo has surpassed 100 million app downloads, 400 million listings and 6 billion messages sent between users. One of the top "2" classified sites in the world. It achieve top place, million downloads & listing, revenue. This achievement strategy is enough to prove that Letgo is a perfect product for the clone. Intitae business in the successful module will result in a high chance of success.
"Everything that looks too perfect is too perfect to be perfect". So we go with Perfect Letgo script for the cloning process and made a perfect product called "PassUp".
Short note on PassUp:-
PassUp is the letgo clone product. It resembles the characteristic of Letgo. It is avail in both web & native mobile application. PassUp is comprised of responsive design, luxury features, progressed administrator dashboard with settings, social media sharing, classified listings, price range and so on.
Some of the luxury features of PassUp:–
Instant notification
Currency management
Social media integration
Verified user
Report user
Block user
100% customizable
Generally, building a product from scratch consumes more time & money and as a business saviour Passup clone comes up to save your valuable time and money.
Be a smart worker rather than a hard worker. Now the decision is dependent on your hand. My suggestion is being smart to buy Letgo clone script from Trioangle will led you to an up straight position.
Thanks for reading this blog. Meet you soon as our client.
For any queries feel free to contact us: [email protected] or tap on https://www.trioangle.com/letgo-clone/