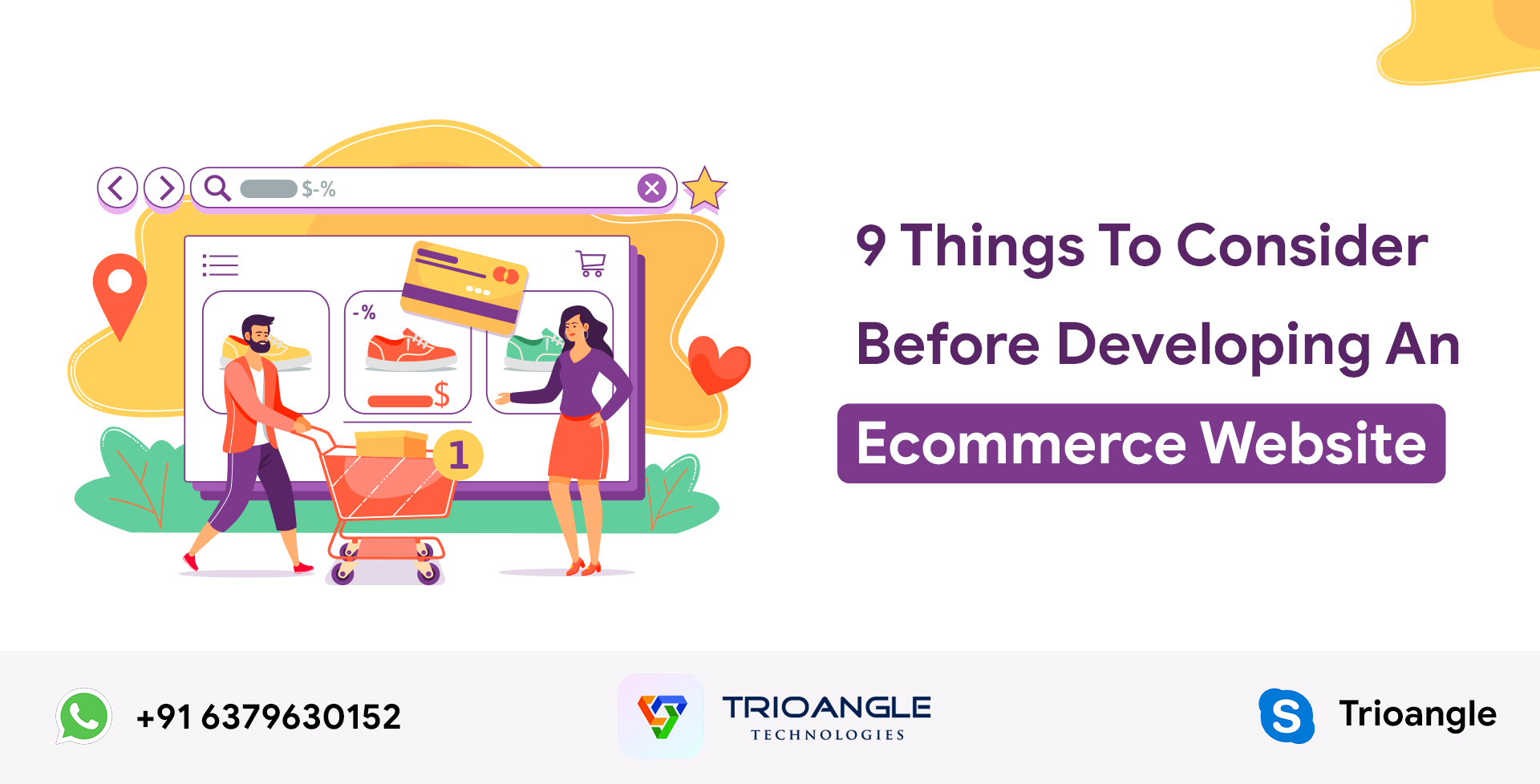 Don't give up on web stores due to the fact of Amazon, eBay, and Some other eCommerce sites. With nearly two billion digital consumers globally, developing an eСommerce website is still a great enterprise idea. Making the finest online store that will stand out from the crowd involves more than just pretty design and good SEO.
Coming up with a catchy store name for your websites is a good place to begin, and creating a marketing strategy early on can give you a valuable head start.
Important Features for eCommerce Websites
User-friendly interface

High-resolution visual content

User reviews

Mobile-friendly adaptation
Things to Consider in eCommerce Website Development
1. Website security  and safety
No Internet consumer wishes to catch a bug while browsing the web,  however, it is now not simply the security of their pc this is at risk. As an eCommerce business, you keep volumes of data about your products and the customers that register to purchase on your site. 
Safety and security are some of the most crucial eCommerce website requirements. Any breach of this information puts your business at risk; your leads' contact information could be stolen and sold on, or you could completely lose essential data.
An unsecured website gives you a terrible reputation on Google as well as on other search engines. Not so long ago, Google started flagging websites besides SSL certificates and HTTPS protocol. 
These are greater than simply warnings or recommendations; users won't be able to visit sites without these two components, and you might be losing potential orders if your certificates have expired.
2. Website filtering / Search functionality
People use the search engine on websites that don't sell anything and if yours does, it should definitely provide superior search functionality. 
Browsing categories is only necessary if customers don't recognize what they're searching for and need some inspiration. In different cases, a simple search will find them the product they want in just a couple of clicks.
Some customers won't remember exactly what a product is called, so you might want to tag yours with keywords.
3. Registration and related issues
There is a certain advantage to registering on an eCommerce website, like saving the shopping records or delivery address. However, some customers prefer a visitor checkout form or a one-click-buy feature.
Consider how many different accounts you have on the websites. Like the average user, you possibly have numerous ones for different things, and some people want to keep away from registering on yet another website to make a one-time order. 
There are different approaches to remind shoppers of your site address, such as adding it on the order packaging or at the end of the message with the tracking number.
A registration form isn't the only option; you can additionally ask your customers to sign in with social media or a minimal form with their name, email, and phone number.
4. Payment options
Adding all feasible fee options might be too much when you are simply developing an eCommerce website. However, only offering one limits you to shoppers who use this option. 
Although surprising delivery prices (55%) and a lengthy checkout process (26%) are key reasons for customers abandoning their purchasing carts, according to the 2019 Payment Methods Report, 6% of them would bail on you because there weren't adequate payment options.
5. Shipping rates
As stated before, unexpected shipping costs are the main reason for 55% of customers abandoning their purchasing carts. It could be due to the fact they don't recognize the prices or expect a lower sum, or there are more charges. Online shopping is a matter of convenience and if you don't have a free delivery option in it.
6. Mobile functionality
According to a worldwide review, more online transactions are carried out through mobile phones. Though people are more convenient to purchase from a mobile app, you'll still have a better conversion if your eCommerce interface easily suits the mobile application.
Considering that more people use mobile devices every year, it's reasonable to make investments in responsive design, like adaptable typography and image pixel size, and mobile-specific features, such as hidden menus. The mobile site has to be optimized down to the product descriptions.
7. A design of the website that matches the products you are selling
Your website's color and design should match the products you are selling. Say you're designing an eCommerce website for food-related eCommerce will do well with a green, yellow and purple color and vary the range of color patterns as these colors stimulate appetite.
8. Proper product showcase and descriptions
Along with simplicity, users value the best content. High-resolution images, video content quality, and comprehensive product details have an impact on your conversion.
The drawback of online shopping is that customers can't see or experience the product or attempt it on, so the only data they can use to make a decision is product descriptions. Adding gender measurements to clothes and energy-saving consumption details for home appliances will all help convince customers to buy your product.
9. Supportive Articles
The things you have to consider are the documentation related to your websites and the policies to regulate them. Sections with frequently asked questions, shipping details, return policy, privacy policy, and other policies should be live on your e-store as soon as it's up and running.
Conclusion:
There's a lot to consider when developing an eCommerce website platform. We know from experience all the features, and technology you want to build sites with a convenient, high-performance online store that will attract customers. 
It's not easy, even if you use WordPress, software like Shopify, or e-commerce plugins. If you decide to hire an eCommerce website development company, it's crucial to make sure you choose the perfect web store for you, both in terms of design and performance.
If you decide to create a high-functioning e-commerce site, that sets your e-commerce business apart from the rest,  contact our team to get more ideas on website development.
Visit Our Site: https://www.trioangle.com/web-development-services
Whatsapp: +91 6379630152  or  Email: [email protected]