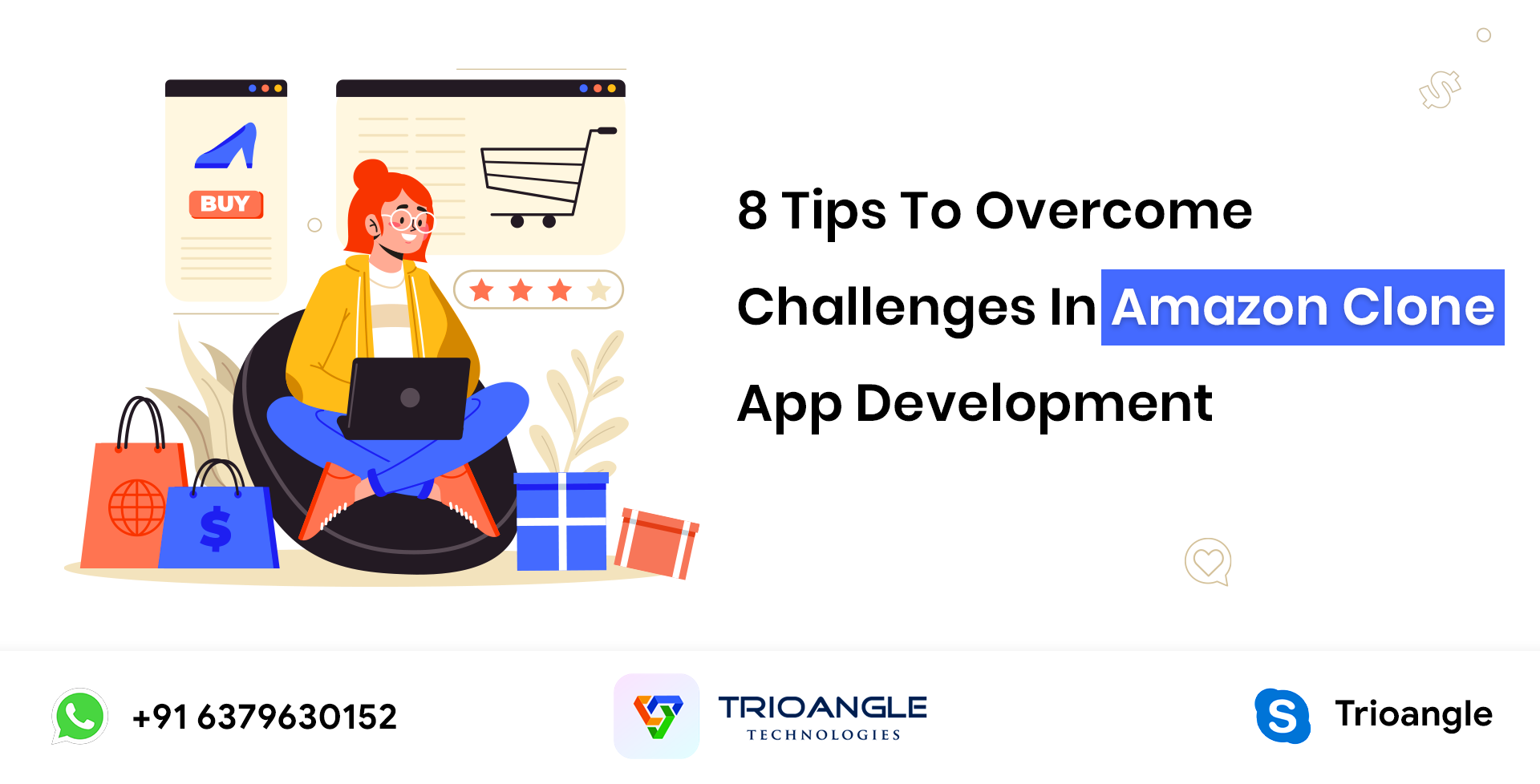 Ecommerce businesses are the current best revenue-generating business of this era.
It has made many businesses change their methods and adopt digital platforms for their business to sustain.
So, we can infer that it has not only changed the traditional ways but also infiltrated the retail market and made people buy from them.
This led to people developing their own eCommerce stores but one among them rose up to the pinnacle.
Amazon clone is the best and the most used script in the entire world.
But some professionals started developing their clones and selling them to help people run their businesses.
Comparatively, choosing a technology partner is the wisest move in the current era because it is cheap and easy to run your business.
But, there are some things you should know before developing your own Amazon clone script.
And these 8 tips will help you overcome challenges in amazon clone app development.
8 Tips:
Create a unique business plan
The first and most important step in this process is to create a unique and out-of-the-box business plan for the service you are about to provide.
This should be decided based on the target audience you are providing the service. It is best if it is not similar to other products in the market.
Decide the features based on your business plan
After creating your business plan, you have to focus on the features you are going to include in your business.
Try to come up with advanced yet simple-to-use features to attract attention easily. These features should make it easy for your users to navigate and use them to make a purchase from your platform.
Conducting a market analysis of your target audience will give you more details to make your business plan even more unique.
This can be done by you or with the help of an expert to give you results and new views on the market. You can change existing features and come up with new ones to make the experience an even better one.
To make your app more attractive you can use templates to give an amazing look for your app.
They are available on many platforms which you can develop your Amazon clone app from. Select the best color scheme to make it visible to the users and attractive enough to make them a new purchase.
Code with upgrading in mind
Coding with possible upgrading in the near future will be a wise move to make because of the constantly changing world.
That will lead to the adoption of many new features and strategies so your code must be agile and flexible enough for future changes if it occurs.
You can get help from experts for this step in case you'd like to make sure it does not fail for an upgrade.
The product page is going to be the most important part of your business so make it so attractive yet simple to use for users.
You have to focus on the following to make it more attractive and they are; high-quality images, short but detailed descriptions, quality content, review, and ratings.
After coding the front and back ends of your app you have to release it among your target audience and conduct a beta test so that you can get an idea about your app.
This test will give you results about your app, features, and its performance among the audience. Once you get a clear result, you can easily find the bugs and any other issues so that you can release a quality app into the market.
The last but the most important tip is to code with quality from the scratch.
This will have to be made unique without copying so that you can create a unique experience for your users. This will get you more users and make it easy for you to conduct your business in the real world.
These are the 8 tips that will help you overcome challenges in your Amazon clone app development.
If you are going to develop your own clone app, you have to focus on many aspects and it is going to cost you more time and money.
So, the best option is to choose a technology partner who provides the best eCommerce app development.
This is where Trioangle Technologies are leading experts in the field of developing your on-demand eCommerce app development.
Our Amazon Clone script comes with many features and benefits that will help you manage and run your own business.
If you'd like to know more about the Amazon clone script, click the link below and contact us;
Website: https://www.trioangle.com/amazon-clone/
Mail: [email protected]
Whatsapp: +91 6379630152