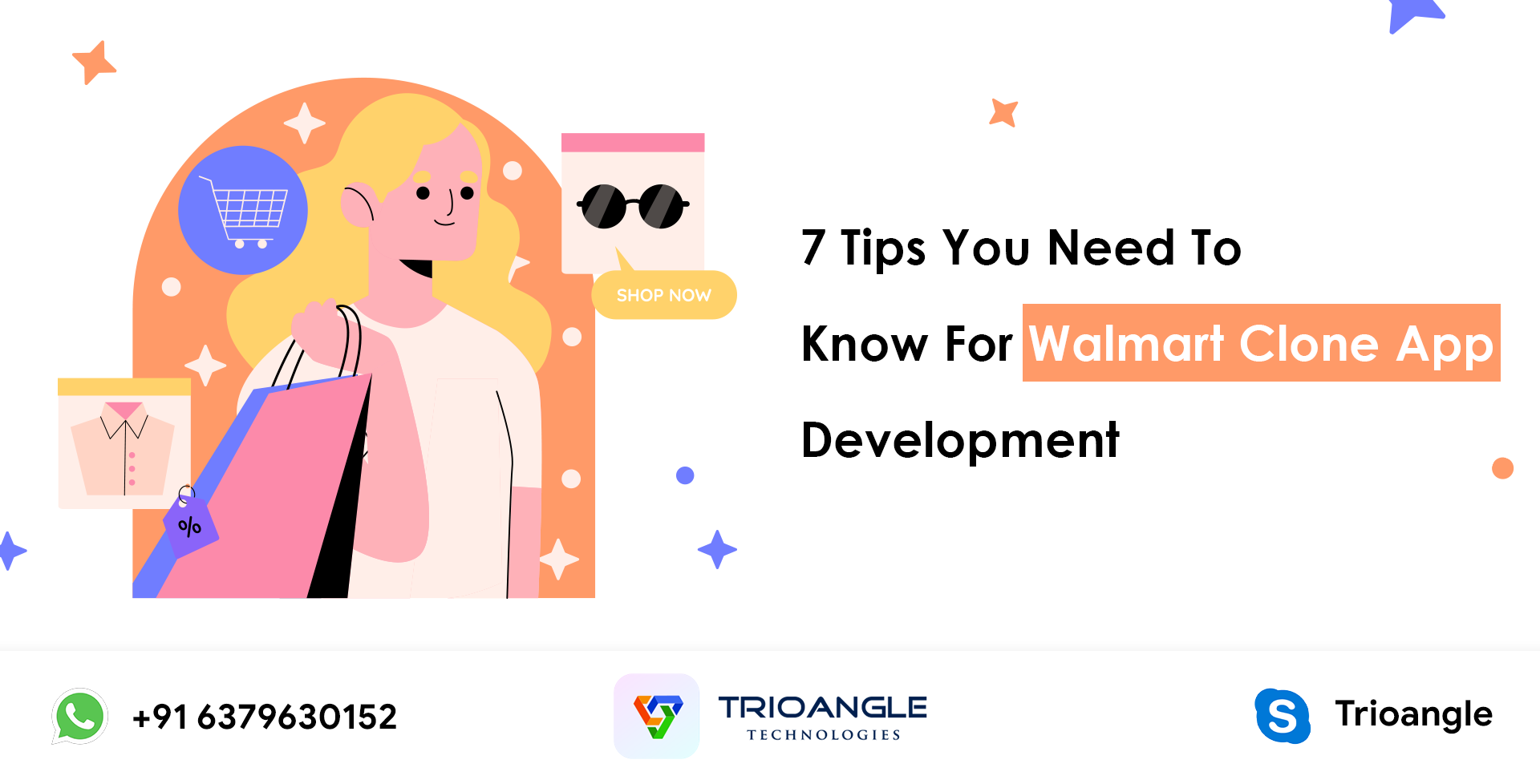 The business world is a constantly evolving field that sees fluctuations every minute and day.
This has made many other industries to go obsolete and made them change and adopt new strategies.This gave rise to a new era of business that connected people on a global scale to buy products.
Many people started their own business through this digital business called the eCommerce business.
It primarily offered simple products but later it expanded to offering all other products and services.
This is where the spark of creating their clone scripts started and helped many people to host their businesses.
That is where Walmart Clone established its dominance in this particular field.
So, in this blog, I'll point out the 7 Tips you need to know for Walmart clone development.
7 Tips for Walmart Clone Development:
Form a clear business plan
Design the best and most unique business plan for the service you are about to provide. Focus on all aspects of this part so that you can grow around it.
This will become the core of your business idea so design it away so that it can adapt to changes and evolutions happening in the field.
Perform market research so that you can get a wider view of the market and the target audience. You can do it by yourself or opt for a professional to do the research for you and give you the data required.
Consider all the features you need and finalize
Consider the features that will provide your users with the best experience. These features will make your users make them want to make a purchase.
So once you decided on the list of features finalize the features you need, these features must be active and responsive so that any user can access them. Built a very agile shopping cart integrating your features into it.
Develop based on your business plan 
On finalizing the features for your Walmart Clone start developing the front and back end of your business. This should be based on your business plan and target audience.
Design and code in such a way that you can have a flexible business without bugs. It's better to go with the help and advice of an expert so that you can have a wider view of perspectives to build on.
Utilize the best templates
There are many templates available in the market and try and use the best ones that are most suitable for your business plan.
Use these templated to make your pages look attractive. Decide the right color scheme to make your customers want to make a purchase. Integrate these templates with your business plan and features to come up with a creative design.
Come up with a simple design
Make it and keep it simple as possible so that any user can use your platform to purchase from your vendor.
You're going to eventually handle multiple vendors so you should make it simple for users to navigate and make payments easily in a single step. 
Add multiple payment gateways so that your users can easily make payments from any bank account they use. This factor creates trust among your customers and eliminates all their insecurities in completing their transactions.
Create an attractive product page
The product page is the most important part of your Walmart clone so, the more attractive and detailed the more you do sales.
So ill point out the factors to focus on to optimize an attractive product page. Add a very high-quality photo of your product with a simple yet detailed description of the product. Take immediate action on any complaints or negative reviews of your products.
Provide a good quality product so that you can eliminate the factors for bad reviews, product returns, etc.
Conduct a beta test and collect feedback
Once you have completed your development but before you hit the market conduct an alpha and beta test so that you can see the flaws from your user's perspective.
Conduct this among your target audience so that you can easily understand their needs and the areas you need to focus on before reaching the market. It is wise to release a product without any bugs will give your product more merit among users.
So. these are the 7 tips you should know for Walmart clone development.
As you see there are many factors to focus on while developing your clone and it is going to consume more time and money.
Considering all the factors it is wise to go for an on-demand eCommerce clone script.
And our Walmart Clone has the best features in the market to help you manage multiple vendors and run yu business easily.
So if you'd like to experience how our Walmart clone works click the link below;
Website:https://www.trioangle.com/walmart-clone/ 
Mail: [email protected]
Whatsapp: +91 6379630152