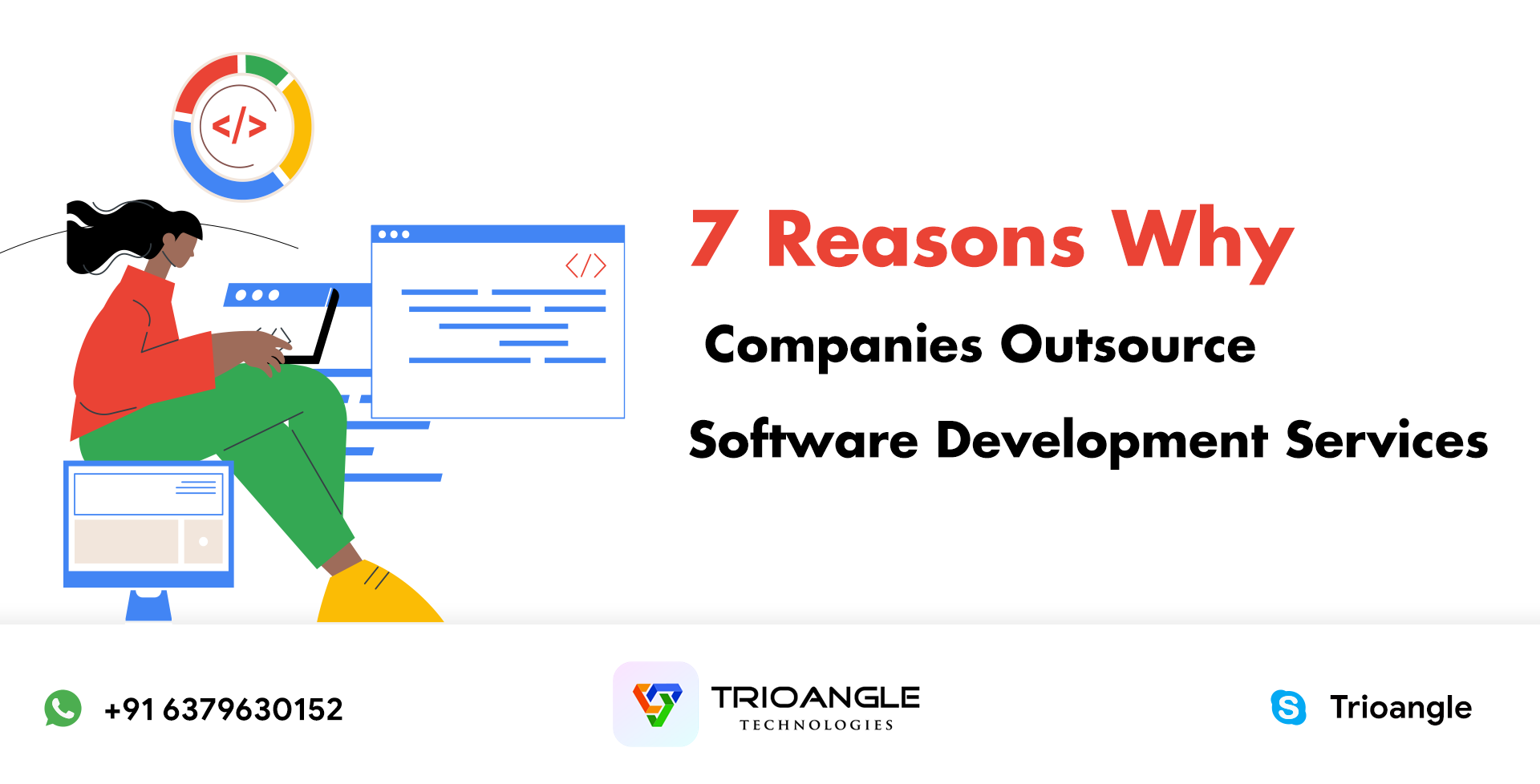 Outsourcing software development is a smart decision. Through this businesses can maximize their productivity in a cost-effective way. This proven strategy allows business companies to focus on their core goal while key software development needs lie in great hands. This absolutely helps to achieve competitive benefits in a technologically driven market.
Now, that we are talking more about IT project outsourcing, what exactly does it mean? Let's take a look.
What is Software Outsourcing?
Software outsourcing is the business practice of hiring a third-party service provider In layman's terms. It defines the technique of taking service from an external source, mainly an IT partner, to meet the software development requirements. This practice is usually undertaken by entrepreneurs or service companies as a cost-cutting measure.
Important Reasons to Outsource Software Development
Software development outsourcing is a technique whereby an organization hires a targeted custom software development associate to perform and manage the entire or specific segments of software development-related work.
Most importantly, not every company has the advanced features and developers to build a software application. In such scenarios, hiring an IT outsourcing company is always a great choice.
Are you still wondering why outsourcing is great for your business/company? Check out these reasons why hiring a software outsourcing company does work.
1. Cost Savings
Businesses can save a lot on their working expenses by means of outsourcing software development. 
Is it true? Yes, cost savings is the topmost reason why companies think about outsourcing. There are a number of outsourcing ways to assist you to save costs. 
Most start-ups and small-to-medium businesses do not have the technical expertise and skilled professionals required for effective software development. The most experienced IT outsourcing company has the technology systems and talent it requires to build the latest software. So, you can be guaranteed excellent quality without having to spend millions of dollars in setting up superior IT infrastructure.
Hiring professional and expert software developers for your in-house IT group can dig a huge hole in your pocket. The recruitment process, training, salaries of professionals, perks, and incentives – all add up to a large cost for your business. But when you outsource, you pay only a minimum amount.
2. Latest Technology and Highly Qualified Talent
When you hire a credible and skilled software outsourcing company, you automatically get access to highly-skilled professionals. Additionally, it is not possible to have all updated technology and required skills in-house. 
Therefore, the best way to ensure excellent quality is through outsourcing in a cost-efficient manner. So, you can be guaranteed that your entire software development needs are in safe hands.
3. Meet Deadlines Quickly and Efficiently
As a business, the core goal is to decrease your product's time-to-market. By outsourcing software development to a professional team, you can reduce the load of your in-house programmers. Whether you outsource the complete project or only a part of it, outsourced developers make sure prompt and best delivery by the closing date guaranteed. They can also rapidly design and collaborate with your internal crew and leverage agile methodologies to speed up the time to market.
4. Saves Time
When software development is not your USP or main business process, outsourcing it to a professional company will assist you to save your precious time. This gives you greater time and helps to increase your attention in enhancing what things are needed most for your business. Rather, they can be allocated to help achieve main business goals. So, when you outsource, you get more time to focus on business growth.
5. Flexibility
Let's face it! It isn't sensible to recruit a full-time developer to work on short-term projects internally, mainly if software development is not your main business. Take for instance, when you only prefer to build a business enterprise app to bring your business on your phone. Hiring a full-time expert for the job is irrelevant here due to the fact there aren't sufficient projects to keep him busy.
In this case, outsourcing software development offers you the utmost flexibility. Depending on your undertaking requirements, you can choose to outsource or not. This also helps you save time.
6. Superior Quality
If your in-house department does not have specialized capabilities in IT, the possibilities are your software will show up with terrible quality and security. This can affect your business credibility. However, when you outsource, you can be guaranteed quite knowledgeable IT professionals who are dedicated to delivering high-end software quality and security. Their key distinctiveness is
software development and can build high-quality, modern-day software in an instant way.
7. Exceptional Support
Software development isn't the end of the process. You need non-stop support and maintenance to make sure it is bug-free and performing as expected. By outsourcing software development to a professional offshore IT company, you can get great support and ordinary software maintenance services. Keeping distinct time zones in mind, they can also provide round-the-clock offerings to ensure you are always at an edge to outrank your competitors.
Conclude,
Software development outsourcing guides in lowering your costs, mitigating risks, and maximizing operational flexibility. It can assist you to innovate and obtain a competitive benefit by leveraging the skills and technology of global resources but in a budget-friendly manner. However, before outsourcing software development, it is crucial to select the company wisely.
Trioangle has the optimum combination of expertise, technology skills, portfolio, alongside effective custom reviews and customer-friendly pricing for outsourcing projects.  
Visit Our Site: https://www.trioangle.com/hire-me-services/
Whatsapp: +91 6379630152  or  Email: [email protected]