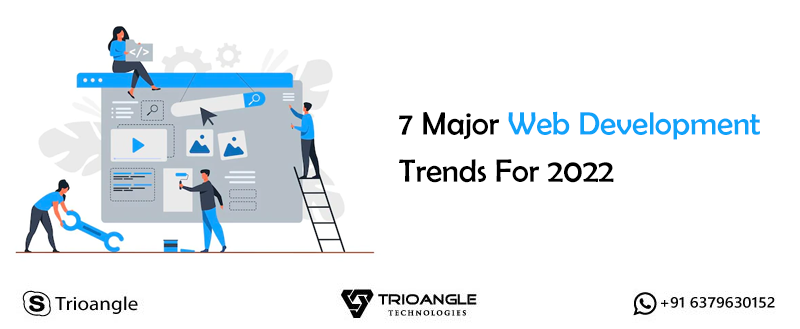 Website development brings changes every single year and makes it difficult for some businesses to survive in this digital era. Thereby, companies want to maintain pace with the web development trends to remain competitive. And to make your position more strong in this competitive digital market, you require a robust web product.
However, it can also be essential to identify the most advantageous web development trends that can work for your organization. Hence, to save your time and effort, we have accumulated a listing of web development trends through assessing market requirements in a variety of IT fields.
7 Major Web Development Trends to Check out in 2022
You may discover many of these trends on the internet, but they are likely to become considerably more popular in the years to come. Let's have a peek at the 7 hottest web development trends for 2022.
1. Progressive Web Apps
Among the list of web development trends, the PWA technology comes first. It's an app that features a website with a fully native mobile app experience. It communicates with clients as a native mobile app and runs independently.
Here are favorable changes the PWA technology introduced for businesses and users:
Seamless installation

Saving device storage and power

Lessened support and development expenses

Smooth updating and maintenance

Faster launch to the market

More flexible distribution 
Many established brands are enjoying considerable profit through these apps. Hence, we expect that PWAs will surely be a game-changer for businesses in the coming years.
2. Single Page Application 
SPA is one of the latest and ruling web development technologies. Unlike conventional website apps, they contain a single page that initially loads the entire website page and then loads the dynamic content on the same page. AJAX and HTML5 are used to make SPAs responsive.
Moreover, front-end JavaScript frameworks like Vue, React, Ember and Angular also deal with the client-side SPA development.
Some benefits of SPAs include
Offline support

Convenient debugging

Easy navigation

Quick page load and reduced bounce rate
According to research, SPAs can increase the conversion rate up to 37%, which helps companies reach their target audience with needed content. SPAs are ideal for companies to simplify user navigation and increase income through loading the page quickly.
3. Dark Mode UI
The dark mode trend has emerged worldwide, and we expect it to rise greater in the coming years. Due to its visual design pattern, a dark-themed website makes it simpler for users to enjoy web searching regardless of device.
Tech biggies like Google, Facebook, and Twitter are already using dark mode UI, and many more are joining their hands on this trending technology.
Advantages of dark mode UI are:
Reduces blue-light

Saves battery life
Since many web developers provide the same in-built function to move between dark and light modes, we expect it to become a rule in 2022 and beyond.
4. Accelerated Mobile Pages
It is one of the great trends in the web development industry. The concept of AMP is to speed up web page performance and retain users. AMP technology works pretty similarly to PWA.
AMPs are optimized pages that feature a convenient and simplified design with fundamental features compared to full-scope web products. Moreover, these pages are responsive for mobile, and their content is also readable.
AMP is a new web design trend that indicates that the internet is getting extra user-centric. Although now we have 5G internet technology and many brands select to create native applications to enhance user experience, the AMP plugin helps businesses save expenses on UX and attain target users. Hence, we expect to see a niche and smaller products while competing with outstanding market leaders.
5. Motion UI
Creative Motion UI web design is another web development trend this year. Startups usually focus more on user experience and make investments with fewer resources in appearance. However, there is an extra chance of getting noticed by promising customers if you have beautifully designed apps and websites. Hence, visual design has become an effective advertising and marketing strategy.
Motion UI design makes the use of digital products greater spontaneous and precise. The approach is all about CSS shifts and customized animation integration enabled through standalone libraries with many classes of animated components. Using them, developers don't have to invest more time in product creation and save product owners' expenses.
The motion UI appears to be attractive in 2022 and beyond, highly responsive, flexible with HTML, JavaScript, and CSS. It's an excellent way to grab users' attention; hence, it is beneficial for product owners.
6. Internet of Things
IoT is one of the most essential tech trends that will radically change the future of web development. The increased use of the internet has brought this technology to our day-to-day lives. IoT technology makes many devices accessible by mobile devices.
IoT-connected devices make continuous data transfer. The technology helps businesses provide their services to join with users as quickly as possible, making a personalized experience. Google Nest Smart Speakers is one of the most famous IoT devices.
You may be surprised by how it makes sense for the web development domain. Well, IoT will make advanced communication between website layouts and functional models. The trend boasts a wide range of things like signaling devices, sensors, and cameras. It will make sure to fix client problems more efficiently with well-timed responses.
Some benefits of IoT technology are:
Reliability

Scalability

Security and support
7. Blockchain Technology
The idea of cryptocurrencies appeared in 2004, and we must expect a lot from this web development technology in 2022 and onwards. Globally, there are nearly 80 million blockchain wallet customers at the end of Nov 2021. Blockchain technology also needs software program and hardware support, trading infrastructure, and legal regulation.
Hence, developing web technologies will cover these aspects in the upcoming years. Blockchain features should be safe and secure from technical mistakes and hacking. Some large banks desire to create algorithms for safeguarding essential person records and secure crypto trading.
Peer-to-peer networking will additionally build. Suppose this technology becomes more accessible and reliable for people, it will lead to huge transformations in the way people communicate with government services, pay taxes, and make professional connections.
Conclude,
The web development trends mentioned above will change how companies communicate with their clients in 2022 and onwards. Using these technologies will enhance consumer engagement and assist your business stay ahead of the competition.
One of the greatest conditions for using one of these predominant web development technologies to accomplish your business purpose is choosing a reputable web development company.
Visit Our Site: https://trioangle.com/web-development-services/
Whatsapp: +91 6379630152  or  Email: [email protected]