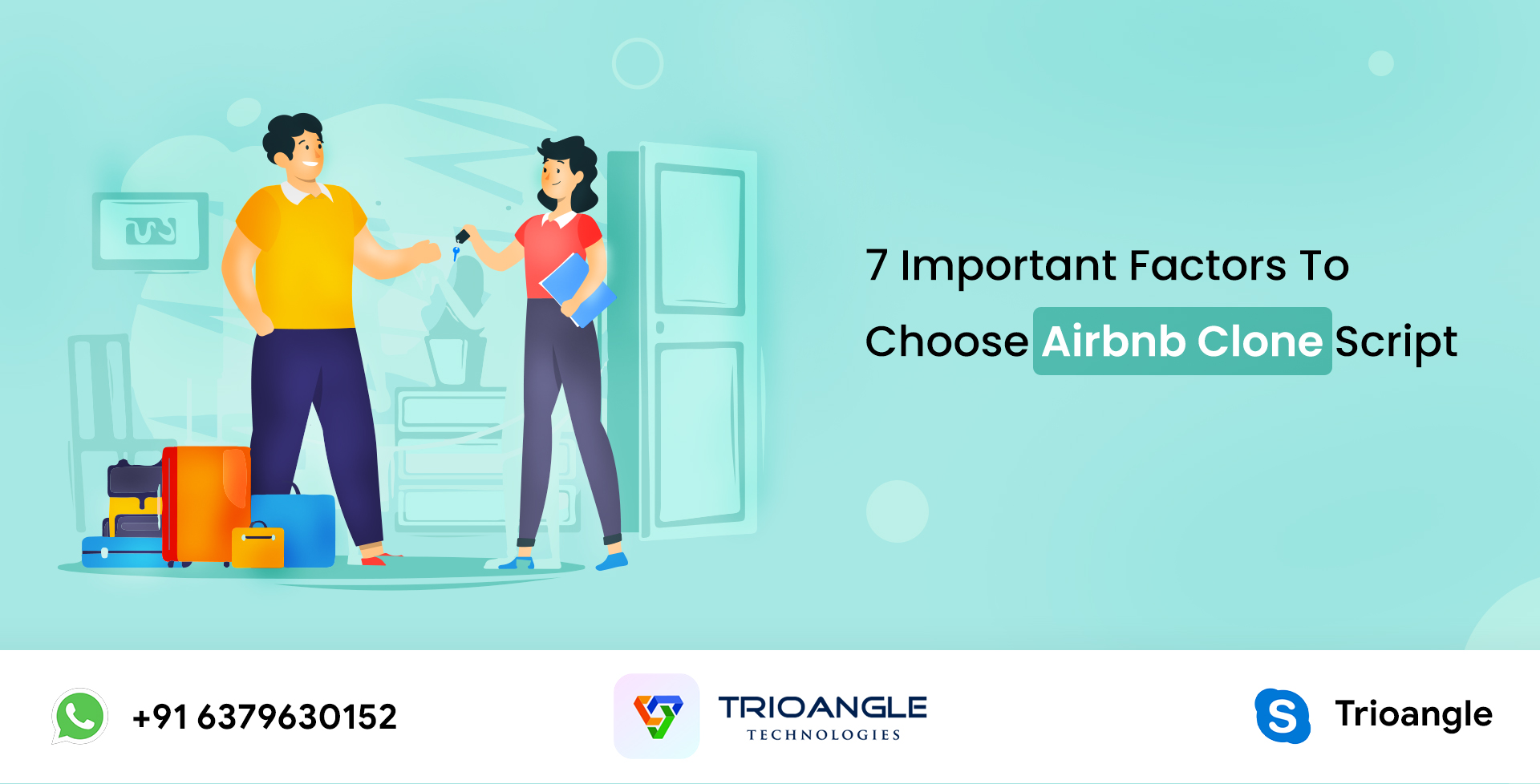 What Is An Airbnb Clone Script?
Developing an app or website from scratch requires more cost and time!
Do you have a budget and more time?. Sounds risky. We all expected a quick launch with less time. A pre-built script is a wise answer. Airbnb Clone Script is a Pre-build script that includes the basic functionalities of popular rental apps in a uniquely enhanced way.
Airbnb Clone App incurs less cost and time when compared to developing a new rental app from the start. Therefore, by using a perfect Rental Script, you can build a reliable online rental platform that suits your online rental business model. Before developing or selecting an Airbnb clone app, you must be aware of factors. Let's move forward.
Factors To Be Considered When Choosing Airbnb Clone App
Easy Customization
When choosing a rental booking app, your app must be user-friendly. Also, this allows you to provide the best services to gain profit values. So, if you are looking to opt for it, you must choose the Best Airbnb Clone Script like Makent Form Trioangle Technologies. This allows you to customize easily according to the user's need & also allows you to include additional features if required.
Responsive Design
When choosing an Airbnb Clone App ( a rental script software) for an online rental business, the chosen Airbnb Clone Script must support multi-platform compatibility and must have a responsive design. Also, the app must be able to fit with different screen sizes without any error.
Reliable
Security issues in-app will be a nagging concern while developing a new site or app. If you are not conducting appropriate testing and checking, then you cannot detect the exact issue & threats that need to be solved & secure. You must keep in mind that Airbnb Clone App provides enhanced security will give a reach & build trustworthiness among users. Therefore, if you need a safe and secured app then Makent Airbnb Clone Mobile App is the right choice that gains the reliability of the users.
Trendiest Inclusion
To develop an impressive app like wind, you must never resist exploring every available option that gives the best user experience. Airbnb Clone Website Has the trendiest features that satisfy the current demands and support future inclusions to meet anticipated demands.
White-Label App
In today's world, starting an online rental business is as simple as you think when you have a white-labeled Airbnb Clone Website. Our script is a white label one since its design's logo are depends on the startup owner's requirements. Own branding is the efficient one with our solutions.
Quick Launch
The reason behind this is no need to develop a new site from scratch. Also, it helps you to eliminate the challenges and difficulties of the traditional terms and policies.
That's why rental scripts like Airbnb are popular among entrepreneurs. If you want to start any online rental business, then the Airbnb Clone Website is the best choice for your business to get desired results.
Ratings And Reviews
Ratings and reviews provide tremendous value for the enhancement of all businesses. They provide businesses with valuable market research and help them better understand the opinions and customer requirements.
Airbnb Clone Website provides a feedback option to monitor customer satisfaction and address any problems that are brought up in a review. This option for ratings and reviews provides your new customers with the information from the existing customer that gives them the confidence to make an online booking, and in doing so, can dramatically increase revenue and user base.
In Other Words
And yes, you have reached the final section of the blog. As mentioned earlier, if you have figured out your needs on the right scale then it is effortless to find the Best Airbnb Clone Script like Makent.
Therefore, getting an exact one amidst them is just a piece of cake when you get connected with Makent. Trioangle Technology is the right place to get the top-notch AirbnbClone Mobile App that suits your online business needs. So, without any second thought, grab your desired Airbnb Clone from Trioangle and build a unique online rental platform within your budget.
To Know More Visit: https://www.trioangle.com/airbnb-clone/
WhatsApp: +916379630152
Email: [email protected]