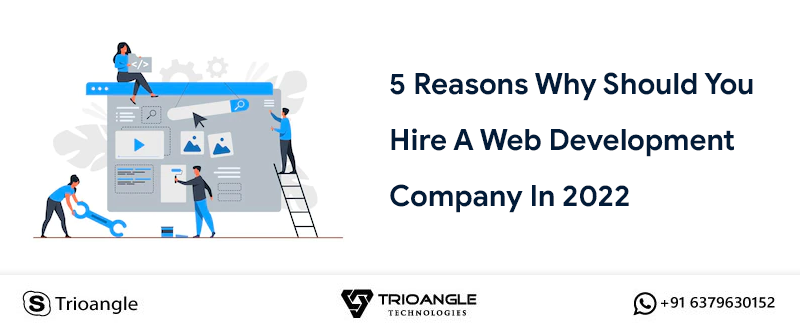 A robust online presence is crucial if you envision developing your business in this tech-savvy world. The ease and convenience attract absolutely everyone that websites provide whether for obtaining data or online shopping. Hence, whether you have simply launched your startup or own store, you must have a stable website embedded with hassle-free features.
Now, the question arises of how to build a quality-rich website? Undoubtedly, there are more website developers available to build websites. Is its website effective enough to improve your sales? Probably not.
The most appropriate choice is to take help from professional developers or companies. This strategy is conducive when you don't have technical skills and expertise. Hiring a web developer with great tech skills will be an excellent choice. You have to be eager to know what advantages a web development company can provide you. Right?
Don't worry, here we will be covering five advantages that a web development company offers to its clients. Therefore, without any further delay, let's know the advantages of hiring web developers.
Reasons For Hiring a Proficient Web Development Company
1. On-Time Website Launch
As a business owner, if you have the idea of website development, you probably don't have plenty of expertise to make it market-ready and optimized. If you start with things you understand, without a doubt it will consume much time.
If you plan to save money by not hiring a software company, you would possibly not be saving at all. You will be dropping a visitor each and every second just because your website is not live due to one or some other reason. Furthermore, hiring a dependable web development company will ensure that your website will be live on time.
2. Integration of Latest Features
The world of technology is constantly rising and changing quickly. It's essential to maintain the website updated with the latest trends and updates to get an edge over rivals. There are numerous tools, plugins, and features developed to make the websites better in terms of performance, security, experience, and look.
With a group of experienced developers, you can rest assured that your website is in safe hands and professionals in the trendy technologies will work on your site. The trendy online aspects can assist drive more visitors to the website and increase the time people spend on the website.
3. Offers Better Visibility on Search Engines
Nowadays, Search Engine Optimization (SEO) is one of the most crucial factors to consider when developing a website. Without SEO, a website's visibility will be quite low as it will not show up in the top search results of Google. Once your website ranks in search engines' top results, it can be considered an effective tool for sales and marketing.
If you hire web developers, they will develop a website while keeping search engine optimization practices in mind. Consequently, the website will rank higher for positive queries and have greater conversions. SEO professionals perform this task every day; therefore, they know the related ups and downs of search engine optimization and can assist you with the best search engine optimization practices.
4. Provide Quality Solutions
If you want to get an edge over your competitors, you need to have a unique website that will stand out from the competition. A web development company can create a peerless website with the latest features and functionalities.
 The company has the know-how to create a website with custom features primarily based on your requirements. They perform testing on websites checking on parameters like responsiveness, cross-browser compatibility, smooth-functioning, and more.
Also, the tech partner can build a fast-loading website with excellent code optimization. The website's overall performance and speed are crucial from the search engine optimization point of view. Hence, a website developed by a web development company has higher potential in terms of search engine ranking.
5. Builds a Safe and Secure Site 
Your website has to maintain recognition by having enough trust factors. Having a website with a visually appealing design will not work until the clients have confidence in it. When you hire a web development company, they understand the required factors and combine adequate trust factors into your site.
In addition to HTTPS compliance, your website must have the Trust Seal element in the checkout pages. Moreover, secure debit/credit card payments are essential. Hence, with a skilled developer, you can build a safe and secure website that will be embedded with the required protection factors—for instance, normal software upgrades, data encryption, sanitizing consumer input, etc.
Conclude,
Communicating your messages through your website is an excellent way to reach your targeted audience. The website has to be developed in such a way that improves site visitors and conversions via its optimal user flow. 
If you want to develop professional websites according to the latest web development trends, you can work with a dedicated web developer with the requisite experience and skills.
Visit Our Site: https://trioangle.com/web-development-services/
Whatsapp: +91 6379630152  or  Email: [email protected]