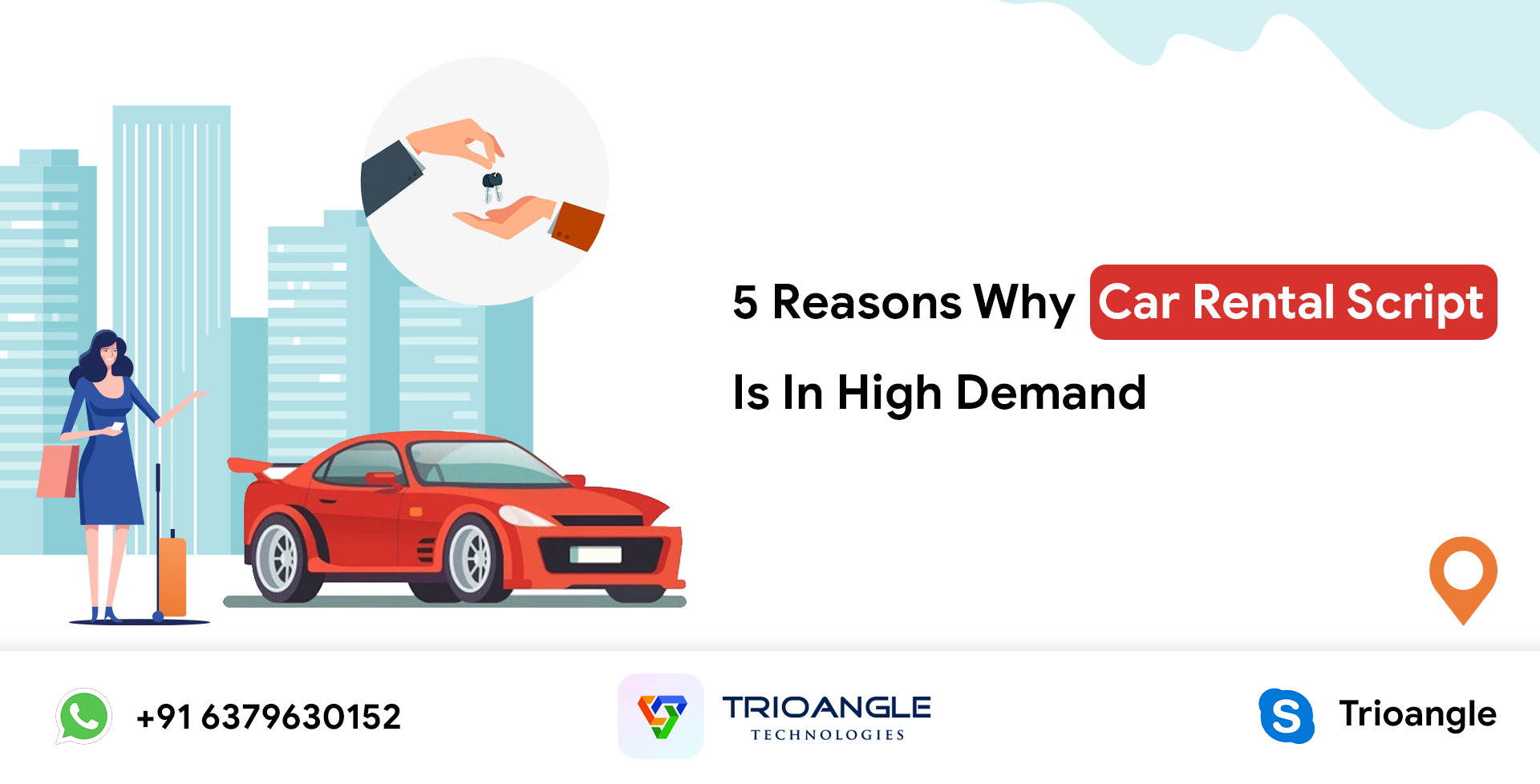 The evolution of technology gives birth to lots of inventions day by day. That makes our work easier, effective & quick. The best example is Car Rental Script for online car rental services.
It also paved the way to reach the audience and built a will to launch a startup. This created many successful players in the business market who used the platform according to their needs.
Secret Strategy
If you are wishing to join that community and skyrocket your entrepreneurship journey, all you need is a focused vision, quality service and some strategies with the best Car Rental Script to win the race.
According to this, the rental business is an evergreen one. Choosing the right stream like Car Rental Service with the right Rental Script is a profitable one.
But launching that on the online platform is an essential one. So the secret strategy of developing a new website is referred to hard work, then the smart work is packed with Best Car Rental Script.
Demand For Car Rental Service
Once upon a time owning a car was a dream for many of us, but today it has become an essential one to our day to day life. Because of the necessity of travel and transportation.
The person who has very little chance for considering the expenses can own a car, but not all. So this is one of the main reasons that created a demand for renting a car using Car Rental Script.
Why Demand For Car Rental Script?
Easy To Launch
If you wish to launch an online car rental business immediately and you are looking for a company to develop from scratch then it will definitely take more than 6 months with no bugs and also it will cost a large amount.
At the same time while using a readymade script like Airbnb Clone For Cars provide instant solutions to launch your startup within a week.
Airbnb Script For Car Rental is a pre-built software so the major problems are already solved that will reduce the launch time. It is an open-source code that can be customized and scaled as per your requirements. 
Standalone Features
The Rental Script concept may replicate the existing but the Best Car Rental Script provides advanced features.
Car Booking Script has Advanced features that enhance the appeal of the product or service to the user. It is customizable, flexible and incorporates all your Rental Business ideas. The purpose of the Airbnb Script For Car is, it helps entrepreneurs to launch startups rapidly with popular and unique features that attract the user. It includes advanced features to have a unique user experience.
Cost-Effective
The research cost and development cost of a new website from scratch will include in the UI design cost. As the Rental Script is the recreation of popular businesses they don't need great brand marketing or advertising. Car Rental Script is made of proven popular high-value businesses in the marketplace so that the chance of hitting is higher.
Detailed Listing
This is undoubtedly one of the major benefits a car owner can list the features and specialities in Airbnb Clone For Cars. The car owners who wish to register themselves with a Car Booking Script can list their cars in detail.
Most car rental aggregators don't have an option for a detailed listing and some will charge a nominal fee for detailing their cars. This option of Airbnb Script For Car rentals comes as a huge relief for car owners, that they can get a real-time response for their cars listed in detail.
Post Launch Support
Once Car Rental Script was installed, post-launch assistance for the solution was developed and released in a large number of projects and continues to work on its improvement and optimization.
The reason behind a large number of people increasingly preferring to use Car Rental Script than developing a new site is that all customers sign post-support agreements.
Because it is the prime factor that entails further development, maintenance, bug fixes, stability checks, infrastructure testing, monitoring, and updates.
Conclusion
All the features and technology are needed only to attract customers with convenient, high-performance, Quality services.
It's not easy, even if you use WordPress, software or anything. If you decide to launch a startup it's crucial to make sure you choose the perfect Rental Script like Makent Car Rental Script from Trioangle Technologies both in terms of design and performance.
If you decide to create a high-functioning site, that sets your Online rental Business with the topmost Airbnb Clone For Cars, contact our team to know more,
Visit Our Site: https://www.trioangle.com/airbnb-clone-for-car-rentals/
WhatsApp: +91 6379630152
or
Email: [email protected]